Di solito, prima di trovare una persona giusta per te bisogna attraversare un'estenuante trafila di appuntamenti, alcuni improbabili, alcuni comici, altri addirittura inquietanti! Qui vi racconterò alcune delle storie più assurde che mi sono capitate nei miei appuntamenti al buio con personaggi alquanto bizzarri. Talmente strani da sembrare usciti nientemeno che da una Serie Tv.
"Dai, fidati, che ti divertirai!" mi aveva detto un'amica. Mai affermazione fu più sbagliata. Mi ero lasciata da poco ed ero un po' giù di morale. Per fortuna (o forse no) posso contare su un solido gruppo di amiche, sempre pronte a tirarmi su. E in quel caso hanno pensato bene di trascinarmi nella giungla degli appuntamenti al buio. E va benissimo, tutti gli appuntamenti sono grovigli assurdi. Ma mai mi sarei aspettata di essere catapultata direttamente in un mondo inquietante come quello di Game of Thrones!
Le mie adorabili amiche si sono messe in contatto con un amico di un altro amico e, in un modo o nell'altro, sono riuscite a procurarmi una cena con un ragazzo "molto carino", a detta loro. E in effetti, vedendo la foto, sembrava veramente così: grandi occhi azzurri, carnagione pallida, capelli scuri con ciuffo ribelle. Mica male! Eppure c'era qualcosa che non mi convinceva. Forse il famoso "sguardo da Shining" tanto decantato da Barney Stinson? Molto probabile. Comunque ho pensato che la vita è una e che ogni tanto può essere divertente buttarsi e sperimentare.
Povera me…
"E come si chiama?" ho domandato pensando di estorcere qualche informazione in più. "Questo è il bello!" hanno strillato entusiaste le mie amiche.
È inglese, appena arrivato in Italia. Pensa, a quanto pare viene da un'ottima famiglia della nobiltà inglese, si chiama Ramsay Bolton.
Insomma: britannico, bello e nobile. Sembrava che l'appuntamento cominciasse con i migliori auspici. Solo dopo ho capito quanto mi stessi sbagliando.
Dopo aver scelto con cura l'abbigliamento, mi sono avviata al ristorante scelto per l'agognato incontro. Una volta lì mi sono un po' stupita: non mi sembrava esattamente un posto da "primo appuntamento". Sembrava in tutto e per tutto l'entrata di una macelleria, con vari tagli di carne esposti in vetrina. "Per fortuna non sono vegetariana" pensai, poi però ho realizzato: e se lo fossi stata? Non è molto carino invitare qualcuno in un ristorante evidentemente specializzato in un certo tipo di cucina senza prima informarsi sui suoi gusti, no? Comunque ho deciso di sorvolare su questo dettaglio.
Ed ecco arrivare il mio cavaliere: il ciuffo ribelle gli ricadeva sulla fronte in modo ancora più disordinato di quanto fosse in foto. Anzi, proprio nel complesso aveva un'aria un po' trasandata, non capivo se per una deliberata scelta di look o perché semplicemente si era buttato giù dal letto cinque minuti prima. E sì, aveva decisamente uno sguardo da pazzo. Gli occhi azzurri sporgevano come quelli di una rana e mi fissavano. Quando si è avvicinato gli è spuntato un sorriso tirato, che faceva appena intravedere una fila di denti bianchissimi e aguzzi.
"Ciao" ha sussurrato, allungandomi la mano. Io, lievemente intimorita, gli ho allungato la mia e… ahia! Mi ha stritolato le dita in una stretta dolorosa. Va bene che la stretta di mano molle non è mai un buon segno, ma neanche rompere tutte le falangi è il massimo. Comunque, ho pensato di essere io troppo pretenziosa. Mi ero appena lasciata, normale che fossi restia. Ho resistito stoicamente. Così come ho deciso di sorvolare sul fatto che ha attaccato subito a parlare inglese senza preoccuparsi della mia conoscenza della lingua, ma pazienza, per fortuna l'ho studiato per tanti anni.
Ed eccoci dentro il locale: sì, era proprio una macelleria. Uno di quei posti dove ti tagliano la carne e la cuociono al momento. "Posto originale" commentai una volta seduti. "Sì, a me piace" disse lui di rimando "Adoro la carne, specialmente al sangue". Quest'ultima affermazione l'ha detta con una strana luce negli occhi, maneggiando con grande lentezza il coltello sul piatto.
"Insomma, di cosa ti occupi?" ho chiesto nel disperato tentativo di smorzare la tensione (e di distogliere la sua attenzione dal coltello che mandava bagliori inquietanti). Lui ha alzato la testa e mi ha fissato da sotto i ricci ribelli. "Di nulla. Mio padre è ricco, lo sai? Ha sposato una che aveva una dote pazzesca. Quindi in pratica siamo dei mantenuti". E così dicendo, è scoppiato in una risata gutturale assolutamente fuori luogo e che ha fatto girare di scatto gli altri avventori. "Ma quindi non hai hobby?" ho chiesto io con voce stridula, ormai palesemente a disagio. Lui ha sorriso con quello sguardo da sadico. "Mi piace andare a caccia con i miei cani. Tirare con l'arco. Solite cose, insomma". Avrei voluto replicare che non sono hobby così ordinari, ma in quel momento il cameriere mi ha messo davanti il piatto, che fra l'altro non avevo ordinato. Quando accidenti aveva ordinato? Ho abbassato lo sguardo: era una bistecca decisamente molto al sangue. Anzi, non mi sarei stupita se fosse balzata giù dal piatto per tornare a brucare l'erba.
Lui si è avventato sul suo piatto con una voracità incredibile: tagliava pezzi di carne enormi con sommo gusto, sezionandoli come un chirurgo pazzo. Il tutto sempre con quella strana luce negli occhi che diventava sempre più accesa e più inquietante man mano che il tempo passava. Ero terrorizzata, ma non sarei riuscita a mandare giù un solo boccone di quella cosa che avevo davanti, specialmente dopo uno spettacolo così.
Ho alzato la mano, nella speranza di farmi notare discretamente dal cameriere, che si è materializzato silenziosamente accanto a me. "Scusi, potrebbe per favore farla cuocere un po' di più?" ho chiesto, indicando la carne che avevo davanti, sperando che Ramsay continuasse a dedicare tutta l'attenzione al suo piatto. Ma proprio mentre il cameriere stava allungando il braccio per prendere il mio piatto, con uno scatto felino il mio cavaliere ha afferrato il malcapitato. "Cosa sta facendo?" ha sbraitato con gli occhi più dilatati che mai. Io, con un filo di voce, ho provato a spiegargli che volevo solo far cuocere un po' di più la carne. "Sai, al sangue non mi fa impazzire". Davanti a questa mia affermazione, Ramsay ha chiuso gli occhi inspirando, come per cercare stoicamente di mantenere la calma. Poi, al culmine del nervoso, ha sbattuto un pugno sul tavolo, scheggiandolo con un gigantesco anello decorato con uno stemma di famiglia. Ho allontanato discretamente la sedia, cercando di mettere la massima distanza fra me e quella che sembrava un'arma letale. Poi, come se nulla fosse successo, il ragazzo ha sollevato le palpebre, mi ha guardata da sotto i riccioli e ha accennato il suo solito sorriso da serpe. "Non importa cara, devi sentirti a tuo agio". Queste ultime parole le ha sussurrate sfiorando la lama del coltello.
A quel punto volevo solo andarmene. Ma come potevo? Se mi fossi alzata avrei scatenato ulteriormente le sue ire. La successiva mezz'ora è trascorsa in un imbarazzante silenzio, con lui che continuava a dissezionare la carne che aveva davanti e io che lo fissavo immobile, in attesa del mio piatto. Quando è arrivato, lui aveva finito. Sono trascorsi quindi altri penosi venti minuti in cui io cercavo di mandare giù qualche boccone e lui che mi guardava con il mento sopra le mani chiuse a pugno. Poi, miracolosamente, la cena è arrivata ad una fine. Mi sono alzata barcollante, mentre lui mi ha anticipata alla cassa, dove non solo ha pagato il conto, ma ha lasciato una mancia spropositata, come se non si rendesse neanche conto del valore dei soldi, o di quanto potesse costare una normale bistecca.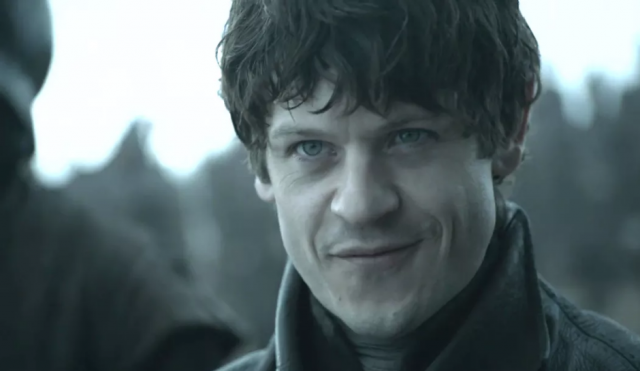 Una volta fuori dal locale, mi ha afferrata per il braccio, facendomi sobbalzare e, guardandomi sempre con quegli occhi allucinati, mi ha detto: "Ora andiamo al cinema, ok?". E così dicendo, ha messo due dita in bocca e ha emesso un fischio acuto, attirando l'attenzione di una grossa auto nera parcheggiata un po' più avanti. Davanti al mio sguardo stupito si è sentito in dovere di informarmi che quella era la sua auto privata, con tanto di autista. "Reek è uno spasso!" ha detto, ridacchiando convulsamente. "Ma chi è Reek?" ho chiesto io, seriamente interessata alla risposta. "Il mio servo" replica lui senza battere ciglio. "Non è vero, stupida feccia?" ha esclamato poi, bussando al finestrino anteriore. Io ho sussultato, allibita, mentre il finestrino oscurato si abbassava lentamente, rivelando un ragazzo dal volto scarno e pallidissimo, con gli occhi grigi dilatati da quello che sembrava puro terrore. Ero talmente allucinata e stranita dalla situazione che non ho avuto neppure la lucidità di replicare davanti a quegli insulti gratuiti.
Ero così persa nei miei pensieri da non accorgermi che Ramsay mi stava ancora parlando: "Comunque, dicevo, a un cinema qui vicino danno The Hostel, che è il mio film preferito in assoluto. Sali in macchina, dai!" ha detto tirandomi per la manica del vestito. Io ho lanciato un'occhiata al povero Reek, seduto al volante: mi stava facendo lentamente segno di no con la testa. "Per la verità, Ramsay, non posso proprio. Devo alzarmi presto domani, lavoro". Ho quindi risposto, con un tono che non ammetteva repliche. "Giusto. Mi dimentico che tu sei una popolana e lavori. Va bene, come non detto". Con mio sommo sollievo ha alzato le mani in segno di resa, ha sbraitato qualcosa al povero Reek e, senza neanche salutarmi, ha alzato il finestrino oscurato ed è sparito.
Quando la grossa auto nera ha girato l'angolo, ho tirato un enorme sospiro di sollievo e, camminando incerta sui tacchi, ancora turbata da quel bizzarro e disastroso appuntamento, mi sono avviata verso casa. La strada era lunga e le vie ormai buie e deserte, ma nulla sarebbe riuscito a spaventarmi più del terrificante ragazzo uscito da Game of Thrones. Potrebbe esistere di peggio? Io credo di no!