Ormai ci stiamo avvicinando alla fine ragazzi, la fine di questa incredibile e sconvolgente avventura. Io non so come vi siate sentiti voi guardando la 8×04 di Game of Thrones domenica notte o lunedì sera, a seconda di quanti numeri di Disney's Magic English abbiate comprato in edicola da bambini, ma io non so più che cosa pensare. Passo da momenti in cui odio follemente un personaggio a momenti in cui nutro un profondissimo e bipolare rispetto per lo stesso. Sì Cersei, sei una crazy fucking bitch ma io comunque ti giuro amore, un amore eterno e se non è amore me ne andrò all'inferno.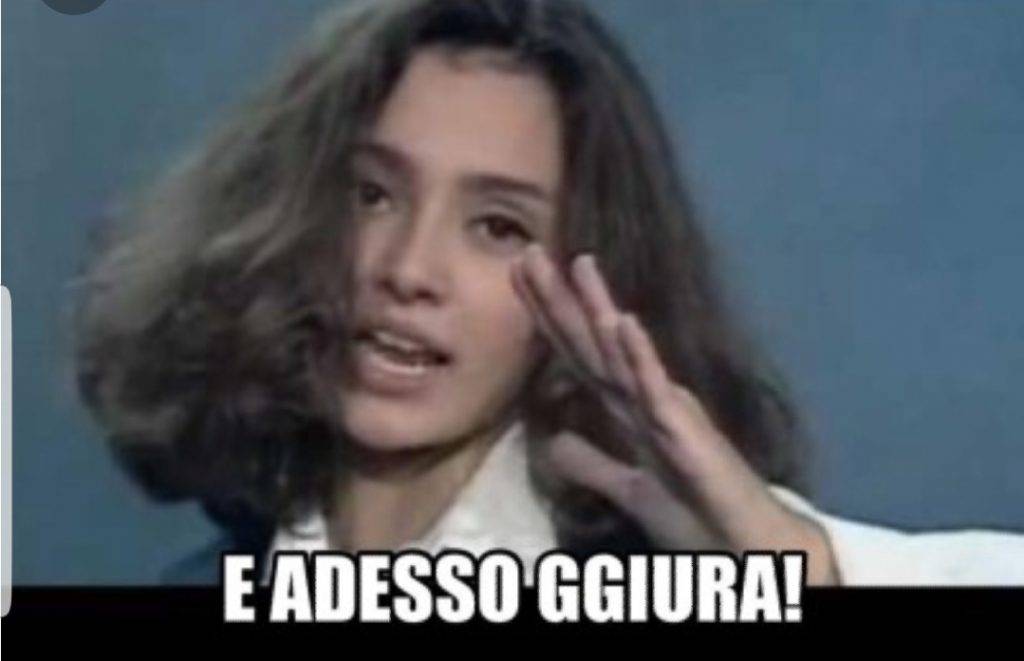 Ma non divaghiamo creando fan club prematuri, i #Deliridispade della 8×04 di Game of Thrones partono now!
Vorrei iniziare rassicurando tutti sulla cosa che non ha fatto chiudere occhio a milioni di telespettatori. Spettro è vivo raga! Non scopriremo mai come, ma chissene: è vivo e avrà Tormund come patrigno. Per quanto mi riguarda io sarei già a posto così ma mi rendo conto che c'è molto altro di cui parlare, quella arrugginita sedia appuntita da assegnare e molta gente da far trapassare per esempio. Per cui partiamo dall'inizio e stringiamoci tutti parecchio stretti perché quei demogorgoni di Benioff e Weiss ci faranno un male cane questo giro.
Ma siamo ancora lontani dal peggio. Game of Thrones puoi fare di meglio!
A Grande Inverno succede ciò che è ovvio. I sopravvissuti al Night King salutano i loro morti e li onorano come possono, poi si spostano all'interno dove festeggiano la salvezza, bevendo di brutto e provando a concludere (poco) quello che a molti non è riuscito la sera prima della battaglia.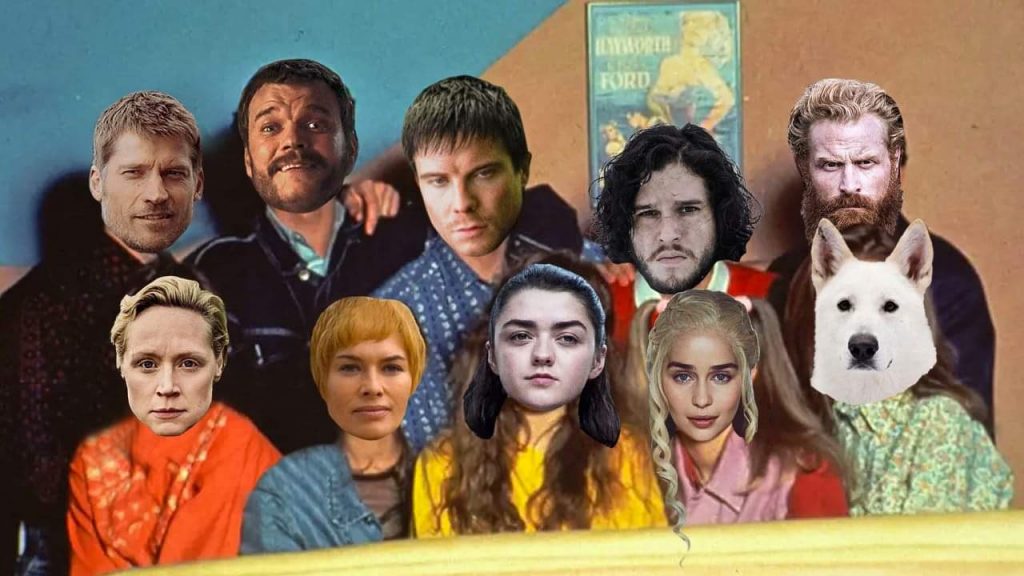 Insomma, siamo finiti sul set di Primi Baci, quella trashata francese anni '90 dove un gruppo di adolescenti non faceva altro che flirtare male, limonare e spifferarsi segreti di ogni tipo.
E proprio come in Primi Baci abbiamo una bionda trecciuta che si contende l'attenzione del bello e tontolone del gruppo con una rossa parecchio scontrosa. Un altro momento memorabile tra le due ce lo regala Dany, quando tira su il primo dipendente distratto che passa e lo promuove di fronte a tutta la ditta per assicurarsene la gratitudine, poi rifila alla rossa uno sguardo del tipo: "Becca questa Lady Jonas" che è tutto dire. Salvo poi rendersi conto che è più fuori luogo lei a Grande Inverno di Anna Tatangelo che sul palco dell'Ariston esclama Gigi ti amo! senza senso alcuno.
Nel frattempo Gendry cerca l'unica Stark che continua a dire no al botox, la trova e poi accade l'impensabile. Diventa Ted Mosby. Le nostre menti ci mettono un po' a concepire un tale azzardo di trama soprattutto perché il no della giovane Stark è prevedibile come la verginità di Brienne e l'incapacità di Tormund di assicurarsela. Come ogni fan devoto di How I Met Your Mother sa bene, dichiarare amore eterno e chiedere in moglie la ragazza con cui hai fatto sesso per la prima volta la sera prima ha come unico e inevitabile risultato il deragliamento immediato della love story appena sbocciata. In questo caso un po' di più, perché la corteggiata piuttosto che concedere un secondo tentativo decide di scappare di casa, rischiare la morte e neanche perde tempo con i saluti a fratelli e amici.
Comunque, per i più romanticoni, il numero Lord Gendry e il palo di Grande Inverno esce in edicola a fine mese con l'allegato Costruisci il tuo Muro del Pianto con ciò che è rimasto della Barriera dopo il passaggio del Night King, e l'inserto Prendila da vero uomo!. Con il tutorial di Tormund che spiega come prenderla bene quando la tua innamorata ti rimbalza per l'ennesima volta e in più la dà a un altro. Il tutto a soli 1,99€!
Andiamo in giardino da Bran (mettetegli almeno un gazebo santo cielo!) che lascia l'annosa decisione a Jon se rivelare o no alle sue cugine che è lui il vero Megadirettore galattico Duca Conte Balabam della ditta. Ora, chiunque immagina le conseguenze di questa rivelazione, tranne Jon, a cui basta un "croce sul cuore" e vuota il sacco come la più naïf delle liceali. Sansa vince il premio Spifferona 2019 e tempo zero lo sanno pure quelle che lavano le scale a Grande Inverno nel weekend.
Brienne e Jaime fanno sesso. Ne avevamo bisogno? Bah.
Di Sansa invece che fa sorridere il Mastino con il racconto di come ha trucidato il suo ex marito ispirandosi a lui, di questo sì. Sono lontani, lontanissimi i tempi in cui era una frignona vestita di rosa che avremmo sacrificato volentieri al primo episodio della seconda stagione. Ora sta mettendo su la stessa faccia da poker che aveva l'amatissima Regina di Spine, e siamo così orgogliosi di lei che vorremmo quasi partecipare alla lista nozze e regalarle asciugatrice, Bimby e pure l'amaca da giardino. Sempre se a quella non ha già pensato Bran.
Si parte per il Sud. Ecco, io non voglio essere gretta ma una toccatina alla zona inguinale se fossi in Jon me la darei. Gli dicono addio, gli adottano il cane e c'è pure chi gli promette che darà il suo nome all'erede in arrivo (dopo avergli raccontato come è stato concepito, in fondo è Jon Snow, quello a cui hanno dovuto spiegare in tre che gli spetta il trono). Manca solo che gli intitolino un liceo e tanto vale prenotare il loculo.
Ci ritroviamo al Sud prima di quanto vorremmo, e sempre prima di quanto vorremmo salutiamo Rhaegal e metà della flotta di Daenerys, che da quando è finita al Nord ha tutta l'aria di una a cui sta salendo il crimine inside e pure male. E come darle torto? Oltre agli amici che ha dovuto seppellire, le ostilità xenofobe e le sorelle del suo ragazzo che la guardano come la locandiera che annacqua il vino di nascosto, resta pure a bocca asciutta perché Jon si sbronza e non conclude.
Finalmente Cersei, quella pazza scellerata si fa vedere.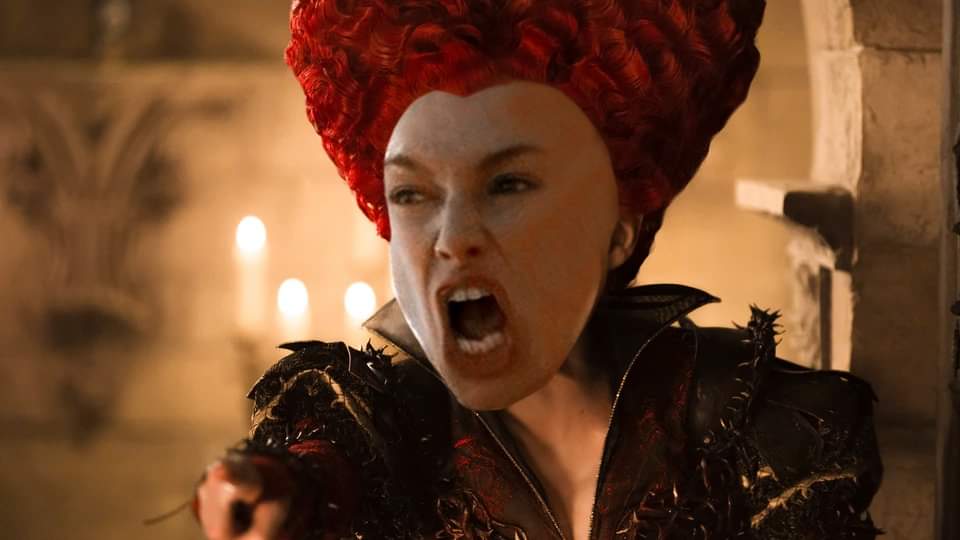 Il viso è quello riposato di una che è quattro mosse avanti a tutti e che sta adempiendo al suo destino a gas aperto. Ora, odiatela pure, ma ammettete che questa donna ha spiegato un botto di cose a padre, marito, coniati e altri mollaccioni che hanno pensato di sapere gestire le guerre meglio di lei, e che ora stanno tutti dormendo sotto un cipresso. Ora datele i suoi fenicotteri per giocare a croquet, le sue carte da Scala 40 ballerine, verniciatele di rosso tutte le rose bianche del reame e lasciatele tagliare teste a tutto spiano, perché è questo ciò che le riesce meglio. Farci venire gli incubi.
LEGGI ANCHE – Game of Thrones 8×04 – Il Potere è Potere