Attenzione: questo articolo contiene spoiler relativi alla settima stagione di Game of Thrones!
Nell'ultima puntata della settima stagione di Game of Thrones, Jaime Lannister ha dovuto prendere la decisione più difficile della sua vita. Dopo averne passate di ogni (la prigionia, la mano mozzata, la morte dei figli), Jaime ha sempre trovato conforto in Cersei, sorella e amante, unico punto fermo su cui poter contare.
Jaime è sempre stato accanto a Cersei, che attualmente siede sul Trono di Spade. L'ha sostenuta nelle sue scelte, anche le più difficili da digerire. Eppure, a un certo punto ha deciso che non poteva più farcela. Nel momento in cui Cersei ha preso una decisione che andava contro ogni principio morale, Jaime ha deciso di arrendersi. In sella al suo cavallo ha lasciato la donna che ama ed è partito, seguendo ciò che credeva più giusto.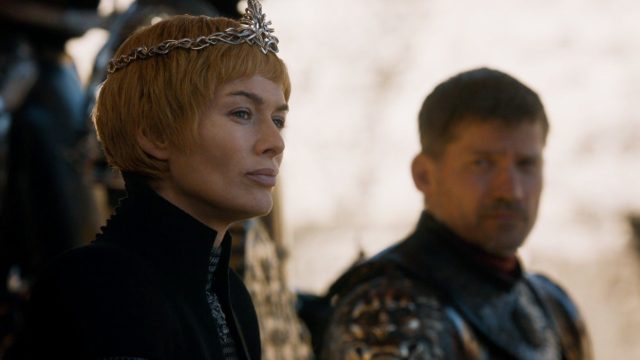 In una recente intervista, Nikolaj Coster-Waldau (Jaime Lannister) ha commentato il gesto di Jaime. Pensando allo sviluppo del suo personaggio nel corso delle sette stagioni, ecco quanto dichiarato:
Penso che Jaime abbia una buona bussola morale, anche se è non si può negare che abbia fatto delle cose orribili. Ma in tutti questi anni ha pensato esclusivamente a compiacere Cersei. Ora vuole fare solo ciò che giusto. In questo momento combattere gli Estranei è l'unica cosa da fare. Non sarà diventato l'uomo che suo padre Tywin voleva, ma, di certo, è diventato l'uomo che lui voleva essere.
Jaime non ha dubbi su quale sia la cosa giusta da fare. E lo dimostra nel momento in cui Cersei gli comunica la sua intenzione, quella di infrangere il patto appena stretto con Daenerys e l'esercito del Nord. Cersei non vuole quindi mettere a disposizione i suoi uomini per combattere contro il Re della Notte e gli Estranei. Jaime, addolorato e sfinito dal comportamento della sorella, pronuncia quattro semplici parole: "io non ti credo". Nikolaj Coster-Waldau ha voluto mettere chiarezza sul significato di queste parole:
Jaime non vuole solo intendere che lui sia convinto che lei non lo farà uccidere da Gregor Clegane. Per me è stato più come un 'È finita, non ti amo più. Ora sei da sola'. Perché ci abbia messo così tanto tempo a dirglielo, solo Dio lo sa! Ma alla fine lo ha fatto.
Secondo l'attore, Jaime è diretto a Nord. Come si svilupperà la storia, qualora Jaime combattesse con l'esercito del Nord contro gli Estranei? Sopravviverà o morirà? E se dovesse morire, in che modo? L'attore, suo malgrado, ha fornito una risposta anche a questa domanda. Ecco le sue parole:
La mia paura più grande è che Jaime venga trasformato in un non-morto. Sarebbe un peccato. Qualcuno dei personaggi principali quasi certamente verrà trasformato in un Estraneo e spero proprio che non tocchi a me. Più che altro perché la trasformazione necessita di una sessione di trucco di ben tre ore!
Per vedere come si concluderà la storia di Jaime e il rapporto che ha con la sorella non ci resta che aspettare l'ottava stagione di Game of Thrones, che probabilmente vedremo a fine 2018 o inizio 2019.