#DeliridiSpade è la nuova rubrica del martedì sera di Hall of Series che vi racconterà ironicamente l'episodio di Game of Thrones andato in onda il giorno prima. Siamo impazziti, e lo capirete presto. 
Il gioco dell'oca, figlia di Nonna Papera, nipote dell'uovo di Valyria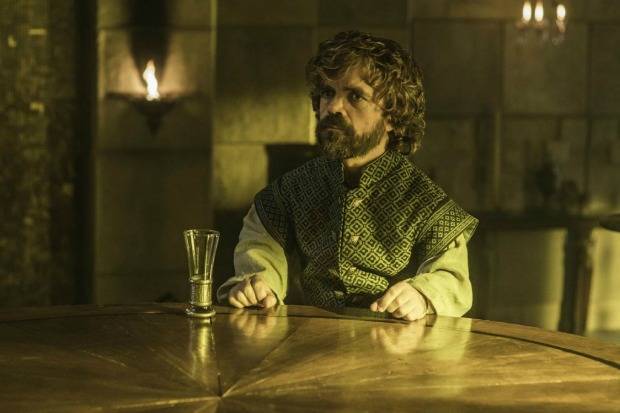 Tyrion Lannister. Povero Tyrion Lannister. Aveva deciso di cambiare vita, trasferirsi in un luogo all'altezza e nel quale possibilmente non fosse ricercato per regicidio, ed invece è finito a Boario Terme. Un disastro. Nessuno beve, gli uomini non hanno le palle, le donne sono noiose anche quando conoscono solo giochini zozzi e più che un regno, Meereen sembra il circolo della bocciofila di Busto Arsizio. Non si parla d'altro che dei divertentissimi aneddoti di Verme Grigio, uno che ha il nome di un vecchio depravato e ha la stessa voglia di vivere del capostazione di Pizzo Calabro. Tyrion non ne può più: sognava Las Vegas, ha trovato un centro termale per anziani.
Qualcuno lo liberi e lo depenni dal cast di "Un eunuco in famiglia".
Una che se la passa meglio è invece Daenerys, figlia di 'StaCippa etc. etc., protagonista di una bella vacanza organizzata da quei mattacchioni di D&D. La povera Khaleesi  è alle prese con un trasgressivo circolo delle vedove che passa il tempo a sfottere i mariti morti delle nuove leve e vive sognando un'avventura erotica con Lando Buzzanca. Però si inganna la noia anche con il gioco dell'oca, in certi casi. Daenerys, purtroppo, è finita nella casella sbagliata ed è tornata al via per l'ennesima volta. Tyrion ha chiesto informazioni: se le piangenti si convinceranno a proporre la variante alcolica, potrebbe farci un pensierino e darsi alle vedove. Sempre meglio di Verme Grigio, d'altronde.
Gli ospiti perfetti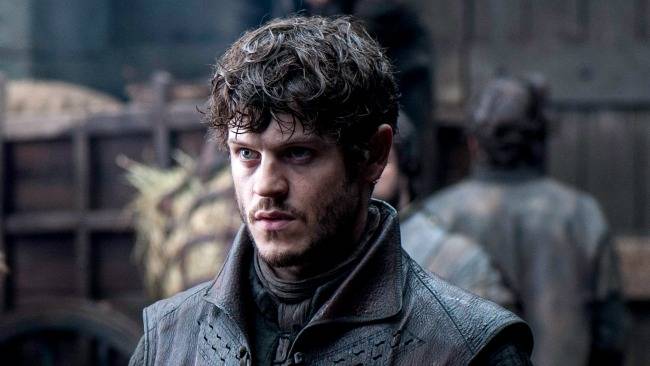 Da Boario Terme al profondo Nord. Ramsay, dopo aver realizzato il sogno di una vita, non penserà ai cani per un po' e si dedica all'evoluzione della sua carriera politica. Manco a dirlo, si parla di bruti, immigrazione clandestina e federalismo al grido di Approdo del Re ladrone. Prima il Nord, e che cavolo. Un'orda di delinquenti invade Grande Inverno, ruba il lavoro ai nostri concittadini e quel miserabile di Tommen li mantiene a spese nostre con 30 euro al giorno. È arrivato il momento di farla finita! Ormai la Barriera funziona meno del muro del Brennero, maledizione. Quel comunista di Jesus Christ Supersnow deve morire! Ah no, ci aveva già pensato qualcun altro, e a quanto pare non ha funzionato granché.
Ramsay, tra l'altro, non è solo. Gli Umber sono con lui e si sono presentati a casa sua con il regalo perfetto. Anzi, i regali perfetti. Inizialmente avevano pensato al nuovo libro di Matteo Salvini, ma poi hanno pensato con lungimiranza che Ramsay è un tipino permaloso e hanno ovviato con quella sovversiva di Osha, Renzo Bossi   Rickon Stark e la testa di un metalupo fatta in cartone (i soldi per il CGI sono finiti, a quanto pare).
L'ultimo dono non è stato apprezzato granché. Perché quella non è "carne buona" e Ramsay, di carne, se ne intende: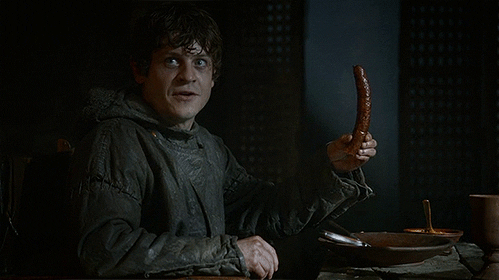 Il cartone resta sullo stomaco, cazzarola. Datelo ai bruti.
Il fastidioso ritorno di Pycelle
Ad Approdo del Re ladrone, intanto, non si capisce più una mazza. Il Concilio Ristretto è meno credibile di un governo presieduto da Povia, nonna Olenna (<3) umilia chiunque gli capiti a tiro con imbarazzante semplicità ed è ricomparso il personaggio più odiato in #Molise e nei Sette Regni. No, non stiamo parlando di Joffrey. No, non stiamo parlando manco di Walder Frey. Stiamo parlando di quel vecchio scorreggione di Pycelle.
Prima di andare avanti, faremo un piccolo elenco di cose più piacevoli di Pycelle:
La crisi di memoria prima di entrare nello studio del professore per dare l'esame.
L'SMS che ti avvisa quando finisci il traffico dati.
La zia grassa che chiede informazioni sulla tua fidanzata.
Un lunedì mattina qualunque in compagnia della stessa.
Essere sbranato dai cani di Ramsay.
La cecità di Arya. Per la stessa Arya.
Essere uno Stark e partecipare alle Nozze Rosse.
Auguriamo ogni male al grassone, insomma. Nella 6×03 ha dato il peggio di sé. Sprezzante del pericolo come mai nella sua vita (e infatti l'ha fatto involontariamente), si è avventurato in una critica di quel simpaticone della Montagna. Con la Montagna presente. Per salvarsi la pelle, Pycelle è ricorso ad un trucco vecchio come il mondo: il peto tattico. Dici qualcosa di sconveniente? Copri la verità con un peto. Sei terrorizzato dalla Montagna? Fai un peto (e l'ha fatto realmente). Vuoi coprire un peto? Mascheralo con un colpo di tosse.
Quest'ultimo punto ci ricorda qualcuno. Un grassone molto più simpatico di Pycelle. Qualcuno penserà a George Martin, ma la verità ha un solo nome e cognome: Peter Griffin.
Ecco la prova:
Pycelle, al confronto, è un dilettante.
La Torre del #MainaGioia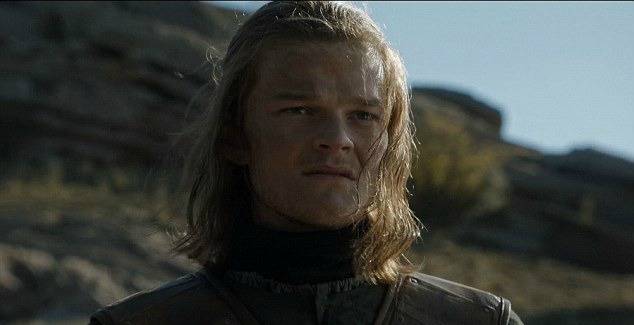 Ammettiamolo: se il meglio che può offrirci il presente è un concerto di Pycelle, è il caso di fare un tuffo nel passato. Ovviamente stiamo parlando della Torre della Gioia, luogo leggendario nel quale abbiamo rivisto Ned Stark. Muoiono sempre i migliori e restano in vita i Pycelle, è la storia di una vita. L'incontro ci ha dato modo di consegnare al giovane Ned l'ambito premio "Ridge Forrester", destinato al mascellone più vistoso di Westeros. Il giovane Ned ha sconfitto in finale il vincitore delle ultime cinque edizioni, Jaime Lannister. Roba da perdere la testa.
E poi c'è Bran. Il suo ritorno al futuro potrebbe avere delle conseguenze spiacevoli. Dopo aver scoperto di poter interagire con il passato (e che il padre certe volte era una cazzaro), rischia di farsi prendere la mano.
Proviamo a immaginare come potrebbe cambiare la storia di Game of Thrones se Bran riuscisse a parlare con Ned:
Ned non entra nella Torre e non vede Lyanna.
Ned, di conseguenza, non trova Jon Snow (sappiamo tutti che andrà così).
Bran trascina Ned nel bordello di Ditocorto e cambia vita. Lo ucciderà Jaime per invidia e BraccinoCorto vincerà il premio "Ridge Forrester" per vent'anni di fila.
Sansa non nasce e la Torre della Gioia viene rinominata Torre del #MainaGioia. Manco la felicità della venuta al mondo.
L'assenza della combinata di sfiga Brienne-Sansa permetterà agli Stark di vivere sereni e felici, portando Game of Thrones alla cancellazione dopo 3 episodi.
Bran, evita.
Un paio di considerazioni sparse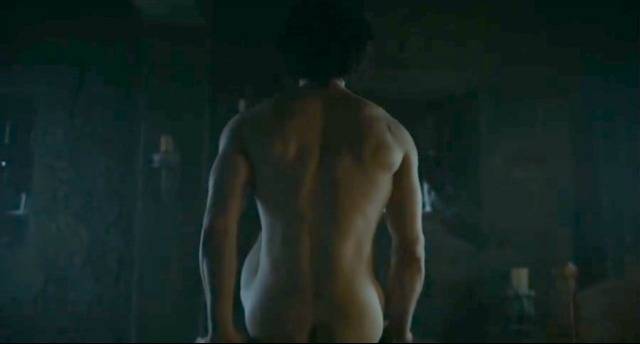 Dopo aver visto il pene di Jon Snow, Melisandre ha valutato la candidatura di Daario Naharis come nuovo Azor Ahai.
Tormund deve diventare il re dei Sette Regni. Deve.
Ogni uomo ha un rigor mortis mattutino. Tutti, tranne Jon Snow. Si consiglia il Viagra, se la morte non è sufficiente.
Jaqen è un vero bullo: "Arya, se non bevi non sei Nessuno!".
Persino Pycelle è più carismatico di Tommen.
L'Alto Passero è il nuovo Conte Mascetti. Questa l'avevamo già detta, ma è giusto ribadire il concetto.
Una puntata di Game of Thrones senza quota tette è realmente una puntata di Game of Thrones?
Kevan è il peggior amministratore della storia delle assemblee condominiali.
Un saluto da Theon e Ramsay!
Antonio Casu