Arya Stark, un lupo di nome Nessuno.
Winter has come.
Il tempo è passato. La bambina che lasciò Grande Inverno non esiste più. Non è più la stessa. È cresciuta, cambiata. Miglia, incontri e afflizioni l'hanno accompagnata, dal giorno in cui salutò i bastioni di casa, lungo una strada già segnata.
Questa è la metamorfosi di Arya Stark. Questa è la storia di una lady che sognava di diventare un cavaliere e che è quasi scomparsa, annichilita e poi rinata dietro volti non suoi.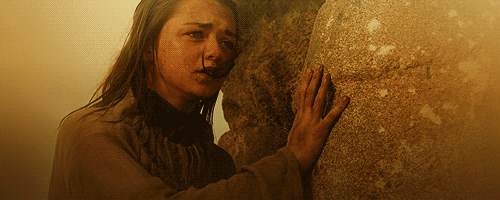 Un'evoluzione significativa quella della figlia di Ned, capace non soltanto d'influire sull'andamento di Game of Thrones, ma anche di creare un legame profondo, singolare, tra il ruolo interpretato da Maisie Williams e lo spettatore. Perché è (quasi) impossibile non restare affascinati da Arya. Un personaggio forgiato tra difficoltà e dolore (come molti di questo show) che le hanno donato sfumature e un peso unico.
Quel sorriso e quell'energia così spontanea finiscono per eclissarsi in un preciso e indelebile momento: in quella piazza, davanti al Tempio di Baelor. Un tragico destino che ci scopriamo a condividere con un forte senso di pena. Una bambina innocente che vede uccidere il padre davanti ai suoi occhi. L'imprudente corsa per tentare di raggiungerlo, interrotta da Yoren, è il principio di un viaggio nel segno della vendetta.
Una vita consacrata sull'altare di una causa perversa quanto giusta.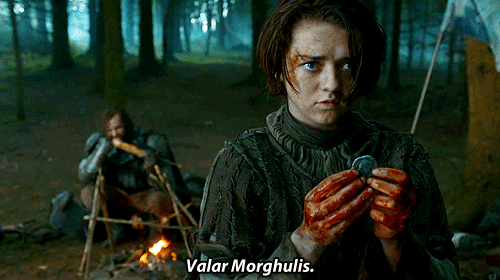 Una lista di nomi pronunciati ogni singola notte. Una moneta, dazio sicuro verso un futuro oscuro. E una preghiera conclusa sempre da quelle due parole. Valar Morghulis.
La realtà di Arya è un continuo rincorrere la  famiglia, le sue nemesi, se stessa. Un distillato atroce dove le sofferenze sembrano non avere fine. Perché anche quando il momento di riconciliarsi con i propri cari sembra vicino, il fato frappone nuovi ostacoli. Le Nozze Rosse. La Porta Insanguinata della Valle. Un continuo e penoso vagare, fin quando è quella stessa sorte a concederle un'opportunità: la nave per Braavos.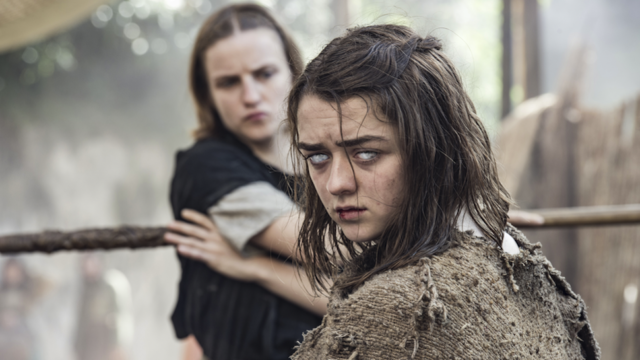 That's a short list. That can't be everyone you want to kill. Are you sure you're not forgetting someone? — L'Orfana
Which name would you like a girl to speak? — Arya Stark
L'ingresso alla Casa del Bianco e Nero diventa un vero e proprio turning point. È qui che la linea narrativa di Arya Stark assume una piega parallela alla storia e agli sviluppi degli altri personaggi.
L'addestramento ne è il momento topico, forse l'ultimo passaggio in cui soffriamo per lei. Vediamo un'Arya in crisi, distrutta, cieca, piangente. Un percorso che sembra doversi interrompere per la sua inettitudine. Una debolezza che risiede in quell'ardente desiderio di vendetta, ma soprattutto nell'amore per il padre e il suo nome. Una fragilità che scompare, magicamente, mutandosi in forza. Un addestramento concluso in modo anomalo, uno smacco ai rigidi dettami degli Uomini senza volto.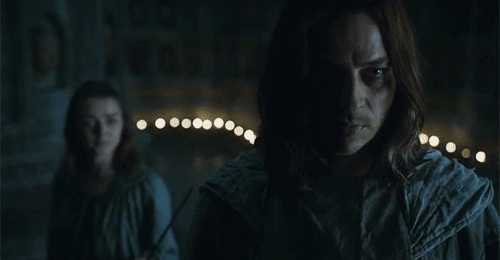 Finally a girl is no one. — Jaqen H'ghar

A girl is Arya Stark of Winterfell. And I'm going home. — Arya Stark
E proprio in questo botta e risposta tra mentore e discepolo capiamo che non dobbiamo (e non possiamo) più temere per lei. Arya è esattamente dove deve essere. Prende coscienza del suo lignaggio e dell'identità da cui si stava allontanando; ed è così che viene a formarsi una nuova essenza, allevata nell'ossessione della morte e alimentata dalle angherie dell'Orfana.
Una nuova faccia per una nuova Arya. Stark e Dio dai Mille Volti. Il lupo e Nessuno vengono a coesistere in una fusione devastante: cinica, imperturbabile, calcolatrice. Spietata.
Nasce così un vero e proprio glitch all'interno del sistema chiamato Game of Thrones.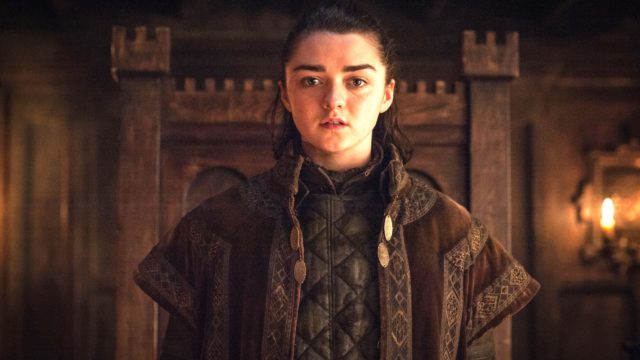 Leave one wolf alive, and the sheep are never safe. — Arya Stark
A posteriori è come se George R. R. Martin, nell'ammirare quel calderone d'idee e sangue di sua invenzione, abbia avvertito l'esigenza d'inserire un elemento capace di portare equilibrio nel caos. Arya, per evoluzione e capacità, è quel glitch voluto dal creatore stesso, l'incarnazione del deus ex machina. Quando qualcosa sembra impossibile, Arya Stark è in grado di renderla reale.
Con il ritorno nel Continente Occidentale, la giovane Stark dimostra il suo essere anomalo. Il suo è un ruolo al di sopra degli schemi, un glitch appunto, che la rende capace di determinare, da sola, l'esito del Gioco del Trono.
L'Uomo senza volto è un individuo overpower rispetto agli altri personaggi di Game of Thrones.
Lo si intuisce già solo ammirando l'opera di Jaqen H'ghar, ma tutto è ancora più amplificato, se costruito e bilanciato sulla figura di Arya Stark.
In un mondo popolato da draghi, cavalieri senza macchia e senza paura, morti tornati in vita e Re della Notte, le fattezze rubate dalla minuta e graziosa fanciulla celano un'impareggiabile sete di vendetta e di morte. Il tutto condito da straordinarie capacità combattive. Una miscela esplosiva, pronta a colpire tutti quelli che hanno distrutto la sua famiglia.
Se avevamo dubbi sulla pericolosità di Arya e il suo essere fuori scala, l'assassinio dei Frey non può che farci ricredere.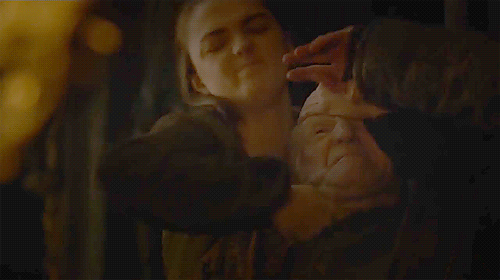 Lì dove Robb e la madre Catelyn sono caduti, dove il corpo deturpato del fratello viene mostrato come un trofeo, coloro che sia i Lannister sia i Bolton non hanno voluto affrontare (stringendoci, invece, alleanze) sono morti, uno a uno, spazzati come gracili foglie d'autunno al primo soffio del vento invernale. Uccidere per Arya ormai è facile, naturale come respirare. Doveroso.
A renderla ancora più letale è la sua nuova dimensione umana: distaccata, alienata, avulsa dai discorsi e dalle forme a cui gli altri personaggi sono legati. Come quando rincontra Sansa dopo molto tempo. Entrambe le sorelle si amano e si rispettano, eppure è quasi come se parlassero due linguaggi differenti.
Anche Sansa ha sofferto ed è andata avanti, scoprendo una forza che non credeva di possedere. Eppure Arya sembra porsi totalmente su un altro livello: lontana, inaccessibile, quasi a darci l'impressione di essere un corpo ormai estraneo a quel luogo.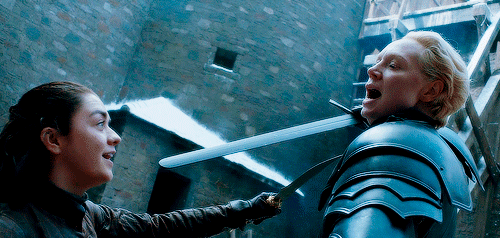 Quello che però, più di ogni altra cosa, rende Arya un glitch è il suo restare fuori dal Gioco del Trono.
Ciò che le interessa non è il potere, ma uccidere i nomi nella sua lista. Il suo unico obiettivo, parallelo alla politica e al destino di Westeros, è forse la ragione per cui è rimasta così facilmente (si fa per dire) in vita. Le battaglie si avvicendano l'una dopo l'altra, eppure il destino sembra sempre farla arrivare quando la tempesta è già passata. È questa la grande dote (e fortuna) di Arya Stark.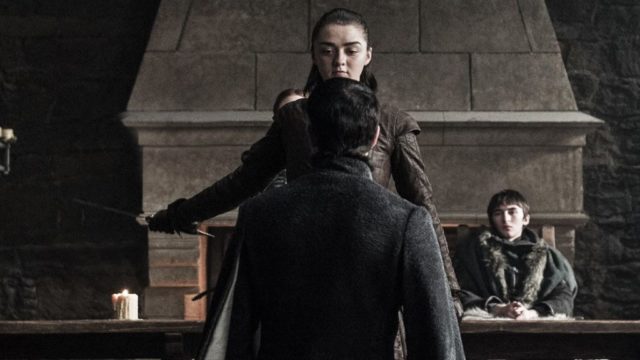 Game of Thrones ci ha insegnato una grande e assoluta lezione:
tutti coloro che mirano al trono finiscono con l'esporsi, mostrando fatalmente il punto debole al nemico.
Eppure in questa precisa equazione, Arya si afferma come il punto di rottura dell'equilibrio generale, una protagonista che sembra non avere più debolezze, proprio perché estranea alle trame che ruotano intorno al Trono di Spade.
Fredda, impassibile, quasi invulnerabile, tanto che, contrariamente ad altri protagonisti, anche nei momenti di massimo pericolo non temiamo per la sua sorte (chi invece non ha tremato per Daenerys quando si è mossa oltre la Barriera per salvare Jon Snow?). Quella bambina in preda alla disperazione davanti all'assassinio del padre non esiste più.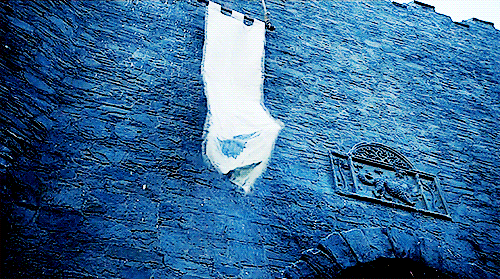 Fin qui si potrebbe dire che il percorso che l'ha condotta a essere Nessuno sia stato una sorta di polizza sulla vita. Un cammino non senza enormi difficoltà, chiaro, ma i grandi protagonisti delle guerre nel Continente Occidentale credevano che Arya fosse morta.
Ora l'Inverno è arrivato, e come recitava Ned Stark:
When the snows fall and the white winds blow, the lone wolf dies but the pack survives.
Così, mentre le truppe dei Lannister muovono da sud e gli Estranei si avvicinano pericolosamente alla Barriera, il lupo solitario è tornato a casa intenzionato a fare branco con i suoi fratelli.
La forza del gruppo. L'orgoglio del retaggio. La sicurezza della casa. Gli Stark uniti, pronti a proteggersi l'un l'altro. E se questo fosse in realtà un enorme paradosso? Se il ritorno a casa e l'allontanarsi (almeno momentaneamente) dall'obiettivo primario e naturale si rivelasse un'arma a doppio taglio?
Mettere a disposizione le proprie abilità per proteggere – e non per vendicare – il nome degli Stark potrebbe spingere Arya verso pericoli da cui, fino a quel momento, era rimasta lontana. Quelle stesse minacce con cui Sansa e Jon convivono da tempo.
Ritornare nel branco potrebbe rivelarsi il punto debole, l'unico, della giovane Stark.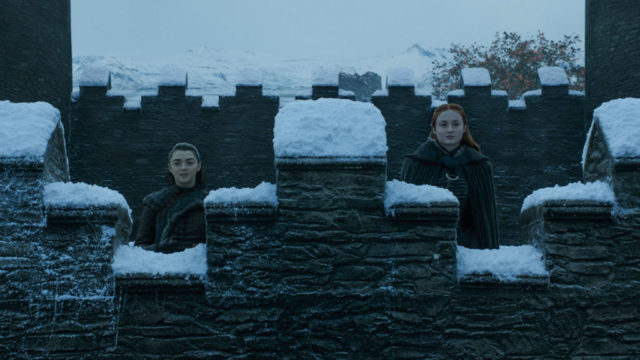 Prova di quanto sosteniamo il piano ordito da Ditocorto per mettere le due sorelle l'una contro l'altra, non appena Arya ha fatto il suo ritorno a casa. Un tentativo fallito, vuoi perché (finalmente) Sansa ha imparato qualcosa, ma soprattutto perché era coinvolto un personaggio dalla natura e dal ruolo speciali.
Una sorta di ritorno al passato, un paradosso che deciderà non solo il destino di questo personaggio, ma della storia stessa. Non una lady, non una spia, una consigliera o una guerriera. Il fato ha accompagnato Arya Stark indicandole la via per diventare ciò che doveva essere: un'assassina. Una ragazza che fin dal principio era stata battezzata come speciale dal padre, che aveva subito capito avrebbe fatto cose straordinarie.
Il Lupo è tornato, lo chiamano Nessuno. Quanto ancora resterà nel branco, quanto questo la metterà in pericolo, ma soprattutto se il glitch ha fatto il suo tempo o effettivamente sarà questo personaggio overpower a portare a termine il Gioco del Trono, nessuno può dirlo. Ma possiamo stare certi che quella di Lord Baelish non sarà l'ultima gola che Arya Stark taglierà.