# #
Game of Thrones è considerata una delle migliori serie TV degli ultimi anni, e, onestamente, ha tutto il diritto di avere questa fama. Più la guardo, più mi rendo conto che al suo interno si crea un perfetto connubio di momenti drammatici, tragici e addirittura epici.
Ciò a cui però si pensa meno spesso è il fatto che, all'interno di questo telefilm, ci siano momenti che possono essere davvero, davvero divertenti. Un po' perchè la situazione ci strappa un sorriso, un po' perchè abbiamo imparato a conoscere il personaggio, e quando lui compare non riusciamo a non ridere. In più, mi sono convinta di una cosa: Game of Thrones ha sicuramente acuito il nostro senso di vendetta, e il nostro sprezzo della morte. Così, quando vediamo un personaggio che odiamo morire, non riusciamo a non esultare e a non ridere, ma proprio di gusto!
# #
Ho fatto una selezione, e ho rispolverato quei momenti che per me sono sicuramente da ricordare per averci strappato un sorriso in un mare di tragicità. Dunque, per la vostra gioia, e, diciamocelo, anche per la mia, riviviamo insieme i 10 momenti più esilaranti e divertenti di Game of Thrones.
1) Jon Snow e Sam discutono di sesso (1×04)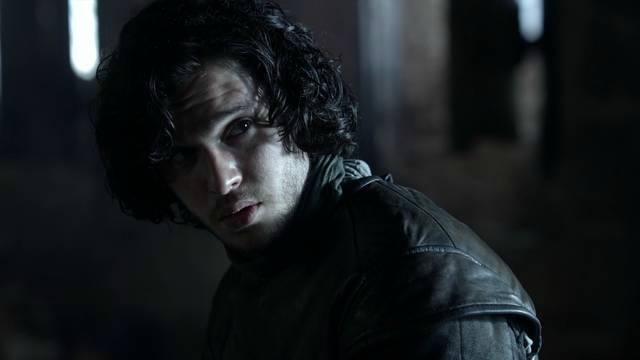 # #
Già Game of Thrones aveva cominciato a farci divertire con l'arrivo sulla scena di Robert Baratheon, un uomo che più che un re pareva una palla da bowling messa a governare un regno. E non era nemmeno così bravo a governare, ma comunque. Quando poi nella trama è arrivato anche Sam Tarly, abbiamo capito subito che sarebbe stato un personaggio di quelli teneri, in grado di farti sorridere anche se non dovresti.
Codardo fino al midollo, Sam si trova a dover prendere il nero contro la sua volontà, ma fortunatamente riesce a stringere subito un buon rapporto con Jon Snow. E già nelle prime puntate lì vediamo abbastanza uniti, quel tanto che basta a condividere discorsi sul sesso. Una cosa che tutti e due si scorderanno una volta che prestano giuramento, ma non fa niente. Insomma, quando Jon rivela di essere vergine, Sam se ne esce candido con "Non sapevi dove metterlo?". Come dire, partiamo davvero benissimo!