Da sempre Friends, più di altre serie si è rivelata un vero e proprio festival dell' autocitazionismo. Tutto in Friends parla di amicizia. Basti pensare al fatto che in ogni singola puntata dell'acclamatissima serie venga rigorosamente pronunciata la parola 'Friends' almeno una volta.
Oltre a questo particolare, Friends è LA serie, che a distanza di quindici anni dalla sua fine chiama ancora oggi a sé un numero sempre più vasto di spettatori e fan.
In parte grazie al suo reperimento su Netflix, che ha reso la serie accessibile anche ai più giovani che si son persi la sua primordiale messa in onda, e in parte, ma soprattutto, grazie alla sua spropositata fama che l'ha resa la comedy più apprezzata di tutti i tempi, Friends continua a far parlare di sé.
Recentemente vi abbiamo parlato di alcune curiosità riguardanti i 'big six' e il loro rapporto con il vestiario, ma quello che vogliamo svelarvi oggi è un piccolo easter-egg di cui siamo appena venuti a conoscenza grazie all'occhio di qualche fan più accorto.
Stiamo parlando di una particolare maglietta, indossata da Ross Geller nella 8×17, intitolato 'The One with the Tea Leaves'.
In questa particolare puntata, il paleontologo Ross, indossa una maglietta rappresentante, all'interno di un logo blu, due mani che si toccano l'un l'altra in quella che a un primo avviso può apparire come una gestualità del tutto casuale.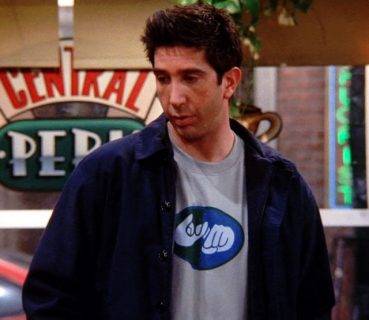 Qualche fan più vigile si è reso conto che una serie così attenta ai dettagli come Friends, difficilmente avrebbe fatto indossare una t-shirt dal significato così misterioso ad uno dei suoi protagonisti senza volervi veicolare un qualche significato specifico.
Ed infatti non si sbagliava!
Osservando più attentamente la maglietta, si nota che ben poco è stato lasciato alla casualità, infatti, le due mani, formano il gesto che nel linguaggio dei segni sta proprio ad indicare la parola "Friends".
Un simpatico quanto intelligente easter-egg rimasto inedito agli occhi degli spettatori per ben quindici anni, ma che oggi è stato finalmente rivelato, a testimonianza di quanto tutt'ora i fan di Friends si divertano a scoprire i più piccoli misteri della loro serie del cuore.