In quale pianeta vediamo possibile l'incontro di una serie come Game of Thrones e una sitcom come Friends?
Beh, Sophie Turner ha raccontato un aneddoto avvenuto durante le riprese di Game of Thrones, che crea un punto di collegamento tra i due show.
L'attrice si è messa a disposizione del format "Behind the Tweets" durante la promozione del suo ultimo film X-Men: Dark Phoenix, ed è proprio in questa occasione che è saltato fuori un ricordo imbarazzante del passato.
Behind the Tweets prevede che i protagonisti della puntata scrollino indietro ai loro primi post su Twitter e raccontino quali sono i retroscena dei tweet più curiosi.
Sophie Turner voleva incontrare Matthew Perry (l'amatissimo Chandler di Friends) ed ha fatto di tutto per riuscirci, partendo da questo tweet:
"Porca miseria, Chanandler Bong in persona sta provando il suo spettacolo proprio accanto a casa mia."
La Sansa di Game of Thrones ha dimostrato anche di conoscere perfettamente Friends, perchè il nome Chanandler non è scritto così per errori di battitura.
È Ross (nell'episodio 4×12) che rivela che è con quel nome che Chandler è abbonato alla guida tv!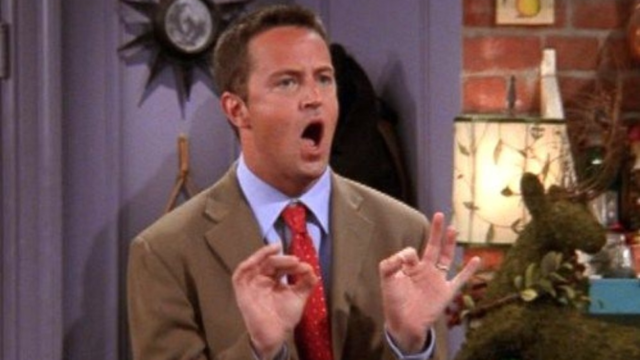 Sophie ammette che ha cercato in tutti i modi di accaparrarsi un incontro con Perry e rivela:
Ho comprato un accendino in modo che potessi avvicinarmi a lui e offrirmi di accendere la sua sigaretta. L'accendino ce l'aveva già, quindi è stato semplicemente imbarazzante.
Sophie Turner fangirl a tutti gli effetti!
Come ogni fangirl che si rispetti dopo questi tweet è partito il film mentale anche nella testolina di una ragazza che stava lavorando a una serie come Game of Thrones e può dire che il mondo delle star lo conosce bene!
Pensavo che potesse vedere questo tweet e raggiungermi e chiedermi un appuntamento o qualcosa del genere. Ma non l'ha fatto.
Ci sentiamo tutte un pochino più comprese da Sophie, ma soprattutto personalmente, da vera fan di Friends, ho alzato ancora di un livello la buona considerazione che avevo dell'attrice.