Friends si è conclusa da oramai quindici anni. Tuttavia la grandezza indiscutibile di questa serie tv si evince chiaramente dal fatto che ancora oggi si trovano spunti per parlarne e confrontarsi su diversi aspetti. Uno di questi è la decisione di far prendere allo show una piega quantomeno discutibile, non tanto nella sua sostanza quanto nella forma. Parliamo di un fenomeno piuttosto ricorrente tra le serie di grande successo che si apprestano alla loro conclusione, ovvero la creazione di storyline improbabili finalizzate ad "allungare il brodo", come si suol dire.
Tra queste è doveroso menzionare l'incomprensibile liaison tra Joey e Rachel. Una storia che può essere assunta a emblema del tentativo di compensare la mancanza di idee con una coppia poco credibile. Sebbene la tentata love story tra i due sia stata in un certo senso rappresentativa della crescita di entrambi e della loro maturazione come individui, non possiamo ignorare il fatto che fosse un po' piazzata lì.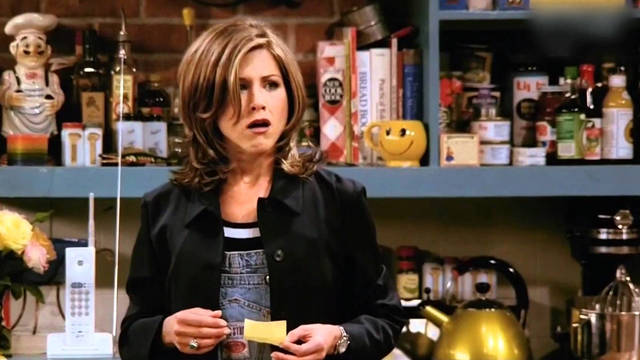 Quella che è stata spacciata per una profonda connessione spirituale ed emotiva, infatti, non era altro che una forte attrazione fisica mischiata con un reale affetto. La chimica tra i due personaggi e la complicità nata durante la convivenza sembravano essere state confuse con un sentimento più radicato. A dare un tono romantico a quello che non è altro che un escamotage è stata senza dubbio la dolorosa rinuncia che Joey e Rachel hanno scelto di operare in favore di Ross. Scelta che da un lato evidenzia la loro maturità e profondità d'animo, dall'altro conferisce al tutto un alone di disperato romanticismo.
La questione è: ne sentivamo davvero il bisogno?
Guardando l'episodio "The One Where Ross is Fine" verrebbe da dire di sì, data la comicità della reazione di Ross alla vista di Rachel e Joey intenti in un bacio appassionato. Ma se è vero che Ross e Rachel rappresentano una coppia male assortita seppur romantica, lo stesso vale per Rachel e Joey. Questo per le profonde differenze caratteriali che avrebbero reso poco verosimile una storia d'amore tra i due. Le differenze tra Joey e Rachel sono seriamente inconciliabili in un rapporto sentimentale, ma senza dubbio arricchiscono un rapporto d'amicizia.
Forse avrebbe avuto un impatto maggiore una notte d'amore tra i due senza coinvolgimenti sentimentali. Un'improvvisa esplosione di passione che in qualche modo gettasse reale scompiglio nel gruppo di amici per un paio di episodi. Un po' stile Penny e Raj in The Big Bang Theory. Dunque, perché si è deciso di rappresentare comunque la nascita di una "relazione" che a ben vedere non ha portato a niente per lo sviluppo della storia?
La risposta è forse da ricercare nella necessità percepita di stupire e incuriosire i fan con un colpo di coda alla serie tv che si apprestava a concludersi. Il fastidiosissimo fenomeno "Joey-Rachel" rappresenta la ricerca di un appiglio in grado di riaccendere un interesse che in realtà non si era mai spento. La trama di Friends però non ha né giovato né risentito del rapporto, naufragato ancor prima di nascere.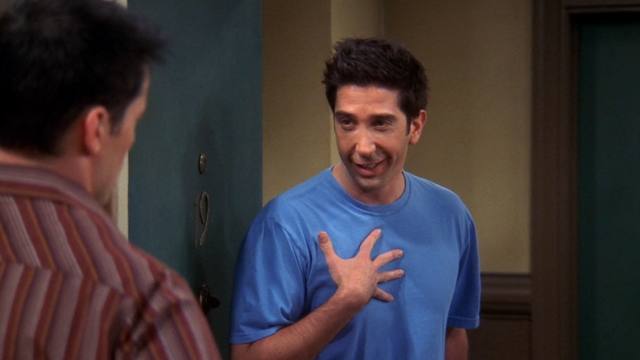 Il corso degli eventi della serie non è stato minimamente scalfito da quelle poche puntate di preparazione al secondo episodio della decima stagione, ovvero quello in cui Joey decide di fare un passo indietro per non ferire Ross. L'unica conseguenza effettiva potrebbe essere la piega presa dal rapporto tra Ross e Charlie. La reazione del paleontologo alla scoperta della storia tra Rachel e Joey ha infatti incrinato il suo rapporto con la collega. Ma anche questo è vero a metà, perché le reali prospettive della coppia non sembravano solide ed è lecito pensare che sarebbero arrivati ben presto a lasciarsi in ogni caso.
Ma Friends non è certo l'unica serie tv che ha fatto ricorso all'escamotage "Joey-Rachel" a causa della scarsità di idee.
Pensiamo ad esempio alla storia tra Fez e Jackie nel'ultima stagione di That '70s Show, anche questa poco convincente e apparentemente forzata. Un'altra serie che sembra essere ricaduta nel fenomeno "Joey-Rachel" è The Walking Dead (qui le pagelle dell'ultimo episodio), con l'improbabile avvicinamento tra Rosita e Padre Gabriel. Una storiella che non ha condotto a nulla ai fini della trama se non a una deriva alla Beautiful per una storyline che definire secondaria è riduttivo. Un altro esempio potrebbe essere l'accenno di liaison tra Sarah Lance e Leonard Snart in DC'S Legends of Tomorrow, una storia breve e inconsistente ai fini narrativi.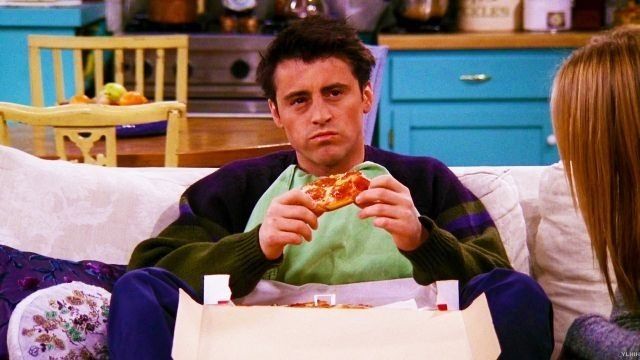 Tutti questi casi rappresentano scelte autoriali delle quali si poteva fare sicuramente a meno, perché non supportate da reali cambiamenti di rotta negli show in questione. La prova provata che quando non ci sono idee proficue sarebbe meglio lasciare tutto al suo posto e non impelagarsi in tentativi azzardati. Tutto sommato gli autori di Friends ci hanno regalato così tante gioie che non c'è nulla che possa scalfire il nostro amore per la serie!