Molto spesso il mondo degli addicted si scinde in due fazioni avverse: i fedelissimi al doppiaggio italiano e i puristi della lingua originale. Come è ovvio nessuna delle due fazioni è detentrice della ragione, nella maggior parte dei casi si tratta di abitudine e gusto personale, d'altronde vantiamo una delle migliori scuole di doppiaggio al mondo. Tuttavia, esistono alcune serie che vale la pena guardare in versione originale per il gran numero di battute che vengono sciupate da una traduzione al limite dell'impossibile (come spesso accade con Friends).
Ecco, quindi, le serie tv che in lingua originale sono piene zeppe di giochi di parole intraducibili:
1) Friends
Friends ha fatto la storia delle serie tv anche grazie ad alcune espressioni diventate ormai iconiche: a partire dal famosissimo "We were on a break" di Ross fino al suadente "How you doin'?" di Joey che, nella versione italiana, perdono tutto il loro charme.
Tra l'altro, nonostante l'indubbia bravura dei doppiatori italiani, non vedendo Friends in lingua originale non potrete godere appieno dell'esilarante scena del "pivot", quando Ross cerca di trasportare il suo nuovo divano attraverso la rampa di scale (letteralmente con pivot si intende il giocatore più alto della squadra di pallacanestro, intorno al quale ruota l'intera formazione). Pivot nella versione italiana viene tradotto con un semplice "fai perno". Inoltre, siete davvero sicuri di voler rinunciare a tutti i giochi di parole di Chandler nella loro versione "nuda e cruda"?
2) How I Met Your Mother
Una delle particolarità di How I Met Your Mother è sicuramente la presenza massiccia di giochi di parole che rendono la traduzione una vera e propria sfida. Ricordiamo tutti il "legen-daddy" tradotto in "legen-drago", per non parlare delle innumerevoli parole stravolte con eleganza da Barney che perdono il loro significato nel processo di traduzione.
Ma uno dei giochi di parole meglio riusciti è proprio quello di Victoria e Ted su Klaus: "Is your Klaus the kind-of-close Klaus from your class?".
Inoltre, proprio una battuta di How I Met Your Mother fu censurata nel doppiaggio italiano (qui potete scoprire quale).
3) The Office (US)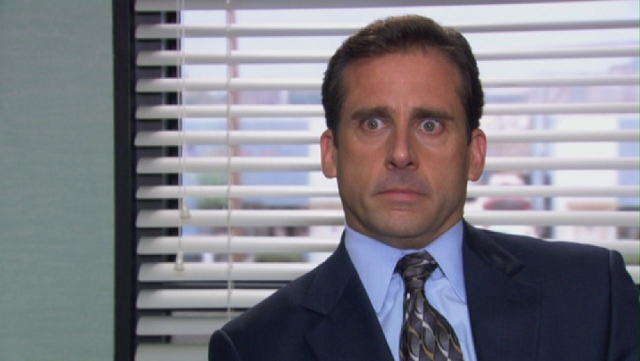 The Office è un mockumentary pieno zeppo di battute intraducibili capaci di farvi piegare in due dalle risate. Molte di queste fanno riferimento a specifici movimenti culturali e ambienti americani che, tradotti in italiano, non assumono lo stesso significato e non rendono giustizia.
Inoltre, il vocabolario utilizzato è basilare, accessibile anche a chi non mastica l'inglese in maniera eccellente, una delle serie migliori per chi ha intenzione di migliorare la lingua e imparare anche un po' di slang americano.
D'altronde molte battute di The Office sono diventate un vero e proprio must, entrando a far parte del linguaggio comune americano e per questo conosciute anche da chi non ha mai visto la serie tv. Ad esempio il famosissimo "That's what she said" di Michael Scott ripreso come una sorta di tributo in moltissimi film e serie tv e tradotto in "disse la ragazza" che in determinati casi non ha lo stesso impatto e lo stesso significato della versione originale. La grandezza di The Office, infatti, è stata prendere frasi assolutamente comuni e tramutarle in giochi di parole e battute diventate iconiche.
4) Will & Grace
Parlando di comedy che hanno fatto la storia, oltre a Friends non può mancare Will & Grace.
La serie ci ha tenuto compagnia dal 1998 al 2006, ritornando in piena forma con un revival nel 2017. I giochi di parole sono alla base di tantissime battute che nel corso delle puntate ci hanno fatto ridere a crepapelle . Ricordiamo tutti le "allegre" storie di Smitty, il fidato bartender di Karen, l'iconico "Just Jack" e i molteplici nomignoli con cui sono soliti chiamarsi. Ovviamente questo tipo di comicità, per sua natura, tende a perdere qualcosa nella traduzione per questo conviene sempre dare un'occhiata alla versione originale.
5) 2 Broke Girls
Ogni episodio di 2 Broke Girls straborda di giochi di parole. La sitcom si basa sulle vicende di Max e Caroline, due cameriere di Brooklyn che tra i tavoli del Williamsburg Diner stringono una singolare quanto improbabile amicizia. La serie è famosa per le esilaranti gag, molto spesso a sfondo sessuale. Anche in questo caso l'ilarità deriva da un sapiente utilizzo delle parole basato sulla commistione di sonorità e significato della parola stessa.
6) BoJack Horseman
Se cercate una serie tv che vi faccia ridere, piangere e contemporaneamente riflettere sulla vita, BoJack Horseman è il prodotto che fa al caso vostro. I personaggi attingono generosamente dallo slang americano e una delle caratteristiche della serie sono gli innumerevoli scioglilingua che, per loro natura, sono quasi impossibili da rendere in italiano senza apportare delle modifiche.
7) Brooklyn Nine-Nine
Brooklyn Nine-Nine è una comedy che, come il nome suggerisce, è ambientata nel distretto 99 di New York. Jake e la sua squadra, nel risolvere i casi, ci hanno fornito momenti di sano divertimento ma anche di commozione. Gran parte del successo della serie è dovuto alla bravura degli attori e alla mente di Michael Schur, già scrittore e produttore di The Office (US), The Good Place e Parks and Recreation. Come accade in The Office, l'ilarità di alcune battute deriva dalla massiccia ripetizione delle stesse, un esempio su tutti è il "Title of your sex tape" battuta che è entrata di diritto nel linguaggio comune, ennesima dimostrazione della bravura di Schur.