Il momento di gloria di M*A*S*H*, Friends e molte altre serie tv è stato il giorno in cui hanno conquistato il mondo… con un episodio.
Rispetto al passato, l'esperienza televisiva che si può avere al giorno d'oggi è molto più variegata. Se anni fa il numero di programmi era limitato, ora abbiamo una gamma di opzioni talmente ampia da mettere in difficoltà lo spettatore. Questo fattore deve essere sempre tenuto in considerazione nel momento in cui si cerca di capire perché alcune serie televisive di decenni fa abbiano raggiunto un successo esorbitante, di cui si sente l'eco ancora adesso, come nel caso di Friends.
Ciò che abbiamo cercato di fare in questo articolo, basandoci sui dati raccolti dalla Nielsen Media Research, è stato stilare una lista dei 10 episodi più visti in assoluto nella storia delle serie tv: ci siamo quindi concentrati sì sul rating, ma soprattutto sul continuo aggiornamento dei dati numerici, per capire non solo quali puntate hanno catturato l'attenzione al momento della messa in onda, ma anche quali sono quelle che ancora oggi sono riuscite a mantenere una posizione sul podio. Ecco il risultato.
10) All in the Family – "Il problema di Edith"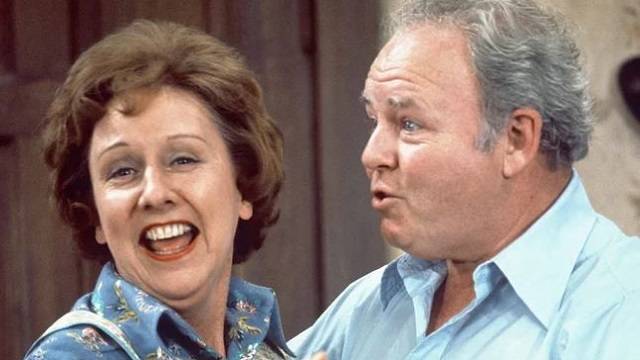 All In The Family (Arcibaldo, nella versione italiana) è stata una serie al contempo rivoluzionaria e convenzionale, il genere di spettacolo che ha utilizzato il formato della sitcom per analizzare e affrontare problemi di una certa complessità. Anche l'episodio "Il problema di Edith" segue questa tendenza, mira alla risata dello spettatore e intanto tratta tematiche delicata e verosimili, in cui è facile immedesimarsi. Il 40,7% delle famiglie si era sintonizzato per la visione, rendendo questa puntata la più vista dell'intera serie.
9) Undercover Boss – "Waste Management"
Undercover Boss è un reality americano basato sull'omonima serie britannica e prodotta dallo Studio Lambert. Per chi non lo sapesse, in ogni episodio una figura di rilievo di qualche impresa decide di presentarsi sotto copertura nella stessa azienda, in veste di stagista.
Il primo episodio è stato presentato in anteprima il 7 febbraio 2010, dopo il Super Bowl, e vedeva protagonista Larry O'Donnell, Presidente della Waste Management. La puntata è stata un vero e proprio successo, con 42 milioni di spettatori totali.
8) I Robinson – "Mammiferi costosi"
I Robinson hanno avuto un ruolo cruciale nella normalizzazione della classe media di colore, più di quanto abbia fatto qualsiasi altro programma fino a quel momento (ed è solo uno dei motivi per cui ci mancano). Considerato ciò, è facile immaginare con quanta rapidità la serie sia diventata una delle più popolari a cavallo degli anni '80 e '90. "Mammiferi costosi" non è un finale di stagione, né un episodio "speciale": si concentra semplicemente sui tentativi di Cliff di acquistare una nuova auto. In un certo senso, è proprio la normalità della vicenda a spiccare. Fatto sta che questa puntata ha ottenuto un rating del 41,3%, cambiando le carte in tavola per le otto stagioni successive.
7) Magnum P.I. – "Festa a sorpresa"
Magnum P.I. è una delle serie tv più popolari degli anni '80, e il finale non ha certo deluso le aspettative, registrando una buona percentuale di ascolti, ma soprattutto rimpolpando il suo pubblico nel corso del tempo fino a raggiungere gli schermi di quasi 51 milioni di persone. Tutti gli elementi della serie, sia tecnici che narrativi, sono stati ripresi e perfezionati nella puntata conclusiva, che sicuramente merita la visione. Dopotutto, Magnum P.I. rimane ancora un pilastro per il genere poliziesco.
6) Seinfeld – "Il finale"
Non tutti hanno amato il finale spezzato di Seinfeld, ma i numeri parlano chiaro. La serie si è conclusa sottolineando ciò che molti avevano capito dall'inizio: i personaggi principali sono in realtà gli individui peggiori. Da un lato, ciò ha permesso ad alcune vecchie conoscenze di ricomparire e di condannare il quartetto principale della storia, con un effetto sorpresa niente male. D'altra parte, la chiusura della vicenda ha lasciato molti spettatori insoddisfatti, ma almeno è rimasta fedele all'atteggiamento cinico e disinteressato di Seinfeld. Pare che, in fin dei conti, la coerenza abbia pagato: 76 milioni di persone hanno visto la puntata, e non sono certo briciole.
5) The Fugitive – "The Judgement Part. 2"
Il Fuggiasco vi farà senza dubbio pensare al noto film di Harrison Ford, film che in realtà si basa su uno spettacolo televisivo incredibilmente popolare negli anni '60. Come il film, anche la serie ha seguito le vicende di Richard Kimble, in fuga dalla legge dopo essere stato accusato dell'omicidio di sua moglie. The Fugitive ha creato il modello su cui si fonda il dramma moderno e, nonostante oggi questo titolo sia stato accantonato, l'episodio conclusivo è stato visto dal 45,9% delle famiglie nel 1967, mantenendo tuttora un'ottima posizione in classifica con 78 milioni di visualizzazioni.
4) Friends – "Arrivi e Partenze"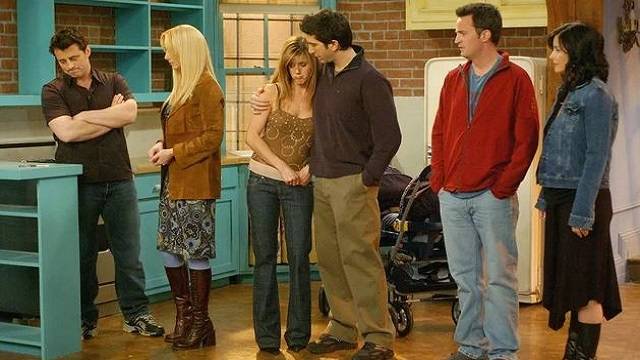 Friends è il riferimento di un'intera generazione. Chi non avrebbe voluto far parte di un gruppo simile, condurre una vita bella, semplice e divertente in un appartamento di New York City? Il termine di Friends è stato un momento agrodolce per tutti, ma sicuramente uno dei più visti in assoluto. Il bello di questo finale è che chiude il capitolo senza condire il tutto di una tristezza eccessiva: i protagonisti hanno ancora una vita, solo che lo spettatore non ne farà più parte. L'episodio ha guadagnato un rating del 35,6%, e da quel momento tantissime di persone hanno continuato a vedere Friends dall'inizio alla fine. 80 milioni, per essere precisi.
3) Cheers – "One for the Road"
Si potrebbe dire che il finale di Cheers (Cin Cin, in italiano) corrisponde al termine di un'era. Dopo un decennio e ben 11 stagioni, l'episodio del 1993 ha registrato un picco di ascolti inaudito. La puntata conclusiva è una sorta di messaggio agli affezionati spettatori, un saluto consolatorio che sembra dire "Anche se le nostre strade saranno separate d'ora in poi, continua a vivere la tua vita. Noi faremo altrettanto". Cheers si è lasciata alle spalle ben 93,5 milioni di persone, tanto soddisfatte quanto malinconiche.
2) Roots – "Pt. VIII"
La miniserie Roots ha conquistato il pubblico da subito: il fatto di essere un'esperienza breve, che non richiede un impegno costante e a lungo termine, ha incoraggiato un gran numero di persone ad approcciarvisi. Roots vuole raccontare gli orrori della schiavitù, ma anche le sue conseguenze nel corso del tempo. La serie potrebbe essere una lezione di storia, ma non lo pretende e non ne dà l'impressione, come dimostra l'enorme fetta di pubblico che è riuscita ad ottenere. Nel 1977, il 51,1% delle famiglie ha assistito alla trasmissione della parte finale della serie, e per quello stesso episodio oggi si registrano 100 milioni di spettatori complessivi.
1) M*A*S*H* – "Goodbye, Farewell and Amen"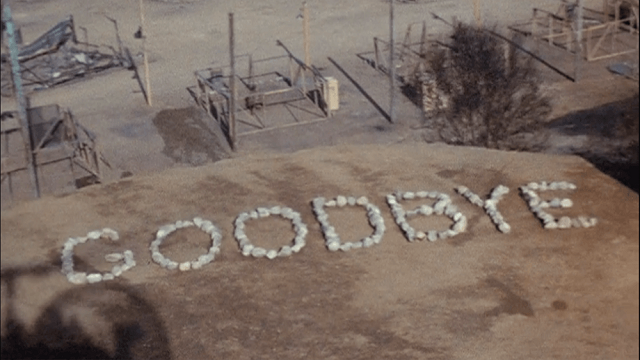 È quasi straordinario che M*A*S*H sia riuscito a rimanere in cima alla classifica così a lungo, eppure ce l'ha fatta, regalando al pubblico la perfetta conclusione dello show tanto amato da tutti per più di un decennio. Il finale, intitolato "Goodbye, Farewell and Amen", riesce a essere toccante, strappalacrime e rappresentativo del periodo della guerra, approfondito per tutta la durata della serie.
L'episodio del 28 febbraio 1983 è stato visto dal 60,2% delle famiglie americane. Ad oggi, secondo le stime, si parla di 125 milioni di telespettatori. M*A*S*H non ha solo definito un record, ma ha illustrato le vere potenzialità di un programma e, più in generale, della televisione: può entrare nella casa di chiunque e condizionarne l'umore. Può commuovere, divertire, stabilire un legame emotivo. E M*A*S*H ha fatto proprio questo, a quanto pare più di chiunque altro.