Nell'ultimo episodio di Fear The Walking Dead (qui la recensione) ci eravamo lasciati con l'insegna dell'hotel accesa come faro per riunire tutta la famiglia. Madison, nonostante le avvertenze di Alicia, aveva deciso di provarci perché era sicura che, da qualche parte, Nick o Travis avrebbero visto quel segnale.
In questa puntata, la 2×13 di Fear The Walking Dead, ritroviamo proprio Travis, Chris, il loro tormentato rapporto e la risposta a qualche perchè.
Li avevamo un po' persi di vista, infatti era dall'episodio 2×10 (qui la recensione) che non venivano presi in considerazione.
La puntata comunque si apre con un retroscena abbastanza prevedibile. La mossa dell'insegna di Madison ha portato alle tanto attese ed infelici conseguenze. Un ammasso di gente ha deciso di marciare verso quel porto sicuro, portando con sé le proprie paure, le proprie convinzioni, la propria voglia di stare al sicuro e la propria freddezza nel fare tutto il possibile per riuscire a superare quel cancello.
Valige rosa, scarpe di tutti i colori. Lo spettatore si trova immerso in gambe e braccia e ha la sensazione di affogare in quel mare di sconosciuti. Sconosciuti che, per giunta, si comportano esattamente come gli zombie da cui fuggono. Il paragone è immancabile: le braccia che attraversano le sbarre, il saltarsi addosso uno all'altro senza badare ai propri vicini e un istinto irrazionale, la sopravvivenza, come sola ed unica guida da ascoltare.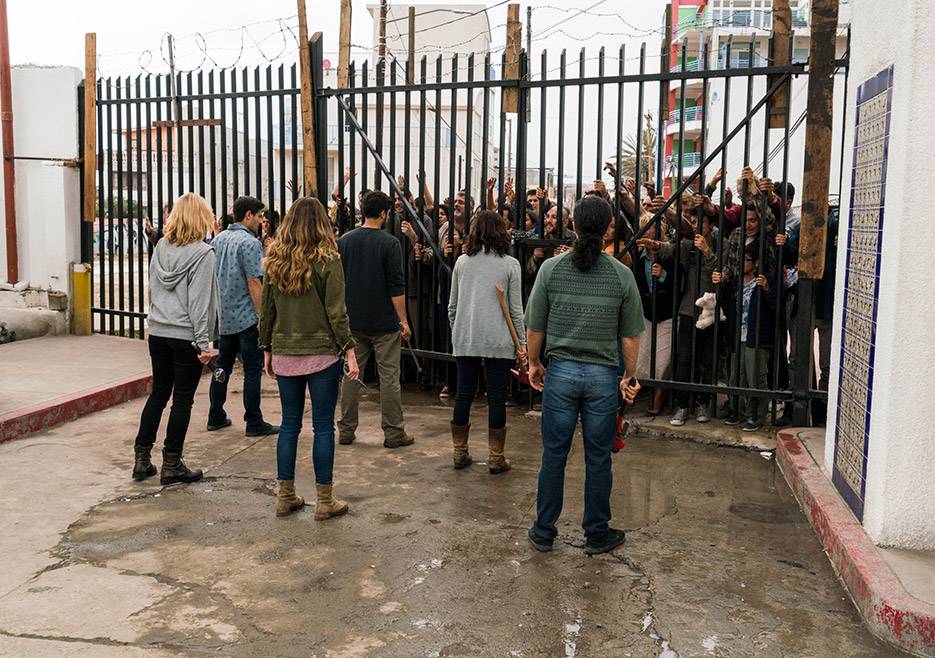 Il Rosarito Beach Hotel è sotto assedio. Però, mentre la confusione pervade la mente dei protagonisti che si trovano dalla parte sicura del cancello, un faro di speranza compare anche per loro.
Nel nuovo mondo è tutto così. Un po' dai, un po' ricevi. Un po' sbagli, un po' hai l'occasione di rimediare. Un po' perdi e un po' ritrovi.
Così forse è successo anche a Travis che deve assecondare Chris ed il suo nuovo omicidio nel nome della sua capacità di poter salvare un altro ragazzo, James. Così seppellisce l'uomo di cui non sa nemmeno il nome e gli restituisce la pace seppellendolo di fianco alla sua famiglia. Così finalmente anche lui potrà riunirsi con Madison ed Alicia.
"Non esiste più il bene, non esiste più il male. Non esiste più il giusto, non esiste più lo sbagliato. Si tratta di noi e loro. Uccidi o sarai ucciso. Ho fatto quello che dovevo fare, scusa ma non sono dispiaciuto".
Queste parole così dure e spietate che ricordano tanto il leader della serie madre, Rick Grimes, non stanno bene sulla bocca di un ragazzino che sembra voler fare di tutto pur di andare incontro a qualcosa che gli doni un senso di potenza effimero, un senso di appartenenza ad un gruppo di cui in realtà non fa parte.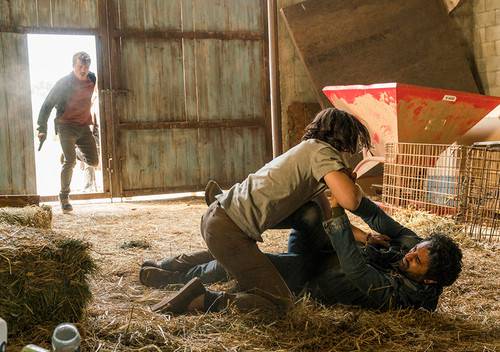 Lo spettatore è chiamato così ad una scelta morale, una delle tante quando si guarda una serie come Fear The Walking Dead.
Chi ha ragione? Chi ha torto? E se non si può avere il bianco o il nero perchè come sottolinea Chris, il nuovo mondo ha nuove regole, verso che parte pende la bilancia?
Alla domanda di Madison "Dov'è Chris?", Travis piega la testa e non trova le parole per rispondere. Per un po' gli manca la forza di rivivere i momenti trascorsi, di confessare quelle che crede che siano colpe e di aprire il cuore alla donna che ama. Così come, ancora con la compagnia di Brandon, aveva trovato la forza di guardare in faccia alla realtà e di scrivere il nome dello sconosciuto sulla tomba per dare a suo figlio un peso da portarsi sul cuore.
Travis, il protagonista assoluto della puntata, prova in tutti i modi a capire quali siano le regole di Fear The Walking Dead. Perché lui non ci sta, lui crede che l'umanità sia tutto ciò che gli permette di rimanere vivo ed è sicuro di non volerla perdere. Di fronte a niente.
Apre la sua mente e riporta i suoi dubbi a James, il ragazzo ferito sul letto di morte.
Non importa dove andiamo. e' la stessa storia con persone diverse.
James gli parla e cerca di raccontargli dell'assurda promessa che lui e i suoi amici si sono fatti. Nessuno viene lasciato indietro, ma se questo risultasse necessario, bisogna assicurarsi che nessuno si trasformi. La promessa include una clausola però, una di quelle che cambiano completamente il punto di vista delle parole giurate: devi uccidere il tuo amico, l'uomo che conosci da quando avevi sei anni, l'uomo che sei consapevole si possa salvare, l'uomo che ti seguirebbe ovunque. Si tratta di sopravvivenza, no?
Il dialogo con Travis è forte e deciso. Alla mente ci rimanda una scena di The Walking Dead che nessuno di noi sarà mai in grado di dimenticare. James racconta a Travis di quando ha dovuto sparare all'amico che era stato morso. Dice (Daryl) che gli dispiaceva, che lo aveva guardato fisso negli occhi (Dale) e poi lo aveva fatto chiedendogli scusa (Scusa, fratello). Lo aveva fatto intervenendo al posto del capo, Brandon, (Rick) che non riusciva a premere il grilletto davanti al suo amico.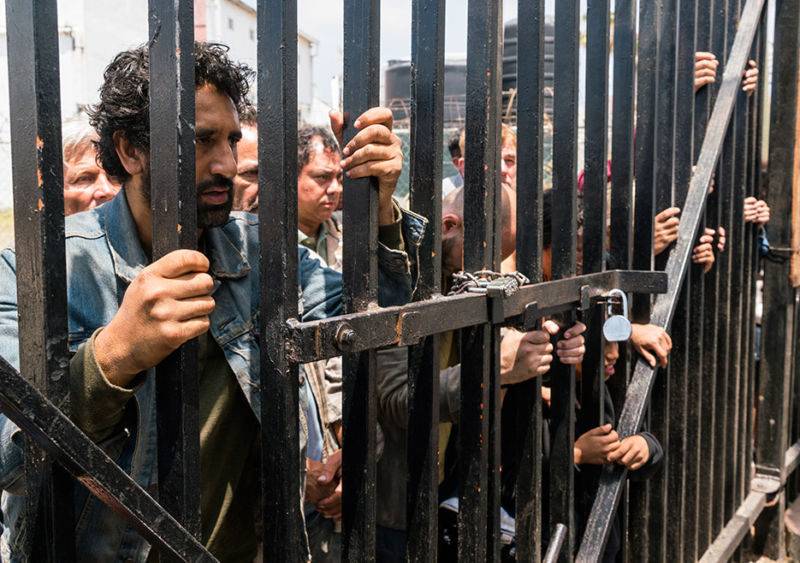 Il percorso e il racconto di Travis arrivano ad una svolta: Brandon ha trovato la forza di premere quel grilletto, Chris lo ha tradito mostrandogli una volta per tutte la sua decisione e, forse, anche Travis stesso ha finalmente capito.
La sua vita conta ancora e non siamo sacrificabili.
Nemmeno nel mondo di Fear The Walking Dead ci può essere spazio per gesti e decisioni simili. Non se si tratta di vite umane. Non c'è posto nemmeno per i deboli, ma non c'è spazio nemmeno per chi davanti ad un omicidio non riesce a provare rimorso.
 Un saluto alle pagina  Fear The Walking Dead Italia, Fear The Walking Dead – Cobalt – Italia , The Walking Dead ITA, The Walking Dead – Italy e The Walking Dead – Pagina Italiana !