Fear The Walking Dead ci lascia alla sua pausa con un episodio molto introspettivo, concentrato sulle reazioni dei personaggi a tutto ciò che gli sta accadendo intorno.
L'episodio ci ha tenuti con il fiato sospeso dal primo minuto e, anche se la quantità di 'azione' rispetto agli altri è stata inferiore, la sensazione che rimane è di paura, ansia, inquietudine allo stato puro. Fear The Walking Dead sta diventando molto brava in questo.
Per l'ennesima volta dall'inizio del telefilm, veniamo catapultati, nei minuti iniziali, in un'atmosfera che non conosciamo. La pioggia battente, il fango, il buio, una foresta fittissima e lussureggiante, un bambino che osserva terrorizzato una schiera di corpi morti in mezzo all'acqua. Ad una prima veloce visione potrebbe non sembrare nemmeno un flash back. Nel mondo di Fear The Walking Dead una scena simile non sarebbe così assurda. Invece il pubblico viene immediatamente smentito: si tratta di un sogno di Daniel, un incubo per essere più precisi. Ma non è finita lì perchè la visione di Ofelia rivela che dentro quell'incubo ce n'era un altro pronto a spuntare fuori. Questo è il primo vero spunto di riflessione che abbiamo su Daniel. Che cosa gli è successo? Il ritorno a quella terra lo ha letteralmente sconvolto. Ha le visioni, non ha pace, cerca sua moglie nei sogni e nella realtà, teme per sua figlia ma non è più in grado di tenerla al sicuro.
Il comando di Celia è semplice: non c'è spazio per gente come Daniel nel suo piccolo Paradiso. Sfida la sua autorità, ma soprattutto non crede nei suoi stessi principi riguardanti i morti. Quindi non merita di restare al sicuro.
Gli autori sono bravi a non permetterci nemmeno per un secondo di soffermarci su tutte le situazioni pressanti che ci vengono proposte una di seguito all'altra. Da una parte troviamo Celia e Strand, con Madison che cerca di stabilire un finto equilibrio. Poi si passa alla fuga di Chris e al conseguente litigio tra Travis e Alicia; di nuovo Daniel e Ofelia.
E' il caos totale. Nella notte, nella stessa notte in cui Strand ha dovuto uccidere la persona che amava, qualcosa non ha più funzionato. Il Paradiso di Celia e dei suoi uomini è stato contaminato con il peccato che nessuno voleva commettere: un omicidio. Se nella serie madre la questione "zombie sì, zombie no" era stata delineata quasi immediatamente dai protagonisti (eccezione fatta per Hershel, ma nessuno si fa coinvolgere), in Fear The Walking Dead queste carte si mescolano. Nick ha dubbi a riguardo e sembra trasmettere a tutto il pubblico la sua insicurezza.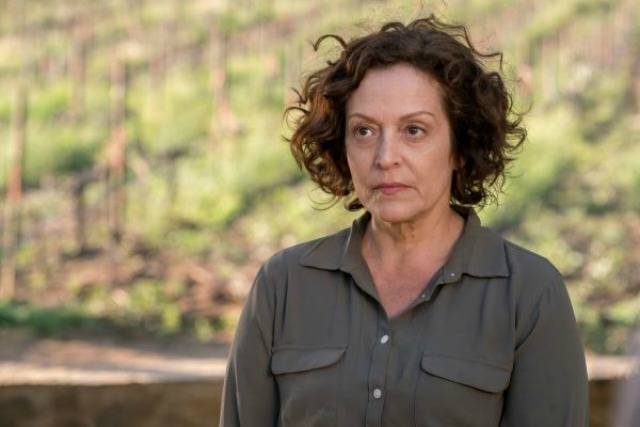 "Questa non è l'Apocalisse. E' l'inizio di una nuova vita. La fine della morte stessa. La vita..eterna."
Celia reinterpreta e fa sua una dottrina alquanto spiazzante. Nick la fa sua e si sente galvanizzato dall'importanza che Celia gli dà come persona. Non è solo la questione di voler essere più "umani" (ridarle suo figlio), nè di essere collaborativi per tutto il gruppo (ricercare Travis), ma si tratta di sviluppare un nuovo rispetto per gli zombie che nessuno ha mai chiamato con il loro nome.
L'unico che non ha dubbi sulla situazione è Strand che guarda in faccia alla realtà e capisce che il comportamento di Nick è solo dovuto alla sua insicurezza, alla sua rabbia, alla sua paura, alla sua (ex)tossicodipendenza. Cerca qualcosa a cui aggrapparsi, qualcuno che lo guardi con occhi diversi rispetto a sua madre. Quel qualcuno prima era Strand, non dimentichiamocelo. Victor era stato in grado di valorizzare il ragazzo, di dargli l'importanza che meritava come uomo e di condurlo ad un ruolo rilevante per tutto il gruppo. Poi però è subentrata Celia a ridisegnare il profilo psicologico di Nick a suo piacimento e farlo riflettere su chi siano davvero i mostri.
MOSTRO è forse la parola più utilizzata in questo episodio. La domanda ricorrente è sempre la stessa. Sono mostri gli zombie guidati da un istinto cannibale irrazionale? Oppure sono mostri gli uomini che nemmeno per un secondo si fermano a pensare alla loro condizione e li uccidono freddamente senza onorarli?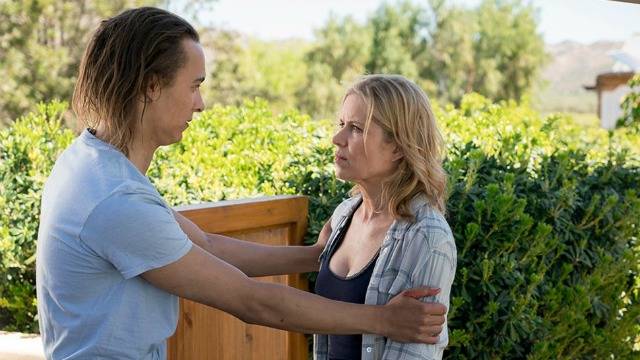 In questa puntata i ruoli si ribaltano, le dinamiche cambiano, i protagonisti fanno scelte che facciamo fatica a capire e a delineare. Ogni certezza si sgretola sotto il peso di un'umanità persa, di qualche morto che cammina e di qualche ombra che non se ne va dalle menti.
L'unico momento in cui le situazioni si placano e assumono un ritmo umano è il funerale di Thomas. Nell'attimo 'superiore' che richiede un certo contegno, tutte le faide vengono meno. Un po' come quando alla fattoria di Hershel vennero celebrati i funerali di Otis. Gli scontri interni al gruppo, la rabbia del fattore e dello sceriffo, vennero accantonati per preservare il momento di cordoglio per l'amico.
Ma è solo un attimo. Come dice Nick: "siamo chi siamo, distruggiamo tutto".
E così Madison si trasforma in qualche modo in Victor Strand. Non c'è spazio, in questo nuovo mondo, per le persone che non sanno accettare la realtà come Celia. Non c'è spazio per chi non riesce a combattere i propri demoni come Daniel, non c'è spazio per chi ancora non ha chiaro quale sia il suo posto come Nick.
L'ennesima divisione del gruppo sembrerebbe quasi voler raccontare che c'è spazio solo per chi abbandona le persone che ama al proprio destino, chiudendo un occhio sulla moralità del suo gesto. Perchè è esattamente ciò che è successo. Travis ha deciso di lasciare il resto della sua famiglia per stare con Chris e Nick ha accettato di mentire. Nick stesso ha deciso di stare da solo in mezzo agli zombie. Madison e Alicia lo hanno lasciato fare.
E quindi? Si può sopravvivere restando tutti divisi? Il mondo di Fear The Walking Dead ci ha sempre insegnato che si hanno più possibilità restando uniti. Se il gruppo si riunirà una sola cosa è certa: niente sarà più come prima.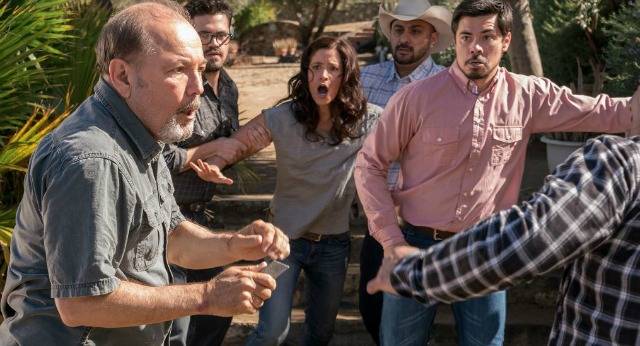 Un saluto alla pagina Fear The Walking Dead Italia !