Fear The Walking Dead non sembra volersi prendere nemmeno una puntata di pausa nella sua continua ascesa. Anche in questo episodio ritroviamo paura, tensione e tutte quelle sensazioni che in un mondo così devastato non possono più mancare.
Rieccoci con l'appuntamento settimanale di Fear The Walking Dead e con la recensione dell'episodio 2×05. Rieccoci insomma con una musichetta allegra e illusoria, una mano decisa che prepara un'ottimo piatto viste le condizioni, una tv accesa su un programma di sci e rieccoci con Alicia, severa e guardinga su ciò che le accade intorno. L'atmosfera si preannuncia subito surreale con un misto di suoni e gesti che non hanno nulla a che vedere con il mondo dove i morti risorgono per mangiare i vivi e dove gli uomini si fanno già la guerra per le poche risorse rimaste. E' una semplice, banale, illusione. La gentilezza di Connor mette in guardia Alicia, ma lui si affretta a spiegarle, con una frase ad affetto, che tutto ciò che li faceva andare avanti prima, ora deve essere ripetuto con più amore e convinzione, proprio per tutti i cambiamenti che ci sono stati. Immediatamente arrivano le contraddizioni, come a voler sottolineare quanto fossero effimere quelle belle parole o quanto poco potesse durare un pasto caldo. Le luci si spengono, sale il buio, il cuoco se ne va, il pasto caldo e gustoso se ne va, le catene si chiudono, Alicia resta sola e scopre che la barca è ferma a sovrastare l'immensità del nulla che li circonda.
Neanche un attimo per riflettere, perchè gli autori spostano subito l'attenzione su Daniel, Chris e il prigioniero sotto tortura. Una serie di battute stratosferiche con urla, risate macabre, risentimenti e ritorsioni che ricordano tanto (ed è bellissimo) lo stile della serie madre. In questo, Fear The Walking Dead, sta facendo un capolavoro. Risaltano fuori temi, frasi, scene azzeccati in maniera spettacolare. Il ragazzo sotto le grinfie di Daniel racconta di nuovo la storiella della legge del più forte e se ne esce con un "vi dispiacerà" che sa tanto di Daryl e Dwight. A nulla serve minacciare però, se nel frattempo si sta tremando di paura e si sta cercando di far leva sulle piccole debolezze degli esseri umani che hai intorno.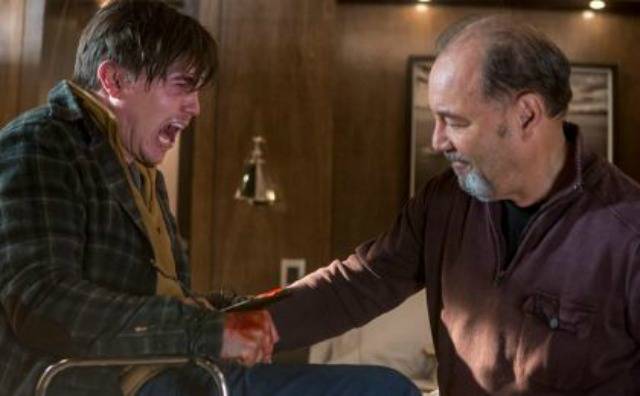 "Questo è il mondo di oggi. Uno vive e un altro muore."
I nostri protagonisti stanno cominciando a capirlo sempre di più. Inizia ad essere sempre più sottile la distinzione tra bene e male, tra giusto o sbagliato, tra ragazzino e adulto, tra assassino e salvatore, tra torturatore e torturato. Non c'è più quello che si deve fare, ma quello che si è costretti a fare dalle circostanze. 
Bisogna accettare le condizioni in cui ci si trova e agire prontamente di conseguenza. Per questo Madison riesce a stringere il volante insieme a Strand: quelle due mani ravvicinate che puntano letteralmente nella stessa direzione hanno lo scopo di farci capire che ci sono più strade e modi di fare per raggiungere l'obbiettivo sopravvivenza e che nessuno dei due è pienamente corretto o sbagliato. Per questo Nick non riesce a promettere a sua madre di smettere di fare di testa sua, con un chiaro riferimento a tutte le false speranze che gli aveva dato in passato per la sua disintossicazione. Non lo fa perchè non ha più senso mentire o fingere, perchè nel mondo di Fear The Walking Dead bisogna soltanto imparare ad essere. Per questo Chris si ritrova nuovamente a fare i conti con la scomparsa della madre, con i suoi demoni e con una persona da uccidere, Alicia con la sua montata fiducia per Jack e Travis con le sue scelte consapevoli riguardanti Alex e Strand.
E, al contrario di quello che dice Madison, non è ancora finita.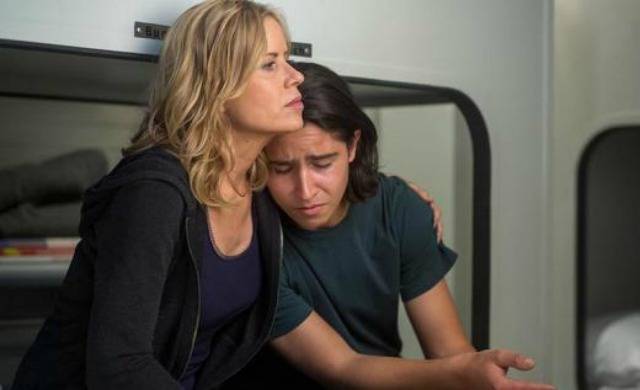 Lo scambio dei prigionieri dall'epilogo abbastanza prevedibile non fa che rafforzare il tema delle scelte di questa puntata. Alicia si trova in due bivi, uno di seguito all'altro. Famiglia o Jack. La sua decisione è scontata, perchè, giustamente, il sangue è sangue. Il secondo interrogativo però è: "ci si può fidare davvero di Jack?". Se la risposta fosse stata sì avrebbe dovuto invitarlo a prender parte alla loro fuga, come precedentemente deciso, ma così non è stato.
La famiglia ha vinto, in tutto e per tutto. 
Sicuramente Jack, Alex e gli altri uomini di Connor non hanno finito la loro storia nel mondo di Fear The Walking Dead. Sentiremo ancora parlare di loro.
Senza più problemi di separazione l'Abigail dovrebbe riprendere il suo percorso per il confine da passare grazie ai contatti di Strand. Il punto saliente però è che, qualunque cosa succeda d'ora in avanti, l'umanità di tutte queste persone ha già iniziato a sgretolarsi con i corpi di coloro che si stanno lasciando alle spalle.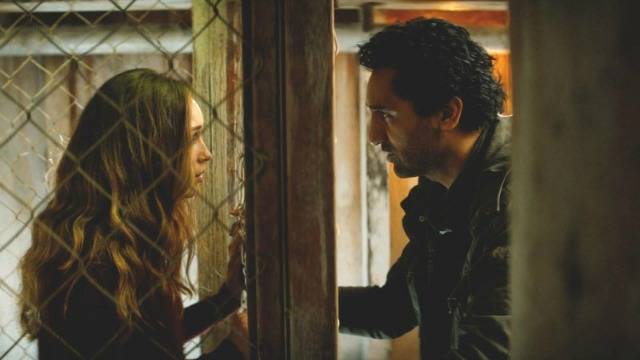 Un saluto agli amici di Fear The Walking Dead Italia !