# #
E anche la seconda stagione è giunta al suo termine. La 2×14 e la 2×15 di Fear The Walking Dead hanno messo il punto alla fine di un insieme di episodi davvero significativi per tutta la serie.
Ci eravamo lasciati con una puntata (qui la recensione) per lo più riflessiva, con il dolore di Travis da far da sfondo ai suoi ricordi e alla sua difficoltà di accettare le nuove regole del mondo. La 2×14, ma soprattutto la 2×15 di Fear The Walking Dead hanno spremuto fino al midollo tutti i personaggi, mettendoli alla prova e sfinendoli sotto (quasi) ogni punto di vista.
# #
"Non c'è più bene e male, è così che funziona adesso"
Le parole di Chris, nell'introduzione delle due puntate che portano alla conclusione di Fear The Walking Dead, rispecchiano pienamente tutta la sintesi dei due episodi.
Le vicende si snodano attorno a tutti i personaggi: Ofelia da sola, Nick Luciana e Alejandro nella Colonia, Madison, Travis, Alicia, Brandon e Strand all'Hotel e Marco nel suo rifugio di viveri e ricatti.
# #
I titoli delle due puntate 'Ira' e 'Nord' hanno principalmente lo scopo di ergersi come fili conduttori delle vite intrecciate di tutti i protagonisti. Il primo si conclude con l'ira selvaggia di Travis una volta saputo il destino di suo figlio, il secondo con il Nord come unica meta per tutti i sopravvissuti.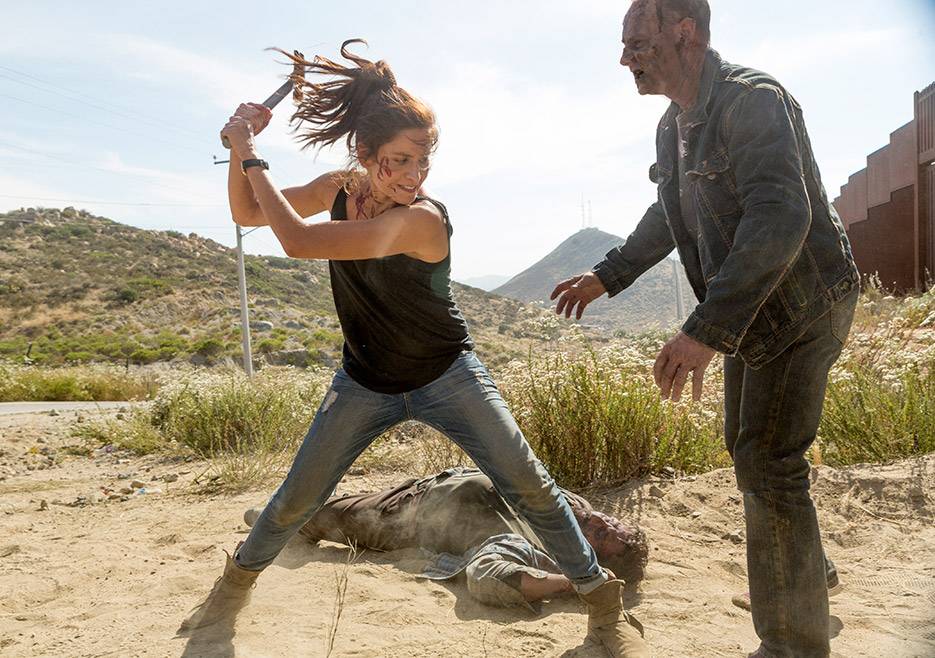 Ofelia, sempre più sola (anche il pick up viene abbandonato) e sempre più risoluta nel suo obbiettivo, ci viene mostrata tenace e quasi imbattile. La sua meta era già stata resa nota nelle puntate precedenti, ma nemmeno lo spettatore poteva pensare che quel colpo di fucile al di là del confine fosse un "Benvenuta in America".
La sua storia e il suo cammino per un nuovo mondo in Fear The Walking Dead sono abbastanza lineari. Qualche zombie, qualche imprevisto, un rosario come amuleto di un passato che fatica a ricordare e una preghiera in caso di pericolo per sentirsi meno sola. Sicuramente il suo viaggio è appena cominciato.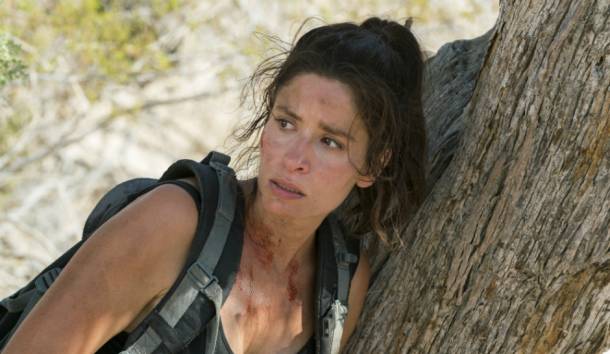 All'Hotel, invece, ritroviamo Madison, Travis e Alicia con un rapporto familiare imbarazzato e stanco. Nessuna parola può totalmente calmare e rasserenare Travis, nessuna parola può scusarlo con Alicia per averle abbandonate per stare con Chris, nessuna parola può scusare Alicia per aver avuto troppa paura di suo figlio, ma nessun membro della famiglia ha intenzione di rinunciare alle proprie responsabilità.
La prima parte delle vicende gira intorno a Madison. E' lei ad avvicinarsi a Travis cercando le parole giuste per aiutarlo, anche se è ben consapevole che quella sensazione di abbandono verso il figlio non se ne andrà mai. "E' più al sicuro con le persone che lo capiscono" infatti sembra più una spiegazione che lei vuole dare a se stessa per aver fatto la stessa cosa con Nick.
E' poi sempre Madison ad avvicinarsi a Derek e Brandon e a capire che sono loro le persone che Travis ha lasciato con Chris, che la persona morta di cui parlano potrebbe essere proprio lui. Il passaggio successivo è molto interessante: prima di riferire la sua supposizione a Travis e cercare di aiutarlo come si era ripromessa, Madison ha bisogno di un consiglio. Un consiglio di un amico, un consiglio di Strand.
Posso farti una domanda? Cos'è che ti fa andare avanti? In questo mondo, qual è la ragione che ti fa alzare la mattina? I tuoi figli. Giusto. Hai questa ragazza, questa ragazza straordinaria per la quale ti alzi ogni singolo giorno. E per quanto riguarda Nick, è la speranza che sia là fuori, vivo. E la speranza che lo rivedrai. Io avevo la stessa speranza per Thomas. Ma adesso… Il mondo è un luogo oscuro, Madison. Pensi che Travis sopravviverebbe se perdesse quella speranza?
Ma, come in ogni piano che si rispetti, qualcosa va storto. Travis capisce non vuole la verità, la pretende. In un primo momento la accetta anche, ma conoscendo Brandon, Derek e i loro modi, fa molta attenzione alle parole che usano per descrivere "l'incidente". Capisce che mentono e per l'ennesima volta chiede soltanto la verità. Chiude la porta dietro di sé, come a voler rinchiudere all'esterno la sua parte umana, in modo che non influisca positivamente sulla sua vendetta. Si sporca le mani, massacra i due ragazzi e, come Chris prima di lui, non prova alcun rimorso.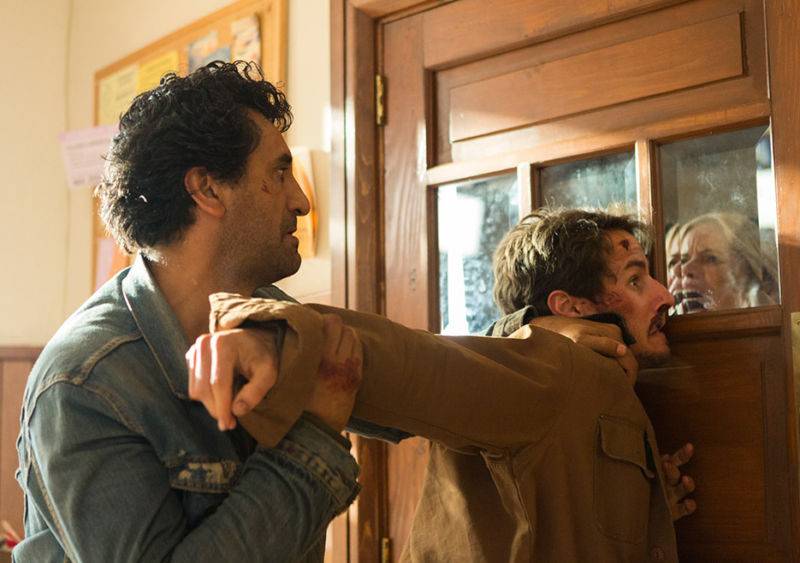 Al Pelicano arriva Nick con la dose di oxicodone promessa a Marco e ai suoi scagnozzi. Nick esce di nascosto dalla Colonia perchè ritiene giusto lo scambio, perchè capisce che è l'unico modo per provare a salvare tutto ciò che Alejandro e Luciana hanno costruito, perché sa che così potranno continuare a sopravvivere. A nulla serve però l'impegno del ragazzo: Marco ha trovato un offerente migliore e grazie a chi è scappato e ha tradito la Colonia, ora sa anche dove trovare rifugio. Nick non ha più niente in mano; il suo vantaggio, l'oxicodone, non serve più. 
C'è solo un'ultimissima cosa che può provare: far ragionare Alejandro e Luciana. Quando il capo viene morso, a Nick si presenta l'occasione. Non gli ha mai creduto riguardo al morso e sa che morirà, quindi cerca di usare bene le sue carte.
"La fede non ci salverà quando inizieranno a sparare"
L'immagine che i produttori danno agli spettatori è molto significativa anche in questo caso. Da una parte c'è Nick con la verità, dall'altra parte c'è Alejandro, infetto, con la sua corazza di bugie. In mezzo c'è Luciana, combattuta tra fede e amore.
Come Eugene in The Walking Dead, scopriamo definitivamente che Alejandro ha mentito. Le bugie, nel mondo di Fear The Walking Dead, non sono altro che l'ennesima arma da poter usare contro o con le persone. Sono un mezzo per salvarsi, per sopravvivere e per avere meno paura. La bugia è quasi sempre accompagnata ad una scusa, banale quanto reale. In The Walking Dead Eugene dichiarò che anche Abraham aveva bisogno di quella bugia per avere un nuovo scopo, per riuscire ad andare avanti. In Fear The Walking Dead Alejandro afferma che è grazie a ciò che Luciana pensava di aver visto che tutte quelle persone hanno trovato la Fede, hanno trovato una ragione per sopravvivere e per mantenere accesa la speranza.

Nick parla a cuore aperto, come il grande uomo di cui parla ad Alejandro. Cerca di far capire al suo mentore e a Luciana che fuggire è la cosa giusta da fare, è accettare la realtà e essere ragionevoli.
"E' così che funziona adesso. Quando un posto è compromesso, vai via."
Una situazione che, a pensarci, ricorda molto quella di Rick Grimes e compagnia quando sapevano che il Governatore avrebbe attaccato la prigione con ogni arma a sua disposizione per impossessarsene. In Fear The Walking Dead Marco progetta la stessa cosa e Nick lo sa. Le strade da percorrere non sono poi così tante: restare e farsi ammazzare o fuggire e cercare di sopravvivere. Con una clausola, però: un inganno.
Così Alejandro fa suo il mantra che aveva insegnato alla sua gente: "veniamo dalla morte e alla morte ci consegneremo", lasciando nelle mani del suo popolo la speranza di raggiungere quell'elicottero, quel simbolo di salvezza.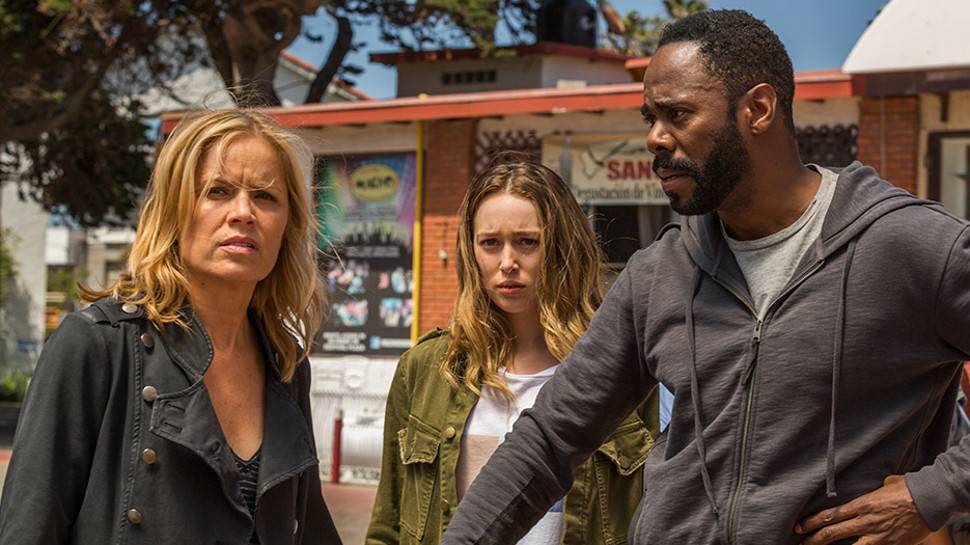 In ultimo si torna all'Hotel in cui il circolo vizioso della violenza sembra non volersi interrompere. Madison riferisce a Travis che "la porta è aperta", chiaro riferimento alla chiusura da lui effettuata nell'ultimo episodio. Quell'apertura è simbolica: Travis ha fatto quel che ha fatto, ora deve accettarlo, combatterlo e andare avanti. Lei ce l'ha fatta, lui ce la farà.
Travis ha di fatto ucciso anche Oscar e per questo e gli altri motivi verrà bandito, ma Andres e Hector non ci stanno. Non vogliono l'esilio, vogliono l'ennesima vendetta, non riuscendo così a uscire dal cerchio in cui tutti sono incastrati. 
Chi non ci sta è Strand che, anche dopo aver affermato di non voler morire per nessuno della famiglia Manawa, li protegge e li lascia fuggire.
Mentre la promessa che tutti ripetono nel finale di stagione riecheggia come sottofondo "andrà tutto bene", la situazione in realtà precipita. La Colonia in fuga viene dispersa e attaccata proprio mentre Madison capisce che Nick è vivo e può essere trovato. Al di là del confine, forse, la speranza è solo vana.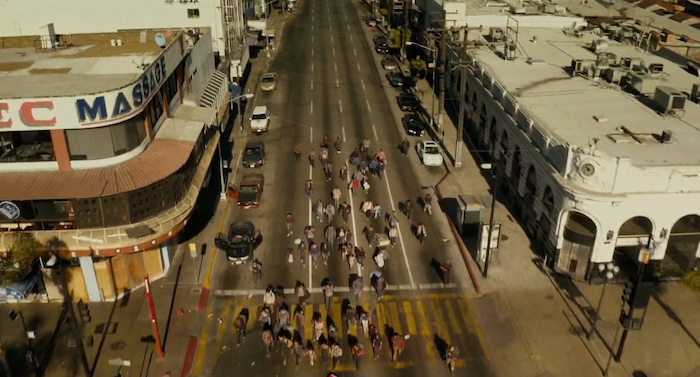 Un saluto alle pagina  Fear The Walking Dead Italia, Fear The Walking Dead – Cobalt – Italia , The Walking Dead ITA, The Walking Dead – Italy e The Walking Dead – Pagina Italiana !