Mio caro Dottore,
sono passate poche ore da quando sono andata via con la mia nuova Tardis e già sono qui a scriverti perché ci sono così tante cose che ho bisogno di dirti, così tante cose che non ti ho mai detto perché credevo che io e te avremmo avuto tutto il tempo che avremmo voluto. Tu mi hai insegnato che il tempo è relativo e non ho mai pensato che il mio tempo sarebbe finito. E ancora di più mi sembrava impossibile che il mio tempo con te sarebbe finito.
Ero sicura che saremmo stati sempre tu e io, sempre il Dottore e Clara Oswald nella Tardis. Sempre la solita vecchia storia.
In un certo senso è ancora così, siamo ancora il Dottore e Clara Oswald (che noi amiamo, ndr) nella Tardis, anche se non è più la stessa Tardis. Continueremo a fare le stesse cose, continueremo a cercare di rimettere le cose a posto, continueremo a salvare le persone perché è quello che siamo. Ricordatelo sempre, Dottore, tu cerchi di salvare la gente, come hai cercato di salvare me. Non ce n'era bisogno, sono morta in pace, ma ti ringrazio lo stesso per questo tempo in più che mi hai regalato. Tornerò a Gallifrey, alla fine, ma prendendo la strada più lunga, come mi hai insegnato tu in tutti questi anni.
Chissà se sono stata una brava allieva per te. La mia morte forse dice il contrario, non ho imparato la lezione fondamentale: sono solo un'umana. Mi consideravo tua pari, ma non lo sono mai stata; mi consideravo immortale, ma non lo ero. Su una sola cosa non ho mai sbagliato: tu mi avresti salvata, se io fossi stata in pericolo. E mi hai salvato, anche questa volta. Non mi hai riportata in vita, come volevi tu, ma mi hai regalato del tempo.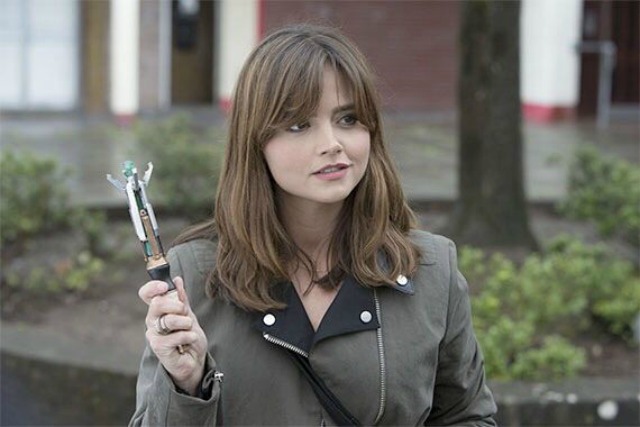 Ma il regalo più grande me l'hai fatto lasciandomi i miei ricordi. La mia storia, la mia storia con te, le mie avventure con te… È questo che ha reso la mia vita così straordinaria e preferisco la morte a una vita magari lunga e felice senza i miei ricordi. Perché lo sentirei che mi mancherebbe qualcosa, perché probabilmente continuerei a cercarti in ogni volto, perché io lo saprei lo stesso che tu esisti da qualche parte, come tu sai che la tua Clara esiste da qualche parte, anche se non ricordi il suo volto, anche se non mi hai riconosciuta poco fa.
Avrei voluto urlarti che ero io. Avrei voluto abbracciarti, nonostante tu odi gli abbracci perché sono un modo per nascondere la faccia. Beh, io avevo bisogno di nascondere la faccia, di non farti vedere quanto sto male all'idea di non averti più accanto e soprattutto all'idea di averti lasciato solo.
Ho paura, Dottore. Ho paura di quello che potresti fare senza di me. Ho paura di quello che potresti fare se resti a lungo da solo. Tu non devi restare solo. Perché tu sei l'uomo migliore e l'uomo più saggio che io abbia mai conosciuto, ma da solo non ce la puoi fare. Hai bisogno di qualcuno che ti tenga testa, che ti ricordi quanto tu sia importante per l'universo quando tu stesso te ne dimentichi, che ti freni quanto esageri.
Non devi dimenticare mai di essere il Dottore. Non devi dimenticare mai per quale motivo tu abbia scelto quel nome, per quale motivo tu abbia scelto quella faccia. Tu sei il Dottore. E a te importa. Sempre.
Ed è per questo che ti ho lasciato quella scritta sulla lavagna: run, you clever boy and be a Doctor. È un monito, Dottore, e una promessa. La promessa che tu hai fatto quando hai rubato la Tardis così tanto tempo fa. E tu quella promessa devi continuare a mantenerla. Io credo in te, Dottore, ricordatelo sempre. Io credo in te.
La tua Clara