---
"He used to be a friend of mine once. A very good friend". Dove c'è il Dottore avremo sempre la certezza di trovare alcune cose: i Dalek, i companion e il Maestro. Come i grandi supereroi dei fumetti e i personaggi letterari, anche Doctor Who è quello che è in virtù della sua nemesi. Amico, fratello ed arcinemico che spinge il Dottore fino ai più remoti angoli del suo essere, portandolo alla sofferenza e alla solitudine.
Come Joker con Batman o Moriarty con Sherlock, il Maestro esiste perché esiste il Dottore e viceversa, e trova valore e necessità di esistere nel momento in cui entra in interazione con l'altro Time Lord. In questa puntata non solo uno, ma ben due arcinemici, insieme ad altri volti di vecchia data, portano il Dottore verso una delle battaglie più oscure finora e la prossima settimana vedremo dunque se la speranza sarà davvero l'ultima a morire.
Per chi non avesse visto la puntata vi consiglio di tornare ad episodio finito,
l'articolo contiene SPOILER
Un tuffo nel passato in un viaggio without hope, without witness, without reward.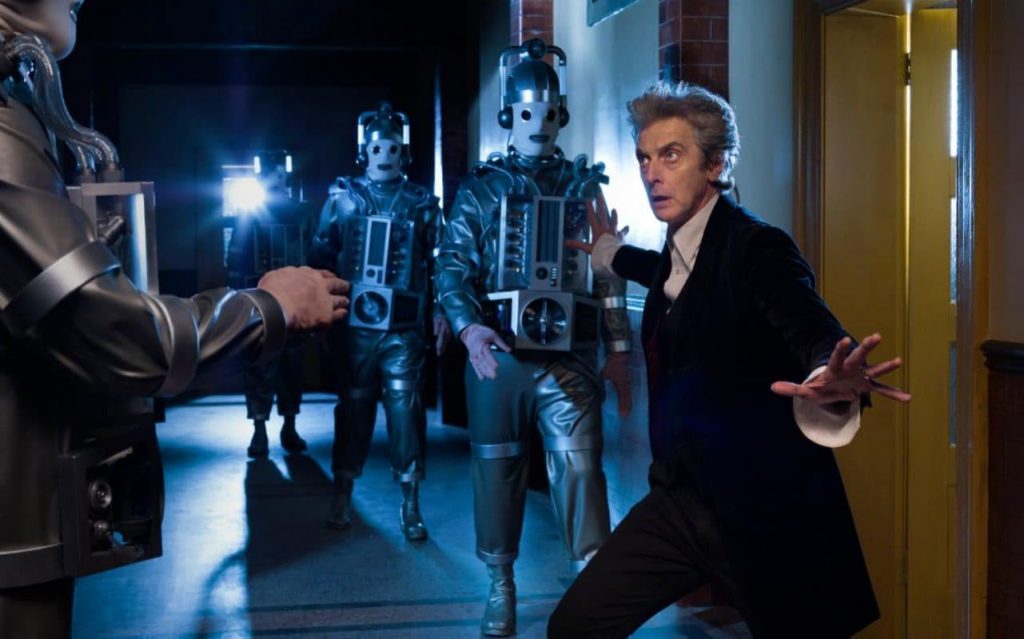 Siamo decisamente arrivati alle battute finali di questa immensa sinfonia che è stata l'era Moffat. Il barbiere di Siviglia di Rossini di Matt Smith e la cavalcata delle Valchirie di Wagner di Peter Capaldi.
Una decima stagione intessuta di rimandi e citazioni al Classic Who che si appresta a dire addio al Dodicesimo Dottore in una grande battaglia finale contro i Cyber Mondasian e ben due Master. Eppure la partita è ancora tutta da giocare perché, come abbiamo visto nello scorso episodio, la scintilla di un cambiamento in Missy sembra essersi accesa realmente. Una scintilla di speranza per il Dottore che decide così di mettere alla prova il/la suo/a più vecchio/a amico/a.
Michelle Gomez infiamma lo schermo. Un concentrato di energia, carisma ed irresistibile sarcasmo.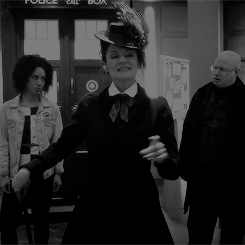 Well, I am that mysterious adventurer in all of time and space known only as Doctor Who. These are my disposables, Exposition and… Comic Relief.
Le interazioni tra lei e Capaldi sono un insieme di battute sagaci e prese in giro, nell'animo pungente di questa ritrovata Missy non è difficile però scorgere quell'amico di lunga data che così strenuamente il Dottore vorrebbe salvare.
Missy: Assumption!
Doctor: Deduction!
Missy: Hope!
Doctor: Faith!
Missy: Idiot!
Doctor: Always!
Rispondendo ad una richiesta di soccorso il Missy Who Team si ritrova su una nave spaziale in rotta di collisione verso un buco nero. Il buon vecchio Moffat inserisce una bella manciata di relatività generale per dar vita a questo penultimo episodio. La genialità del Moffat si unisce a quella sensibilità e conoscenza di Doctor Who che hanno reso grande questo showrunner, a dispetto delle critiche.
Perché si può indubbiamente parlare male di Steven Moffat, ma non si può invece negare la grande passione e ingegno con cui questa Serie Tv è stata portata avanti per sei anni. Doctor Who ha avuto a timone prima di tutto un fan poi un genio, folle senza dubbio, ma sempre un genio che fin dai tempi di The Eleventh Hour ha saputo calibrare avventura, emozione, suspense e quell'inconfondibile desiderio di farti esplodere il cervello.
Proprio per questo motivo non riesco a perdonare una stagione "moscia" come questa decima. Moscia sì, perché le premesse c'erano tutte per un'ultima spettacolare stagione e non è successo; perché dopo aver visto la quarta di Sherlock mi sarei aspettata un'esplosione di emozioni costanti, e invece no.
Ma moscia è messo tra virgolette dato che, nonostante la genere delusione di questa decima stagione, ci sono stati tanti momenti importanti che hanno strizzato l'occhio al passato e alla natura profonda di Doctor Who. Questo va apprezzato, anche se con qualche riserva.

The Doctor: We're the most civilized civilization in the universe! We're billions of years beyond your petty human obsession with gender and its associated stereotypes.
Bill: But you still call yourselves Time LORDS.
The Doctor: (flustered) Yeah…shut up.
È una recensione caotica quella che avete di fronte oggi, come i sentimenti che ha suscitato in me "World Enough and Time" e come d'altronde le vicende in cui si trovano coinvolti i nostri beniamini.
Arrivati su un'astronave che sta per essere inghiottita da un buco nero, il Dottore, Bill e Nardole si trovano protagonisti di una vicenda molto più grande e di un ritorno mai sperato.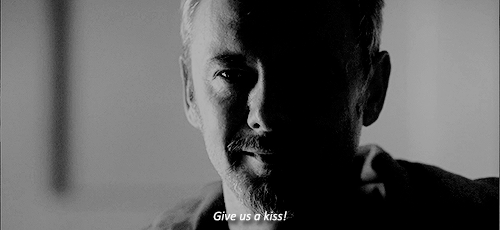 Hello, Missy. I'm the Master. And I'm very worried about my future.
John Simm torna a vestire gli psicopatici panni del Maestro, in un intenso faccia a faccia con il sé stesso pentito dal futuro. Ora la grande pecca di questo episodio è stato rivelare in anticipo l'arrivo di Simm. Riconoscere nei panni di Razor il Maestro è stato davvero molto semplice e tutto ciò ha rovinato un effetto sorpresa il cui impatto sarebbe stato triplicato, se non avessimo saputo nulla.
Due maestri, due ere distinte, due Dottori diversi, due showrunner diversi eppure lo stesso filo – inequivocabilmente – rosso ad unire l'intera storia di Doctor Who.

Always so brilliant, from the first day at the academy. So fast, so funny.
Un' arcinemesi che non solo deve scontrarsi con il Dottore, ma anche con sé stesso perché, come ho detto all'inizio la partita, è ancora tutta da giocare e la chiave di volta sarà (a mio parere) Missy. La scelta che prenderà questa versione del Maestro segnerà un'evoluzione nel personaggio, oppure la conferma di un animo troppo nero per cambiare.
La lotta contro un nemico che non è solo fuori da noi ma dentro di noi assume pieno senso in questo episodio, che per tanti aspetti i ha riportato in mente "Nightmare in Silver". Una lotta che riguarda i due lati in ognuno di noi, il buio e la luce, raccontati attraverso una lunga metafora per bambini in  questi cinquant'anni e più di Doctor Who.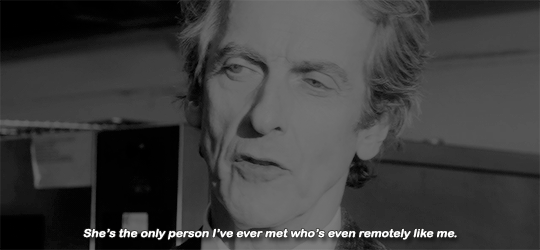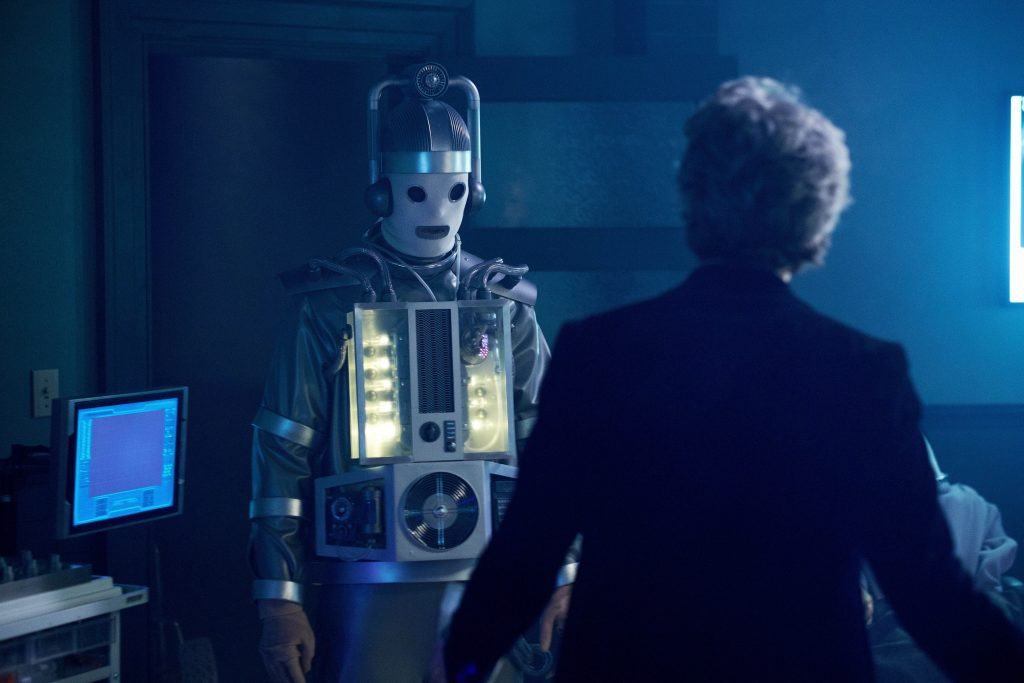 This is not an exodus, is it? More of a beginning, really, isn't it?
Non solo il Maestro, anche i Cybermen mondasiani tornano in questo finale di stagione. Moffat fa così felice il suo Dottore riportando sullo schermo i primi veri robot umanoidi migliorati.
Apparsi per la primissima volta nel'episodio The Tenth Planet (in cui c'era ancora William Hartnell nel ruolo del Primo Dottore) i Cybermen mondasiani rappresentano la base da cui poi si sono sviluppati e perfezionati i Cybermen a noi più noti. In questo episodio la storia presente si intreccia così alla storia delle origini, connettendosi addirittura con la prima rigenerazione dl Dottore.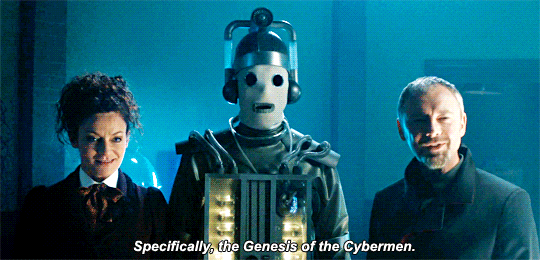 Provenienti da pianeta Mondas, pianeta gemello della Terra, i Cybermen non sono altro che uomini perfezionati, più forti e privi di quelle limitative emozioni umane. In "World Enough and Time" essi sembrano essere il prodotto delle macchinazioni del Maestro, e il primo di loro è la povera Bill.
I Cybermen sono quindi tecnicamente il fallimento del Dottore.
L'ambientazione molto creepy, il gioco di luci ed ombre, le agghiaccianti frasi ripetute nel silenzio di un ospedale dove nessuno può sentirti (ricorrenti molto spesso nella Serie Tv, vedi "Are you my mummy?" o "Hey, who turned out the lights?") hanno dato vita ad uno degli episodi più disturbanti finora che ha deciso di dimenticare il pubblico infantile per concedersi delle libertà.
Prima di tutte la morte di Bill.
Wait for me 
Bill Potts ci abbandona così, con la sorpresa negli occhi ed una promessa attesa ma mai mantenuta. L'ultima companion, che ha aspettato il suo Dottore fin quando ha potuto, come Amy, e che è stata infine trasformata in un mostro, come Clara-Dalek.
Tanta tristezza per questo addio. Un addio che prende il Dottore alla sprovvista, messo di fronte di nuovo all'amara verità: non c'è lieto fine per chi viaggia con lui. ("When you run with the Doctor, it feels like it'll never end. But however hard you try you can't run forever. Everybody knows that everybody dies and nobody knows it like the Doctor.")
Coloro che si legano al viaggiatore del tempo e dello spazio sono condannati a perdere questa partita. Non puoi giocare quando non si è alla pari, se guardi a lungo il Sole prima o poi ti bruci.
Avrei voluto una puntata come questa ripetuta undici volte. Il dolore si rivela una costante anche nella storia dei Cybermen, perché quegli occhi ancora tondi verranno forse un giorno scavati dalle lacrime di Bill, e così una altro tassello della storia andrà al proprio posto.
Ultima battaglia, ultima puntata prima di rivedere Capaldi a Natale. In quello speciale che segnerà davvero la fine e di cui secondo me abbiamo avuto un assaggio pre-episodio. E così la rigenerazione avverrà nella neve, da solo? Una fine tragica e tutto sommato giusta, per una delle sue incarnazioni più tragiche.
Passate anche dagli amici di Doctor Who "ita"