Finalmente questo giorno è arrivato. È passato un anno e mezzo (se escludiamo lo speciale natalizio "The Return of Doctor Mysterio") dall'ultimo vero episodio di Doctor Who e quante lacrime avevamo versato! L'addio a Clara, dopo l'epico scontro con Rassillion a Gallifrey, e quello a River Song presso le tanto attese ed allo stesso tempo odiate Torri di Darillium.
Adesso ci prepariamo a dare un altro doppio addio, uno ben più straziante.
Prima quello a Peter Capaldi, il Dottore difficile, scorbutico, classico – per molti troppo classico – che ci ha, puntata dopo puntata, conquistati con il suo english scottish humour e le sue sopracciglia; il secondo al Moffat, al pazzo furioso la cui genialità dai più non è stata apprezzata e mal interpretata e che forse per la BBC è stato troppo e troppo presto.
Un'era quella di Steven Moffat che si concluderà quest'anno dopo otto anni, dai tempi di Matt Smith nei panni di Eleven, dei Ponds, dell'Impossible Girl, della moglie del Dottore, della Great Intelligence, dei Weeping Angels, del Silenzio, dell'Ibrido e soprattutto l'era che ha festeggiato i 50 anni di Doctor Who con una trilogia spe – cta – cu – lar.
A tutto questo diremo addio a Natale con l'ultimo episodio scritto dal Moffat e interpretato da Capaldi, poi il timone passerà a Chris Chibnall (creatore di Broadchurch) e ad un Dottore dal volto nuovo e sconosciuto ancora che ovviamente all'inizio odieremo.
Diamo il via alle danze per questo ultimo viaggio di Doctor Who!
La premessa è questa: ci aspettiamo grandi cose, anzi no grandi, ci aspettiamo cose immense. Moffat deve spararsi tutte le sue cartucce, non la vogliamo una stagione lineare, pulita, bellina: vogliamo una stagione che ci faccia fare le capriole e i salti mortali. Vogliamo piangere e sentirci male e vogliamo il mal di testa, quello vero! Fatta salva questa premessa, non sono spaventata dalla semplicità di trama per questa prima puntata.
Certo, se la mettessimo a confronto con alcuni primi episodi delle passate stagioni, ne uscirebbe un po' ammaccata. Non c'è la grandezza di " The Eleventh Hour", non il confronto al cardiopalma in "The Magicians Apprentice" o l'ansia di "Asylum of the Daleks".
È una puntata introduttiva il cui scopo principale è quello di presentarci Bill Potts, la nuova companion, interpretata da Pearl Mackie. Bill è una ragazza allegra, vivace, curiosa, molto intelligente e molto molto normale. Ecco la prima grande novità. Nell'era Moffat in Doctor Who le companion non sono mai normali. Amy è "The Girl who waited", cresciuta con una crepa temporale nel muro e per questo capace di ricordare cose che nessuno ricorda, capace di riportare indietro il Dottore e il TARDIS dalla non esistenza; e poi c'è Clara "la ragazza impossibile" creata, letteralmente, per salvare il Dottore.
Di fronte a questi precedenti Bill appare come una boccata d'aria fresca, una ragazza normalissima che frigge patatine nella mensa dell'Università di Bristol in cui il Dottore si trova in incognito. Nella sua normalità Bill ci sembra molto più simile a Rose che non ad Amelia Pond: non ha segreti (almeno per ora), vive una vita tranquilla con la madre adottiva ed è sicuramente una ragazza brillante.
L' incontro tra il Dottore e Bill avviene (pensa un po') in circostanze molto particolari, si ripetono le stesse dinamiche del passato, se ne presentano di nuove:
I'm not stupid, you know. You don't think anyone's seen a movie? I know what a *mind wipe* looks like
Questi due insieme ci fanno già sorridere. Bill è un po' Rose come ho già detto, non è la maliziosa e peperino Amy e non è neppure la maniaca del controllo Clara. È una ragazza che genuinamente non riesce ad accettare subito la realtà dei fatti, che fa domande stupide, che guarda con occhio curioso e attento come una bambina, come ognuno di noi spettatori.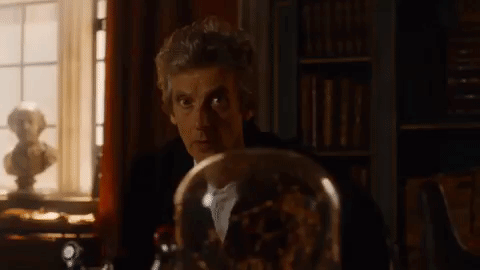 E il Dottore che si sa è un egocentrico megalomane vive per questi incontri, per qualcuno che guardi con occhi ancora freschi ciò che per lui ormai ha perso di importanza, perché forse così anche lui potrà di nuovo emozionarsi di un Universo che ha già girato in lungo e in largo.
Un compagno di viaggio che è anche guida e coscienza e che in più di un'occasione lo ha salvato dal baratro.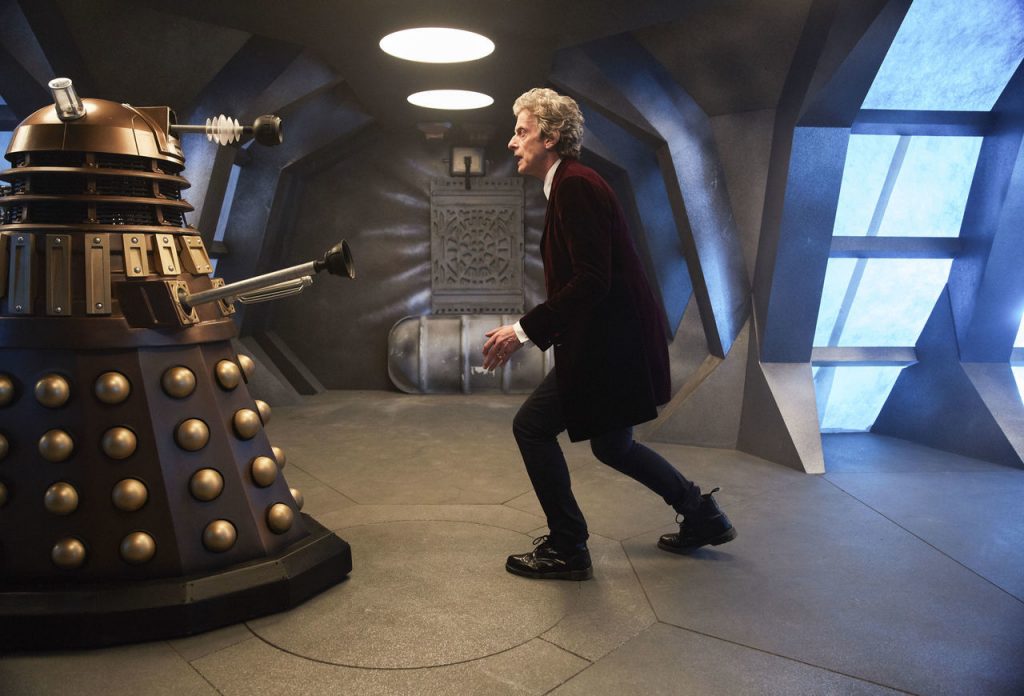 Cosa sta succedendo?
Il Dottore insegna al college e ciò che insegna è praticamente tutto, le sue lezioni – come dice Bill – passano dalla poesia alla fisica ed il Dottore risponde "è per via delle rime". Con lui c'è Nardole, apparso già nei due speciali di Natale, un personaggio buffo, simpatico, più che un companion è una mascotte.
Ma il Dottore è anche in incognito, deciso a mantenere una promessa e proteggere un caveau che solletica fin da subito la nostra curiosità di fan.
Cosa sta nascondendo il Dottore? O chi magari?
Sicuramente rivedremo questo caveau ben presto, si spera. D'altronde quasi tutte le stagioni di Doctor Who, con l'era Moffat soprattutto, hanno sempre un filo conduttore che si ripete di puntata in puntata ("the crack in the wall", bad wolf, l'Ibrido, etc…).
Se la fine di Twelve è vicina, allora potrebbe essere collegata al caveau.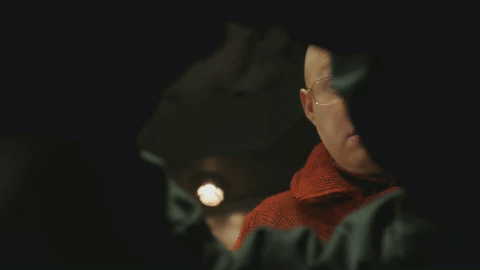 Ed è proprio lui che abbiamo atteso più di ogni altro, il carismatico Peter Capaldi che ormai "indossa" il Dottore come fosse un guanto, portando del nuovo sano spirito rock e rimanendo sempre fedele a se stesso e al passato.
Capaldi torna in grande stile, splendendo sullo schermo e regalandoci un Dottore come solo lui sa fare. Più leggero, più rock, ma sempre con un'ombra che aleggia sulla sua testa e uno dei monologhi più belli di questi tre stagioni con lui protagonista, quello che spiega il significato di TARDIS.
E mentre lo guardiamo si ci rendiamo conto che ci è mancato da morire. 
Time doesn't pass. The passing of time is an illusion and life is a magicians. Because life only let you see one day at a time. […] Imagine if time all happen at once, every moment of your life, laid out around you, like a city. Streets full of buildings made of days. The day you were born, the day you die, the day you fell in love, the day the love ends. A whole city built from triumph, and heartbreak and bore and laugh. It's the best place you'll ever be. Time is a structure relative to ourselves. Time is the space made by our lives where we stand togheter, forever. Time And Relative Dimension In Space.
Se da un lato la fine ci aspetta, quindi, dietro l'angolo, dall'altro la puntata si chiama non a caso The Pilot.
Un riferimento al nome che viene assegnato al primo episodio di una nuova Serie Tv e quindi un nuovo inizio, ed anche un riferimento all'idea del viaggio. Un viaggio che è scoperta, ricerca ma anche fuga, il desiderio di andare via che il Dottore conosce fin troppo bene e che fino alla scorsa stagione ha sperimentato con strazianti risultati.
È stato cercare di scappare, di sfuggire ad un destino inevitabile che ha portato all'addio tra Clara e il Dottore, un rapporto divenuto troppo complicato e tossico. Il tentativo del Dottore di andare via ancora una volta non curandosi delle conseguenze ha causato la perdita di ricordi della sua Impossible Girl, perdita che proprio in questa puntata è stata ricordata con tanto di tema di Clara in sottofondo e conseguente pianto.
L'idea della perdita e della lontananza appare da subito chiara sia a Bill che al Dottore, ed è proprio questo che permette ai due personaggi di avvinarsi e a Bill di essere scelta come nuova companion.

Sulle note di "a mad man in a box" (mentre il tema di Bill non è ancora chiaro), iniziamo una nuova avventura di Doctor Who.
Il viaggio non da semplice passeggero ma pilota di una nave spaziale che è un po' cucina, che è un po' casa. La sua e la nostra.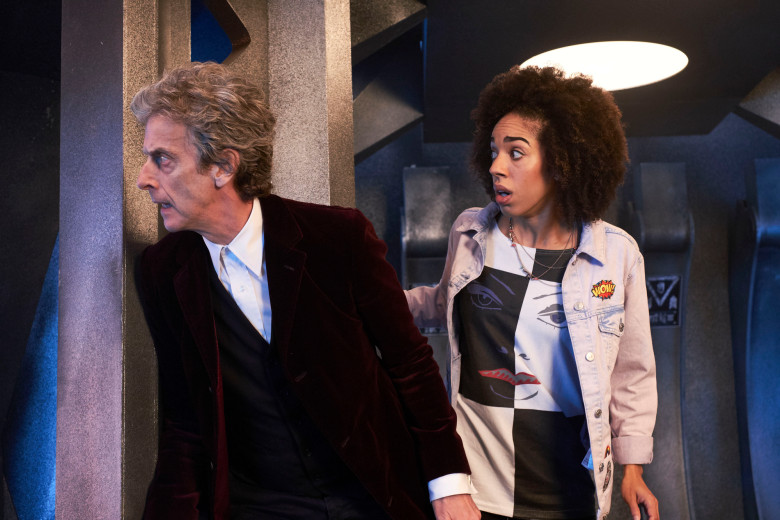 Siamo tornati a bordo del TARDIS dopo un'attesa che ci è sembrata infinita, magari non è stato un ritorno con il botto ma le attese sono tante e la fiducia nel Moffat pure.
E come sempre uno dei grandi punti di forza di questa serie è nella sua scrittura, nella capacità di aggiungere sempre qualcosa, di ridare freschezza ed allo stesso tempo rendere omaggio a 50 anni di storia.
Tantissimi i rimandi che strizzano l'occhio a fan vecchi e nuovi: la battaglia in cui si ritrovano Twelve e Bill è quella tra Dalek e Movellans avvenuta per la prima volta in "Destiny of the Daleks"; sulla scrivania sono presenti le foto di River e Susan, nipote del Dottore (appare singolare la scelta di questo particolare personaggio: Moffat ci stai dando un segno?!); la presenza aliena fatta d'acqua ci fa tornare in mente il terrificante episodio "The Waters of Mars" e sappiamo che Marte avrà un ruolo importante in questa stagione di Doctor Who.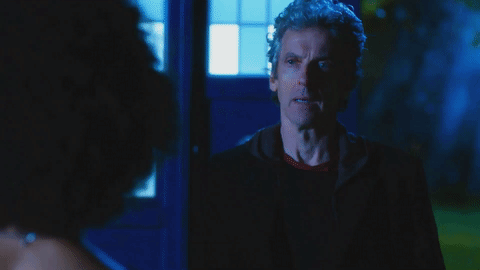 Bill: What changed your mind?
The Doctor: Time.
Bill: Time?
The Doctor: And Relative Dimension In Space. It means, "What the hell?".
Il Dottore non vuole prendere Bill con sé all'inizio perché ha fatto una promessa.
Ma a chi? E perché?
Una stagione, la decima di Doctor Who, che fin da subito ci mette in testa diverse domande e ci riserva non pochi ritorni. Forse sarà anche partita in sordina, ma va bene così, perché si sa che Moffat ne sa una più del diavolo.