Benvenuti a questa nuova recensione di Doctor Who! Durante la puntata non solo mi si è bloccato il respiro per una buona manciata di minuti ma hanno cominciato già a scorrere due o tre lacrimucce, le prime, lo so, di una lunga serie che si prolungherà fino a Natale. Se non lo sapeste l'episodio ha subito delle modifiche dell'ultimo minuto da parte della BBC, che ha tagliato una parte con diretti riferimenti al terrorismo, in seguito ai terribili eventi di Manchester. Riuniamoci davanti a qualcosa di positivo che celebra la vita e la rinascita. 
L'episodio di questa settimana è una seconda parte, come abbiamo potuto apprendere, di una trilogia che si concluderà la prossima settimana con l'episodio "Lie of the Land". La storia riprende da dove l'avevamo lasciata con i Monaci che vogliono prendere il controllo della Terra, dopo averla ampiamente studiata in una versione Matrix. Il Dottore continua a mantenere il segreto sulla propria cecità davanti a una Bill che ha ascoltato il consiglio ed è uscita con la tizia per cui ha una cotta.
Adesso, in una zona di guerra è comparsa dal nulla una piramide di circa 2000 anni. Il Dottore, Bill e Nardole sembrano gli unici in grado di sventare una potenziale Terza Guerra Mondiale o peggio ancora l'Apocalisse mentre i Monaci propongono ai rappresentanti di tre importanti potenze mondiali un accordo dalle conseguenze oscure.
Il Dottore sembra avere un piano, peccato che questa volta pecchi di qualcosa chiamata hybris.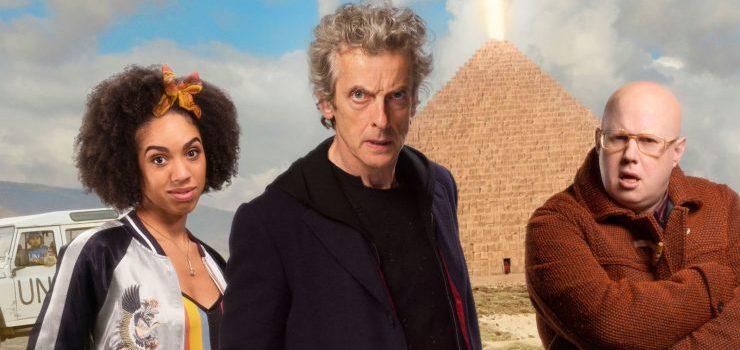 Monk: Without our help, planet Earth is doomed.The Doctor: Yes! Well, it's been 'doomed' before! And guess what happened? Me!
In questa seconda parte della storia le cose si fanno abbastanza adrenaliniche e claustrofobiche. Tra tute antibatteriche, camere di contenimento e piramidi, a un certo punto si sente il bisogno di aprire una finestra. Il piano dei Monaci si scopre essere più articolato di quello che sembrava in precedenza; i nemici non vogliono semplicemente conquistare la Terra ma vogliono che sia la Terra stessa a consegnarsi di sua spontanea volontà. E come?
A quanto pare questi spaventosi alieni simil cadaveri hanno tessuto una tela molto antica e ingegnosa manipolando gli eventi fino ad arrivare a questi fatidici tre minuti a mezzanotte, ovvero il Tempo dell'Apocalisse.
Una minaccia sconosciuta rischia di spazzare via la razza umana e non solo, così i Monaci propongono ai "più potenti eroi della Terra" alle "più potenti personalità militari della Terra" un accordo: salvezza in cambio di protezione.
Ma questa protezione può essere concessa solo con un consenso volontario che sa tanto di pubblicità progresso contro i crimini sessuali.
No è no, non è si. Anche dei mostri venuti dallo spazio riescono a capirlo.
La protezione che i Monaci promettono altro non è che schiavitù. Schiavitù che nasconde i ceppi dietro un affascinante slogan pubblicitario e promesse di salvezza.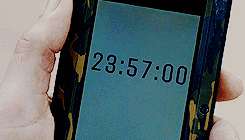 The end of your life has already begun. There is a last place you will ever go, a last door you will ever walk through, a last sight you will ever see. And every step you ever take is moving you closer. The end of the world is a billion, billion tiny moments. And somewhere, unnoticed, in silence or in darkness, it has already begun.
E qui, in questo episodio, entrano in gioco due concetti molto ricorrenti in Doctor Who, determinanti in più di un'occasione nelle avventure dell'alieno di Gallifrey, che si intrecciano alle due chiavi di volta di questa Serie: sci-fi e sentimento.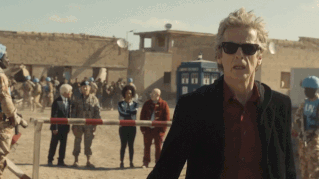 Then you'll know there is a line in the sand, and I'm the man on the other side of it. You wanna keep me that way.
Il primo elemento, legato alla natura scientifica dello show, è il concetto di causa-effetto. A ogni azione corrisponde una reazione uguale e contraria. Lo sappiamo fin troppo bene, con Doctor Who le cose non sono mai a sè stanti ma sempre piene di conseguenze. In questo episodio è affascinante vedere quanto sia vero che un piccolo avvenimento, apparentemente insignificante, possa in realtà cambiare le sorti di milioni di persone.
Benvenuto effetto farfalla nel meraviglioso mondo folle di Moffat.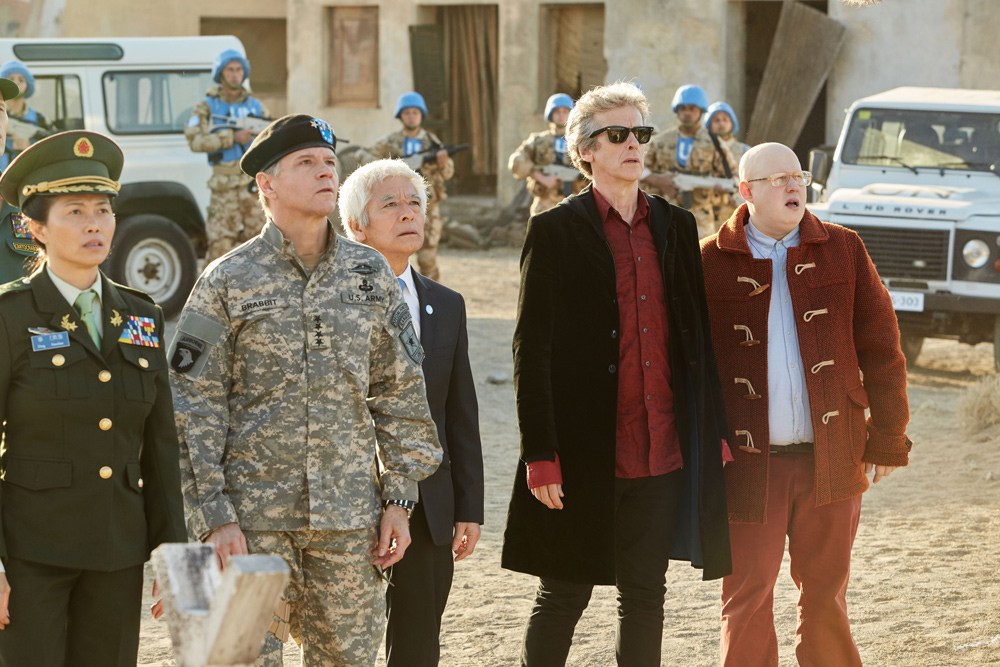 Hello, I'm the Doctor, saving the world with my eyes shut.
L'episodio scorre così, simultaneamente, tra il deserto del Turmezistan dove si trovano i Monaci in attesa e un laboratorio in cui un'arma batteriologica è pronta ad essere rilasciata nell'atmosfera; tutto questo perché si sono rotti un paio di occhiali e un collega è in hangover. Azione e reazione. I Monaci vogliono approfittare di questo evento in particolare per prendere il controllo ma per farlo hanno bisogno del consenso di una figura di potere (!) e solo se il consenso è donato e non preso con la forza ha valore (!!). Azione e reazione. E qual è la figura più potente sulla Terra?

Esattamente, tanto che quando gli altri cercano di stringere l'alleanza falliscono miseramente perché il consenso viene dato per paura o per strategia. Due elementi non abbastanza forti e quindi non duraturi. Qui entra il gioco il secondo concetto molto rilevante in Doctor Who che si combina con quello di causa-effetto.
Sto parlando ovviamente del sentimento. Il sentimento che nasce da due innamorati intrappolati in mondi paralleli distanti, di una donna senza memoria, di un sacrificio, di un'amica che chiede perdono, di un uomo che non vuole andare via, di una ragazzina che ha fede, di un centurione che aspetta e di un vecchio, stupido in una cabina telefonica ma sempre geniale.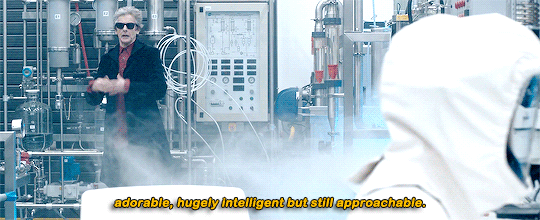 Eppure questo pazzo geniale commette degli errori, a volte si sopravvaluta. Il Dottore ha un piano che sembra riuscire, poi però qualcosa va storto perché come ben sappiamo ormai, dopo tutti questi anni, il Dottore non è Dio ma il più delle volte si convince di esserlo. Come quando Donna guardava Ten e non capiva più chi avesse di fronte, eccolo di nuovo peccare di hybris, quella stessa hybris che ha distrutto Clara in "Face the Raven". Perché il grande peccato del Dottore altro non può essere che la superbia.
La stessa superbia che gli permette di essere grande e che adesso sembra trascinarlo sempre più giù in una decima stagione che porta Twelve nel baratro, nel profondo dei suoi demoni, dei suoi errori appunto.
L'errore forse è il comune denominatore che unisce il Dottore e l'umanità, l'incapacità di apprendere da esso.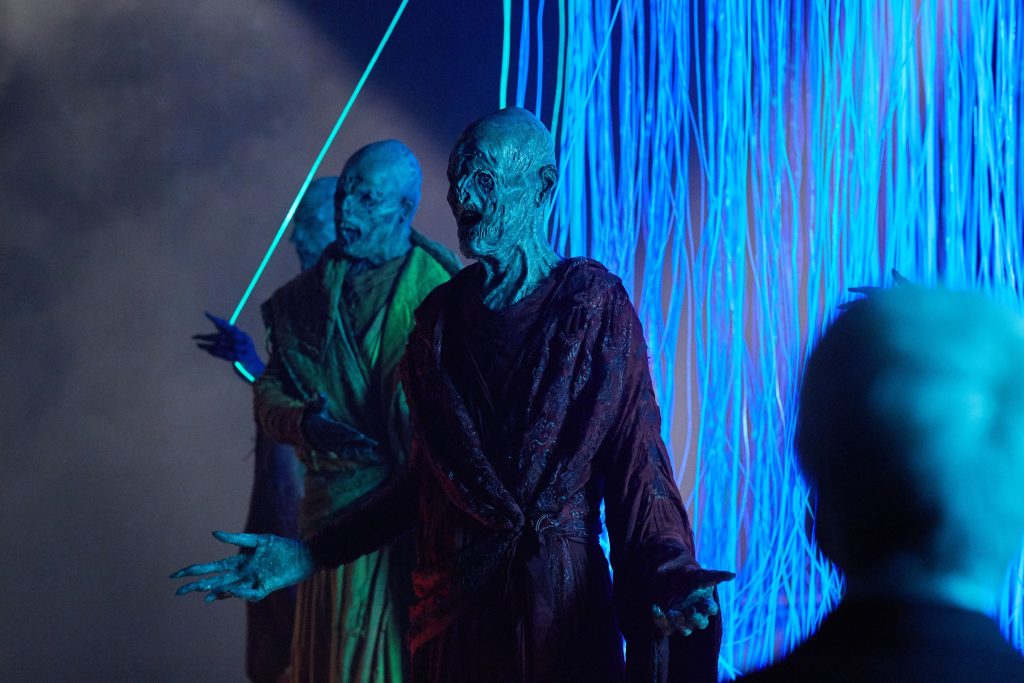 Just give him his sight back. You can have the world, just make him see again.
Negli ultimi dieci meravigliosi minuti di questa puntata, il Dottore riacquista la vista ma al costo di un sacrificio: la libertà della Terra.
Bill si assume la responsabilità, rappresentando il potere più grande del pianeta, ovvero il Dottore, e  decide in extremis (come tutto in questa stagione) di dare il consenso. E questa volta ovviamente funziona perché nasce dal sentimento più forte e puro, l'amore.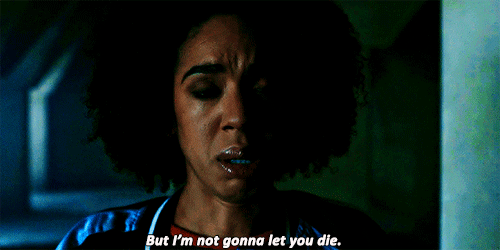 Amore che nel caso di Bill significa rispetto, amicizia e fiducia.
Un personaggio, quello interpretato da Pearl Mackie, che apprezzo sempre di più perché sempre di più sta assumendo quel ruolo necessario e difficile delle companion. Essere l'arma segreta del Dottore e la sua coscienza. In una situazione drastica, Bill viene spinta ad agire dal puro sentimento, prende una decisione radicale, fiduciosa che il Dottore risolverà la situazione.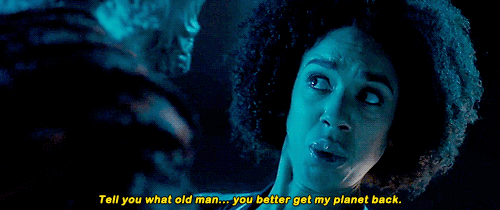 Ma Bill, a ben vedere, non è poi rimasta tanto la ragazza di "The Pilot", c'è come un'ombra percepibile sopra di lei che la sta cambiando rendendola più forte e coraggiosa, ma che rischia anche di distruggerla e forse, chissà, è proprio quello che succederà prima della fine.
Con il prossimo episodio si concluderà questa trilogia che io personalmente sto apprezzando tantissimo. Doctor Who sta approfondendo dei temi importanti della sua storia, stiamo ripercorrendo delle tappe dovute come se ci stessimo preparando a dire addio. In realtà non penso di essere pronta a questo. Un episodio che di nuovo grida a gran voce "guarda, questo show è questo! Non quest'altro ma proprio quello che vedi adesso!".
Doctor Who è una storia di scelte difficili, sacrifici ed errori. La storia del Dottore che ha bisogno della sua companion per continuare a vedere, mai come ora letteralmente e metaforicamente. 
Passate anche dagli amici di Doctor Who "ita"