Ho letto diversi pareri negativi riguardo l'ultimo episodio andato in onda di Doctor Who e forse sono io che sopravvaluto il Moffat o possiedo un'intelligenza superiore alla norma di cui non avevo idea, ma fatto sta che questo episodio ha segnato per me la degna conclusione di una storia e del suo messaggio. Non riesco a condividere quindi le diverse recensioni e opinioni negative che ho letto riguardo l'episodio. Ho visto io più di quanto ci fosse dietro? Voglio proprio sperare di no.
"Lie of the Land" è stata scritta da Toby Whitehouse ("The God Complex", "Under the Lake/Before the Flood", "A Town Called Mercy"), un autore che unisce toni abbastanza creepy ad importanti riflessioni sulla figura e la moralità del Dottore. L'esempio lampante è "The God Complex", tra gli episodi – secondo me – più belli di tutto Doctor Who, in cui protagonisti sono il tema del sacrificio e della fede, due temi che in questa decima stagione possiamo vedere prepotentemente sulla scena.
In questo episodio il cerchio si chiude, la trilogia iniziata con "Extremis" trova la sua conclusione in un mondo distopico controllato dai Monks attraverso l'arma della propaganda. Il Dottore sembra essere passato dalla parte del nemico mentre Bill tenta di conservare intatti i ricordi della vita prima dell'invasione.
Una puntata che puzza di presente, di era Trump e ISIS. Per questo non la critico ma anzi la omaggio così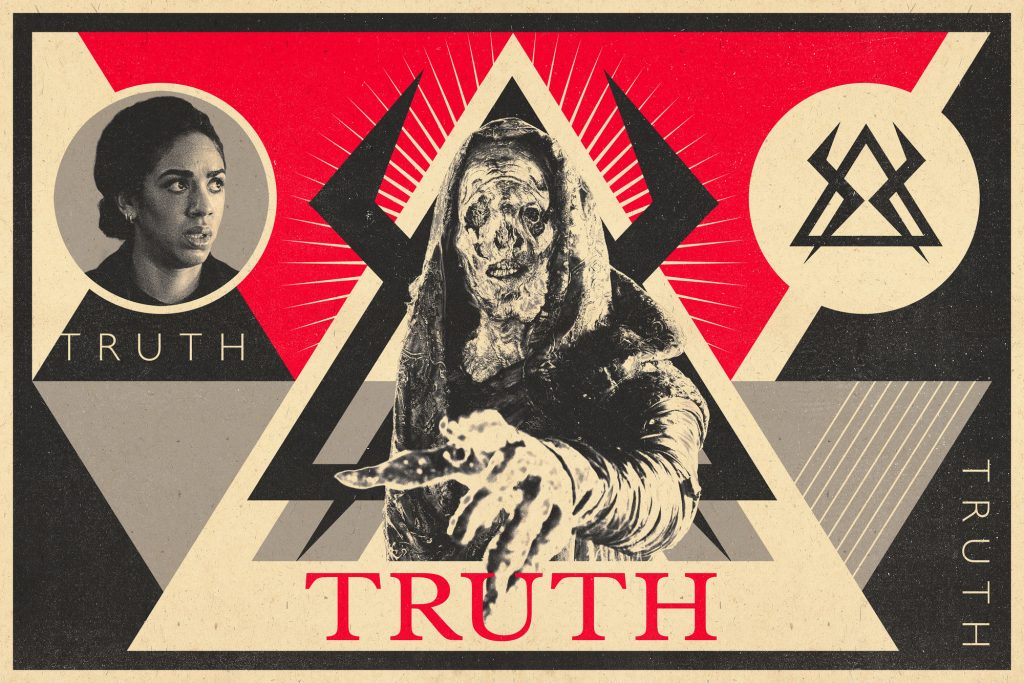 Your future is taken care of…
Scrivo questa recensione all'indomani di un altro tragico avvenimento, accaduto a Londra. A coloro che hanno trovato l'episodio scarso o non-sense, voglio invece spiegargli perché più che mai oggi Doctor Who sia la rappresentazione di una realtà che non è più solo sci-fi o "solo ipotetica", ma terribilmente possibile.
In "Lie of the Land" sono passati sei mesi da quando Bill ha deciso di cedere il pianeta per salvare il Dottore e quello che ci si presenta di fronte è un mondo distopico in cui i Monks si sono insidiati nelle menti della popolazione mondiale (la sequenza iniziale faceva tanto Superquark). Bill e Nardole trovano il Dottore su una vecchia nave-prigione, e qui arriva il momento "troll" della settimana.
Tradimento fasullo. Rigenerazione fasulla. Ammettiamo che il tutto fosse un po' scontato.
Ora c'è un'osservazione su cui io mi trovo d'accordo: molto spesso il Moffat nella sua genialità è portato ad essere un po' semplicistico nelle spiegazioni. Vedi Bill come perno, vedi questo tradimento fake scontatissimo, vedi il Dottore che arruola soldati per sei mesi e poi dice di aver bisogno di Missy… ?!
Avrebbe funzionato magari di più se il Dottore avesse davvero cambiato bandiera per un breve lasso di tempo. Ma… ma condannare la puntata in toto, questo no, non posso farlo. Perché sì Moffat ha le sue cadute, a volte anche abbastanza palesi, ma rimane comunque un genio delle storyline che ha reso Doctor Who, così come Davies prima di lui, non solo una Serie sci-fi ma un espositore di problematiche sociali e morali della nostra realtà.
Il sistema totalitario costruito dai Monks è, come tutti i sistemi di questo tipo, costruito sulle bugie e la manipolazione. Se sei convinto che una cosa sia sempre andata come te la propinano, sei più portato ad accettare passivamente, a non ribellarti. I Monks sono dei codardi, non sono un popolo guerriero o degli sterminatori come i Daleks, e per poter dominare hanno bisogno che qualcuno dia loro il permesso, per poter mantenere il controllo hanno bisogno di trucchetti e giochi di magia e di quella formula magica nota come propaganda.
Sono solo gli ultimi di una lunga lista di codardi nella Storia.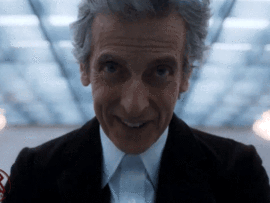 Humanity is doomed to never learn from its mistakes
Quello che molti hanno trovato non-sense è in realtà il vero fulcro di tutta la faccenda. Se i Monks sono solo dodici, perché nessuno si ribella? Già, perché?
Perché è più facile abbassare la testa e fare come gli altri, accettare quello che ci viene messo davanti piuttosto che alzare gli occhi e rendersi conto della verità. La nostra Storia ci definisce ma gli eventi del passato sono gettati alle ortiche, nella realtà così come in una Serie sci-fi come Doctor Who.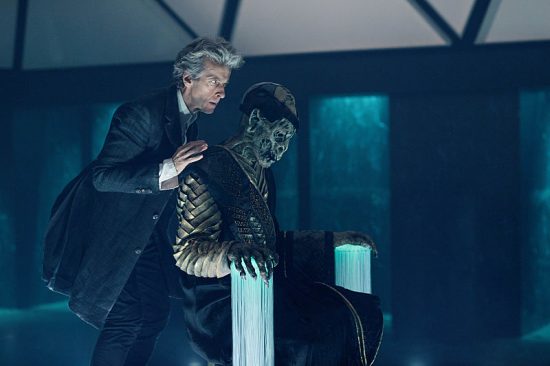 You had free will and look what you did with it. Worst than that you had history! History was saying to you: «Look, I've got some example of fascism here to look at. No? Fundamentalism. No?Oh, okay you carry on »
Se in "Pyramid at the End of the World" abbiamo visto il potere del sacrificio e dell'amore come arma per fare del male, in questo episodio l'amore presunto dei Monks viene sconfitto in nome di un sentimento più nobile e puro. Quell'amore come sacrificio, dono e dominio che abbiamo visto nello scorso episodio si ritorce adesso contro gli stessi Monks. Amore diventa sinonimo di libertà.
Non è amore chi ti ferisce, chi ti forza, chi ti trasforma in altro da te. È solo una forma di controllo. Ma amore è chi ti aiuta a migliorare, chi ti tiene la mano e ti sostiene. Amore è un amico, un fratello, un innamorato. Amore è un padre o una madre.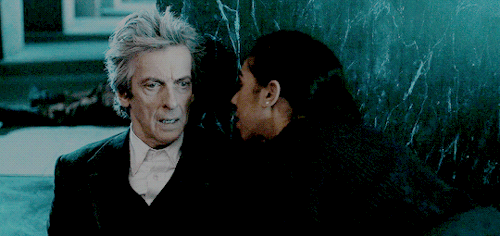 A glimpse of freedom. But a glimpse… is all you need.
Pearl Mackie ci regala la sua interpretazione più brillante, ci emoziona, ci fa sorridere, saltellare e piangere. Una companion che incarna la semplicità e la forza dell'essere umani, la capacità di essere coraggiosi ed altruisti. In quel momento, per me più commovente dell'intera puntata, in cui Twelve dice quelle poche parole a fine episodio, risiede tutta la verità di cinquant'anni di Doctor Who: vale la pena sopportare il resto dell'umanità incapace di migliorarsi, per quell'unica persona che mi ricorda sempre perché combatto e viaggio.
Un momento che ci riporta inevitabilmente in mente Rose, Donna, Amy e Clara e tutte le altre preziose companion senza le quali il Dottore potrebbe perdersi tra i propri demoni e i propri errori.
Un Peter Capaldi sensazionale, figo come pochi e unico nel portare alla luce quell'essere essenzialmente alieno nelle più banali occasioni e dannatamente profondo nelle grandi scene di climax.
Un Dottore che pensa di avere il gioco in pugno e si vede invece superare da una semplice ragazza che lavora alla mensa universitaria.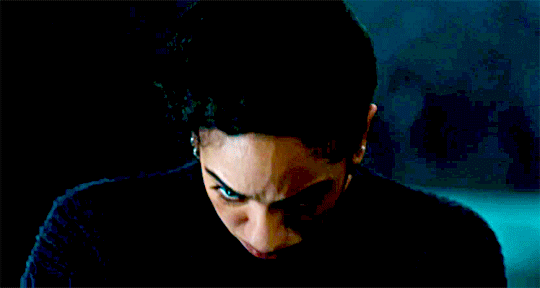 You clever, brilliant, ridicolous girl!
Un Dottore che pensa di conoscere la risposta giusta e agire per il bene e viene stroncato dalle parole piene di verità di Missy. Non è un bene oggettivo, una giustizia etica universale che farebbe applaudire Wittgenstein ma un bisogno infantile di salvare sempre le persone amate anche a costi altissimi.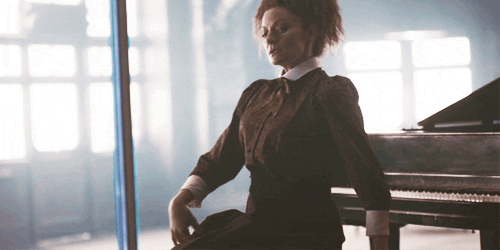 Your version of "good" is not absolute. It's vain, arrogant, sentimental. And if you're waiting for me to become all that, I'm going to be here for a long time yet.
Abbiamo di fronte una versione di Missy sicuramente diversa. Innanzitutto che dire, Michelle Gomez è sempre superba. Ogni scena tra lei e Capaldi è puro oro colato. Prima pericolosa, brillante, ironica poi fragile, malinconica e pentita ("I didn' know I even knew their names"). Missy sembra davvero aver voltato pagina e ciò è dimostrato dal concetto di bene puro che lei, a differenza del Dottore, riesce ad accettare.
Una puntata che a mio avviso chiude un cerchio, metafora dell'era Trump, della manipolazione dei media, dell'incapacità umana di imparare dalla Storia. Trovate che solo 12 monaci siano non-sense? Pensate allora le atrocità commesse da unici uomini.
La Storia, la nostra, che cerca di attirare l'attenzione con i suoi innumerevoli esempi ma niente, siamo troppo impegnati a guardare il progresso ad occhi sgranati e farci abbindolare da esso per volgere lo sguardo al passato.
Ps: il motivo che Missy suona nel vault è il tema di Sherlock. Moffat che si autocita.
Passate anche dagli amici di Doctor Who "ita"