In questo caldo pomeriggio di Giugno scrivo la recensione del nuovo episodio di Doctor Who tra thé al limone e acqua ghiacciata, sentendomi anche io un po' british. Mark Gatiss scrive il suo primo episodio di questa nuova stagione e devo dire di essere sollevata: non sono infatti una fan della scrittura del Gatiss e questo è probabilmente il miglior episodio finora.
"Empress of Mars" vede il ritorno di un volto più che familiare, quello degli Ice Warriors. Apparsi per la prima volta nella storia omonima della quinta stagione del Classic Who con il Secondo Dottore, sono ricomparsi nella nuova Serie Tv proprio grazie a Mark Gatiss nell'episodio della settima stagione intitolato "Cold War".
Adesso Bill, il Dottore e Nardole ritrovano questi umanoidi simili a rettili sul loro pianeta natale, Marte, con una compagnia alquanto insolita: soldati inglesi dell'epoca vittoriana.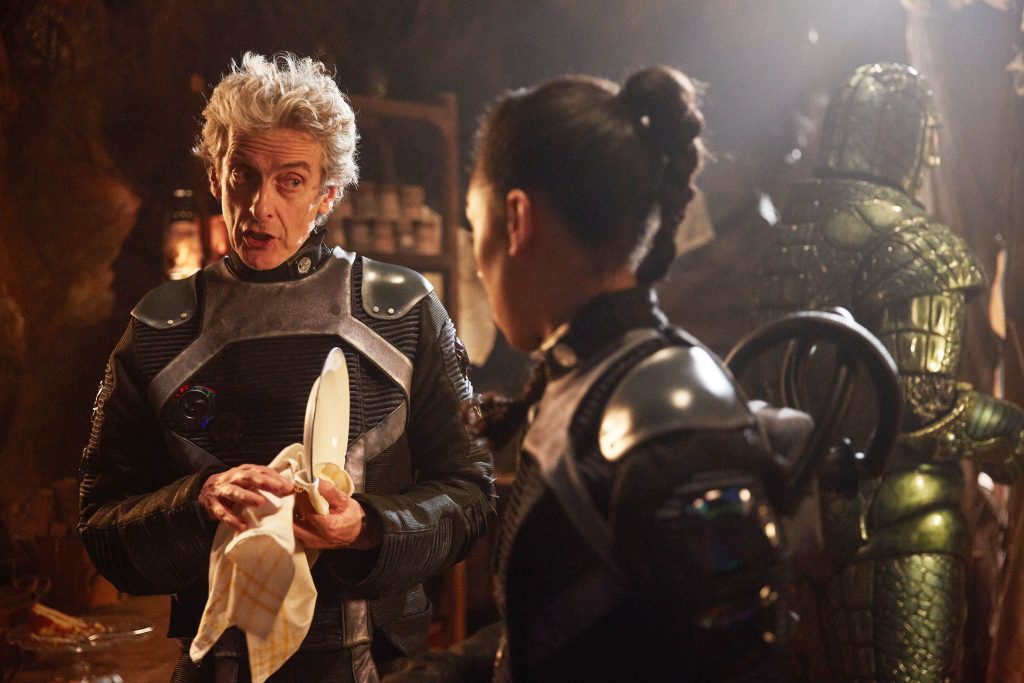 The red planet turned pink
Questa settimana non mi dilungherò, anche perché le cose da dire penso si riducano a tre:
1) l'influenza di Classic Who
2) Il Dottore e Missy
3) il promo del prossimo episodio
Cominciamo allora dal primo punto. Siamo di fronte ad un episodio filler, un racconto ben accetto dopo la trilogia dei Monk che ci permette di "rilassarci" in attesa del finale. La corsa di questa decima stagione sta incredibilmente per terminare e ancora non mi capacito – e penso nemmeno voi – di essere già arrivati al nono episodio.
Un episodio che conferma l'andamento di questa decima stagione a metà per toni e tipo di episodi tra l'ottava (piena zeppa di episodi filler) e la nona (più complessa e "moffattiana"). Una stagione che rimanda tanto ai classici episodi: lo scontro con il cattivo e la morale in sottotesto.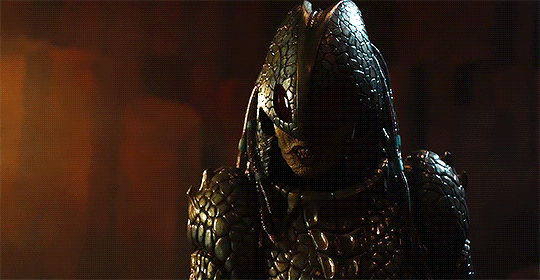 Lo stile di Gatiss in "Empress of Mars" rende omaggio proprio a quei tipi di episodi con diversi punti in comune tra l'altro a "Hungry Earth/Cold Blood" (episodi scritti da Chris Chibnall che dall'anno prossimo sarà il nuovo showrunner). Anche in questa puntata il Dottore si ritrova a fare da intermediario tra la razza nativa e quella colonizzatrice, mentre i piani di pace sono sempre più minacciati da una figura losca ed insopportabile (ricordate la madre del bambino in "Hungry Earth" appunto?).
Una puntata che ironizza sul delirio di onnipotenza dell' Impero britannico durante l'età vittoriana….
Don't belong her? We're British! Mars is part of the Empire now!
Criticando il loro pensiero ed in generale quello del mondo occidentale, che intende la vita reale come il gioco della sedia. Quello che occupo è mio, e ancora una volta la storia dovrebbe insegnarci che le cose sono un tantino diverse.
Nel sergente Catchlove (interpretato dal Ferdinand Kingsley di Victoria) è riassunta l'arroganza e la presunzione di quella stragrande maggioranza di umanità che è convinta di potersi prendere quello che vuole senza chiedere.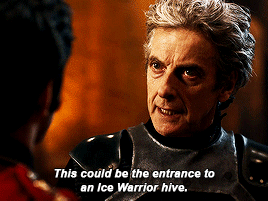 Per fortuna esiste un'altra metà rappresentata in questa puntata da Peach che, nonostante i tanti difetti, riesce a portare alla luce quella bellezza dell'essere umano di essere solidale con il prossimo, che riusce a vedere un fratello in un individuo di un altro colore… o, come in questo caso, di un altro pianeta.
La puntata di Doctor Who inoltre si conclude come un cerchio riportando la fine al punto di partenza, ovvero nella base della Nasa dove i satelliti trasmettono il messaggio di una scritta sulla superficie di Marte. Nice Trick!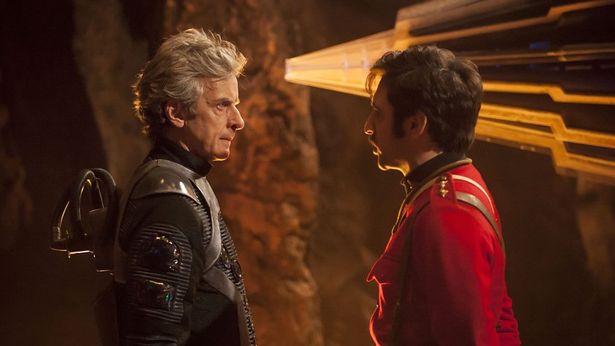 Fight, yes, for the future, not a dead past
Il Dottore si pone al centro dello scontro, indeciso su che parte scegliere perché, pur tifando sempre per l'umanità, ne riconosce gli evidenti limiti. La sua fiducia viene ripagata e avviene uno scambio di battute molto bello ed importante tra lui e Bill:
B: You knew that would happen
D: Always been my problem
B: What?
D: Thinking like a warrior
Quella parte del Dottore, a prescindere da quale volto possa assumere, è sempre presente: è parte di lui e si fa sentire. A parte questo, ho trovato esilarante tutta la faccenda film con Bill ed è impossibile non pensare adesso a Twelve che guarda Frozen!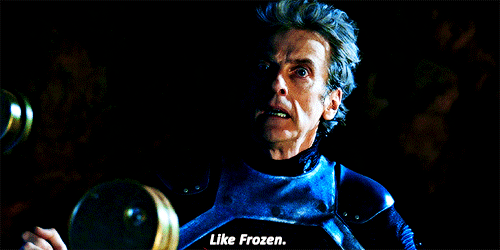 Capaldi riesce a passare dai toni comici a quelli drammatici con estrema naturalezza e quelle sopracciglia aggrottate sono la cosa che più mi mancherà.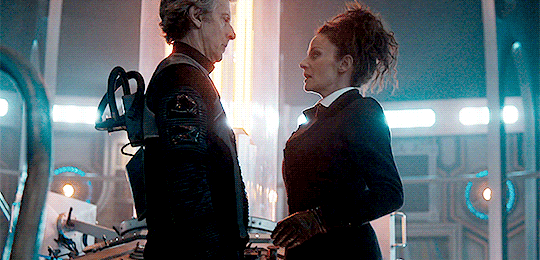 Are you alright?
Il secondo punto è certamente quello che riguarda il Dottore e Missy. Il TARDIS riparte improvvisamente con dentro Nardole che per poterlo riportare su Marte si trova costretto a chiedere l'aiuto di Missy. Non è ben chiaro dove tutta questa storyline voglia andare a parare. Missy è davvero cambiata? O questo è solo un altro giochetto mentale per fregare il Dottore?
Sherlock senza Moriarty non potrebbe essere quello che è, ma è anche vero che se Moriarty non avesse un'evoluzione rimanendo statico e sempre uguale, il mondo non si sarebbe innamorato di lui e la storia sarebbe diventata un pochino noiosa.
Detto ciò, un'evoluzione in positivo di Missy non è una brutta cosa, come non lo è lasciarla cattiva, ma devono esserci le giuste motivazioni. La presenza di Simm continua ad essere un mistero perché mentre il finale avanza, il suo ritorno continua a rimanere un enorme punto interrogativo. E con quello la domanda: cosa ha visto Missy nel Dottore che l'ha fatta accigliare?
Infine, la prossima settimana abbiamo la decima puntata, che io associo di solito al miglior episodio della stagione. Staremo a vedere. Il promo sembra promettere tante cose e un corvo sospetto rimanda ad una perdita non ancora affrontata.
In conclusione, un episodio filler che riesce nel suo compito di intrattenere e far diminuire la tensione delle scorse settimane. Mark Gatiss si è probabilmente superato. 
PS: bellissimo riferimento a fine puntata ad Alpha Centauri che fa sorridere i fan di vecchia data di Doctor Who.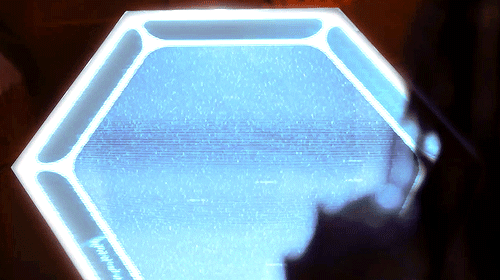 Passate anche dagli amici di Doctor Who "ita"