Doctor Who questa settimana torna ai suoi toni più oscuri in un episodio pieno di rimandi e di ricordi che guarda alla doppia natura del Dottore. Solitamente il decimo episodio di stagione si rivela essere quello più interessante, vedi "Blink", "The Girl Who Waited", "Voyage at the Centre of the Tardis" e non solo. L'episodio di questa settimana non viene meno alla tradizione e ci regala una bella e sana avventura condita di mostri, ingegno, dialoghi frizzanti e momenti intensi.
"The Eaters of Light" segna il ritorno alla scrittura di Rona Munro, dopo ben trent'anni di assenza. La penna della Munro unisce humour e pathos, equilibrando i due ingredienti. Dopo aver visitato Marte durante l'età vittoriana, i nostri eroi arrivano ancora più indietro, ad "Aberdeen, Scotland, II sec. A.D.", dove la leggenda vuole che sia scomparsa la Nona Legione Ispanica, un esercito di circa 5000 persone svanite nel nulla. Sulle tracce dei soldati, il Dottore, Bill e Nardole si imbattono in un mostro che si nutre di luce e in un clan scozzese restio alla collaborazione.
Ultimo episodio stand-alone prima di tuffarci nel finale di Doctor Who e preparare la confezione extra large di fazzolettini.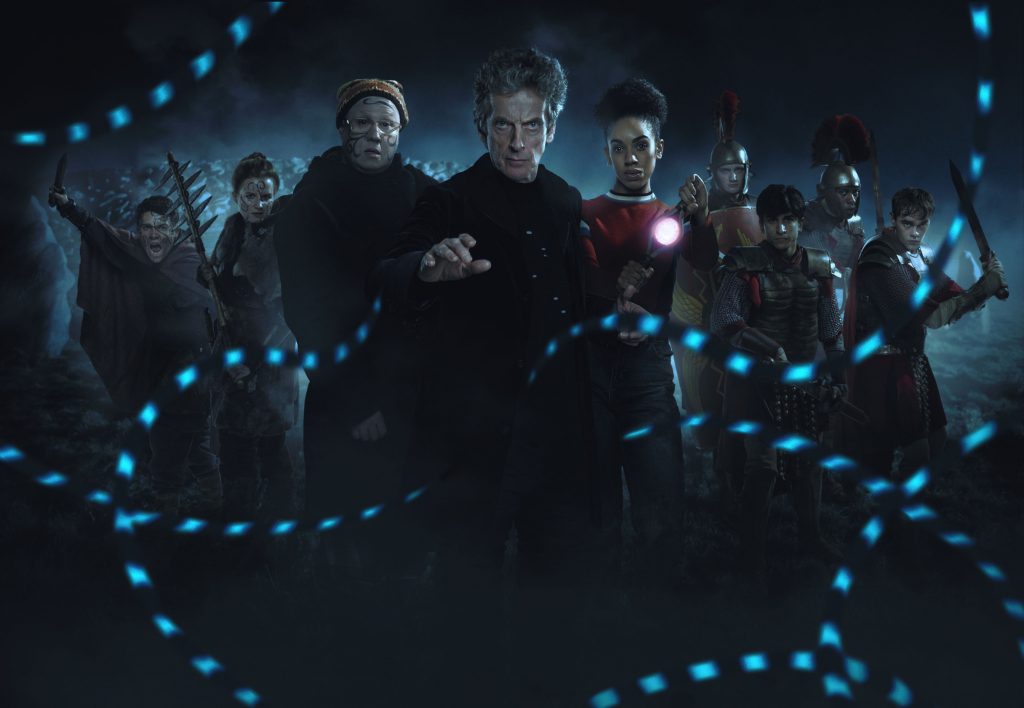 Scare is fine. Scare is human.
Dopo un finale come quello della settimana scorsa verrebbe da pensare che le fila riprendano da quel preciso momento… e invece no. Il team si trova ad Aberdeen, in Scozia, patria del kilt, di Nessie e di Peter Capaldi.
Mentre Nardole si chiede cosa sia più importante del sorvegliare il vault ecco che ottiene risposta da Bill, fermamente convinta di conoscere la storia della Nona Legione più del Dottore, non sapendo, come noi invece, il rapporto piuttosto stretto che questi ha con il mondo romano. Diverse avventure hanno visto protagonista il Dottore e i romani, pensiamo ad esempio a "The Fires of Pompei" (in cui appare proprio Capaldi tra l'altro), o alla Pandorica e a Rory the Last Centurion, per non parlare di quella volta in cui il Primo Dottore ha senza volerlo ispirato Nerone ad appiccare un famoso barbecue.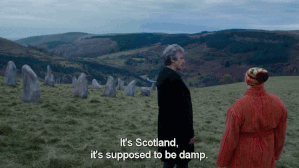 Ed ecco che nella sempre nebbiosa Scozia, il Dottore e Nardole si imbattono in un poco amichevole clan, mentre Bill si ritrova bloccata con i superstiti della Nona Legione. Mentre la ragazza ha un'illuminante conversazione con i legionari sulla "modernità" dell'omosessualità – che ci dovrebbe fare ampiamente riflettere su quanto siamo in torto nel rendere un caso nazionale qualcosa che in realtà è davvero di una banalità imbarazzante -, il Duo delle Meraviglie si lascia andare a riflessioni sui corvi.
Nardole [about a crow]: But it *talked*!
The Doctor: Well, of course it did. It's a crow. All crows talk.
Nardole [taken aback]: Well, they don't talk in the *future*!
The Doctor: Of course they do. Human beings just stopped having intelligent conversations with them, and they all took a bit of a huff.
Nardole: Crows in the future all in a huff?
The Doctor: Of course they are! Haven't you noticed that noise they make? It's like a mass sulk!
Impossibile non pensare a Clara Oswald e a come stranamente le vicende che la riguardano non siano ancora state esplorate, considerato il ritorno di Missy. 
Le vicende della Nona Legione, in questo nuovo episodio di Doctor Who, si vanno ad intrecciare con un mostro proveniente da un'altra dimensione e con una fama insaziabile di luce. Il tono della puntata è abbastanza dark ma la Munro non rinuncia a battute di spirito e momenti di sano umorismo che aiutano ad allentare la tensione di un episodio abbastanza impegnativo.
Impegnativo perché è la quiete prima della tempesta, prima del finale di un finale davvero ricco di aspettative, e poi perché vengono esplorate da un'angolazione leggermente diversa due costanti del Dottore che in 50 anni di storia non sono certo cambiate.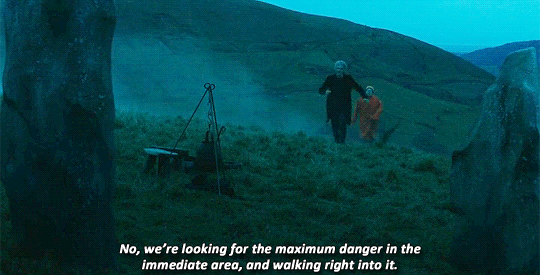 L'alieno per cui l'Universo è ormai troppo piccolo e l'uomo che riesce ancora ad emozionarsi per la sua sinfonia.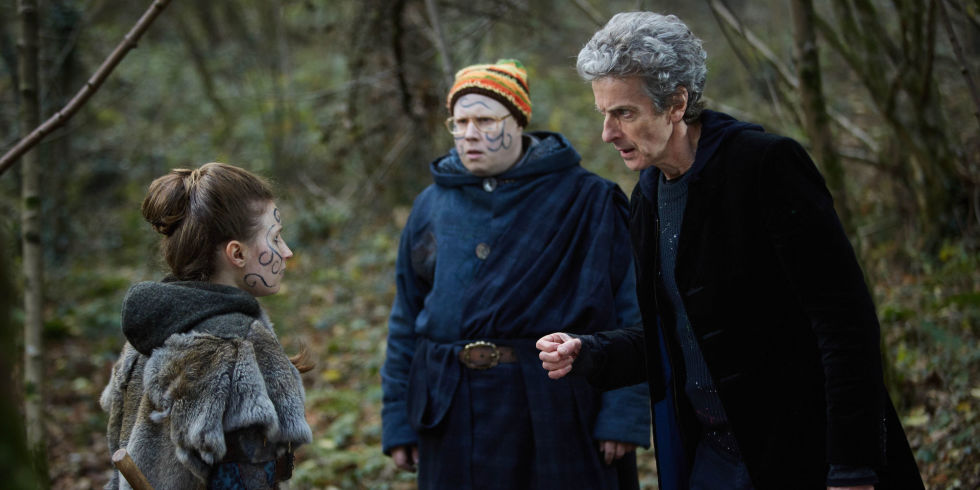 She slaughtered your legion, you slaughtered everything that she loves. Now you have a choice. You can carrying on slaughtering each other until there is no one left standing or you grow the hell up!
In "Eaters of Light", la paura gioca un ruolo fondamentale. La vediamo non solo nella lotta contro il mostro ma anche in quella tra i due diversi popoli che non riescono a capirsi e quindi si temono. la paura di due ragazzini chiamati a fare gli adulti, a crescere e comportarsi da leader.
Ironico parallelismo con i leader mondiali che sono d'altronde solo dei bambini un po' cresciuti.
La paura è anche quella di Missy di fronte a nuovi e sconosciuti sentimenti. A questo generale senso di disorientamento si contrappone più che il Dottore, Bill. La ragazza, nel tempo trascorso lontano da casa, dimostra di aver fatto propri gli insegnamenti del suo maestro. Sprona i legionari, appiana le divergenze con il clan e prende in mano la situazione quando anche il Dottore viene vinto dall'emotività.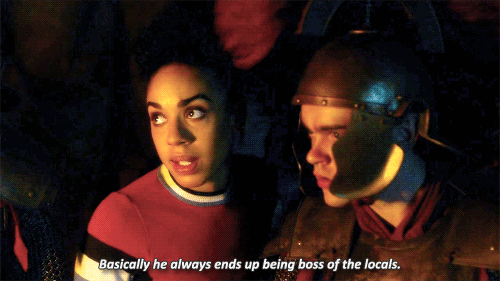 Bill è una companion cresciuta grazie alle esperienze con il Dottore ma mai da queste trasformata in una persona diversa.
Ha mantenuto la propria dolcezza ed allo stesso tempo è maturata. Il suo senso dell'umorismo e la sua gentilezza ci hanno fatto compagnia fino ad ora e pensare che non la rivedremo l'anno prossimo dispiace perché Pearl Mackie è stata davvero all'altezza della situazione, ha costruito un personaggio a 360° gradi. Risoluta, forte ed umana.

Come Bill anche Nardole ci mancherà, la voce fuori dal coro del trio che riesce a portare leggerezza ed ironia anche in situazioni mortali.

L'Universo visto con gli occhi di un vecchio ha i suoi pro e contro. Un contro deve essere quello di non sorprendersi più, di trovare sempre le stesse persone, gli stessi schemi e reazioni e di sentire tutto intorno solo la voce di bambini.
Ma non dimentichiamo una cosa fondamentale, che a quegli stessi bambini il Dottore non sa dire di no. Seppur contrariato dalla lotta banale tra romani e scozzesi, Twelve è pronto a sacrificarsi per loro e fare la guardia per l'eternità.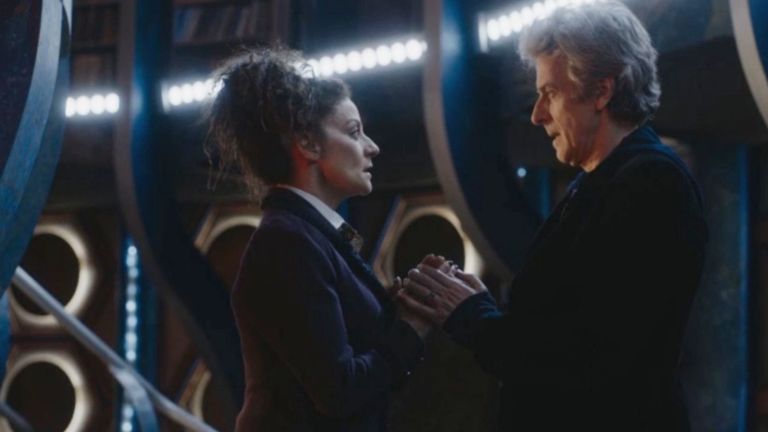 See, that's what I'm trying to teach you, Missy. You understand the universe, you see it, you grasp it, but you never learned to hear the music.
La musica che suona per Bill e per una bambina piena di fantasia mille anni dopo. La stessa musica che suona per il Dottore che dopo 2000 anni è sempre pronto a porgere l'orecchio, ad ascoltare in silenzio cosa l'Universo vuole dirgli.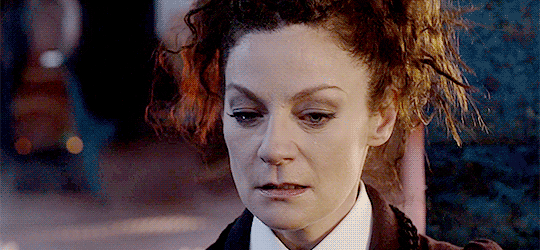 E Missy? Forse un cambiamento sta davvero accadendo, in fondo siamo di fronte ad un nuovo Maestro, pieno di sfumature e spigoli. Credo che il Simm che abbiamo visto nel promo della prossima puntata di Doctor Who non sia davvero il Maestro ma piuttosto una sorta di proiezione di Missy stessa (un po' come quando Emma vede l'Oscuro Signore). E se Missy fosse realmente cambiata? Questo si chiede il Dottore, che da un lato non vuole illudersi ma dall'altro sa che l'illusione è un piacevole tormento al quale così spesso ci abbandoniamo.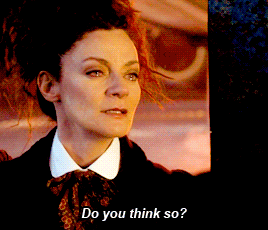 That's the trouble with hope. It's hard to resist.
Sperare significa mettersi in gioco, rischiare e di conseguenza rimanere feriti e sappiamo tutti che il Dottore non è fatto di pietra o metallo.
Capaldi alterna l'ironia di un momento alla stanchezza di una rigenerazione, sente di aver fatto il suo corso. Dietro gli occhi chiari di Twelve si legge la paura e il peso di un onere che comincia davvero a farsi sentire. 
Passate anche dagli amici di Doctor Who "ita"