Se stai leggendo questo articolo, significa che le serie tv sono la tua vita: la puntualità dei dettagli, le sfumature delle immagini, la complessa immediatezza di quel messaggio inviato e in pochi istanti recepito, lasciando però a chi è dall'altra parte dello schermo la responsabilità di capirlo. Libidine.
Le serie sono questo ma c'è molto di più, per scoprirlo occorre analizzarle fino ai tanti piccoli atomi che le compongono, le singole scene. Il compito di questa rubrica sarà per l'appunto quello di calarsi dentro i microcosmi dell'universo più ganzo che ci sia nel tentativo di avvicinare il lettore (che non è altro che l'occupazione part-time dello spettatore) al messaggio di cui sopra: enjoy!
LA PUNIZIONE DI
FRANK CASTLE
Dopo essere usciti da un discreto inferno fatto di pallottole, irlandesi e torture indicibili, Daredevil e The Punisher si rifugiano in un luogo che solamente due eroi sui generis come loro potrebbero definire sicuro: un cimitero. Murdoch si regge ancora in piedi nonostante qualche livido si faccia sentire, mentre Castle, decisamente il più provato, si accascia appena può appoggiandosi a una lapide: dopo essersi tanto odiati e aver attraversato fianco a fianco indicibili difficoltà, i due finalmente respirano e hanno il tempo di mettere a fuoco la situazione.
Il diavolo ha appena salvato il punitore da morte certa e l'ha fatto perché in lui ha visto qualcosa di buono, ha visto lo stesso ideale che lo spinge a infilarsi ogni sera in una tutina di kevlar, solo coniugato in una maniera differente, addirittura più oscura e maledetta della sua. Nonostante l'orgoglio militaresco e la leggendaria testardaggine, è Castle a tendere per primo la mano :
"Niente male"…
"Sai forse mi sbagliavo, ti credevo una checca"…
"Saresti stato un grande marine"
Il sangue è ovunque. Gli riempie la gola, gli dipinge il viso e gli irrora i vestiti: forse è davvero giunta la tua ora Frank? È tempo di dire addio a questo schifosissimo mondo? Nah, c'è ancora molto da fare, presto arriveranno e ti rimetteranno in piedi con un po' di nastro adesivo, ma non prima dell'ultimo confronto con il rosso, che ignora completamente i giri di parole del suo strambo amico e va dritto al punto con un gancio degno di suo padre:
"Che cosa vuol dire la filastrocca? Quella che dici prima di premere il grilletto"
Lo sguardo di Frank si inumidisce, ma non è sangue stavolta, sono lacrime, lacrime per sua figlia. Un pezzo, due pezzi, un penny e un decino. Apparentemente cambia discorso ricordando la guerra, quanto fosse bravo a farla e quanto gli venisse naturale viverla, ma poi si sposta alla parte più difficile ovvero il rientro a casa, la paura che il destino volesse privarlo proprio sul più bello dell'abbraccio della sua famiglia, finché la macchina che lo riaccompagnava si fermò finalmente davanti alla scuola:
"Vado fino alla sua classe. Lei è lì però non sa niente, non sa che è tornato il suo papà. I ragazzi non stanno studiando, fanno una specie di yoga. Lei è lì che fa le posizioni, si piega e si muove, sembra un fiore e tu non riesci a comprendere come una cosa tanto bella possa averla creata uno come me"
L'interpretazione di Jon Bernthal è magistrale perché riesce di colpo a levarsi la maschera corrucciata e maledetta del soldato, mostrando il volto disteso del padre, illuminato da un bagliore che Devil teoricamente non potrebbe vedere eppure è lì a santificare il primo dei peccatori. Prima c'erano le pistole, i fucili a canne mozze e i coltelli a serramanico, adesso c'è un fiore. Vediamo qualche sorriso, forse perfino una risata nel racconto di The Punisher, che prosegue lento e tranquillo, come l'Hudson alle loro spalle:
"Alza gli occhi e mi vede, io vedo lei. Mio Dio è vero! E' tutto vero! Attraversa la classe di corsa e si getta tra le mie braccia, stringendomi così forte che quasi mi rompe una costola. Io e lei ce ne stiamo lì abbracciati mentre l'insegnante fa un video col cellulare per metterlo su Youtube, ma non riesce a tenerlo fermo perché non fa che singhiozzare mentre i bambini fanno festa e piangono. Io frigno più di tutti, non smetto di sorridere e intanto piango a dirotto, la mia bambino no, non piange, è la mia piccola lei e non piange, anzi mi sostiene e mi consola"
La tranquillità c'è ancora, ma la disperazione inizia a incalzarla e a spezzare la voce di Frank. La drammaticità positiva di quel momento inevitabilmente lo avvicina a quella straziante che sta per arrivare, nonostante lui combatta con le unghie e con i denti per non abbandonare quella luce, quell'abbraccio. Matt lo guarda ammirato, sostiene con un sorriso solenne lo sforzo erculeo di quell'uomo, enormemente superiore a qualsiasi altro abbia visto nella sua vita. Castle sta per rivivere la morte della sua famiglia:
"Dopo andiamo a casa. Mia moglie, mio figlio: è tutto come l'avevo lasciato, come se la casa aspettasse il mio ritorno e poi mi resi conto per la prima volta di quanto fossi stanco. Tu sei mai stato stanco? Io non riuscivo a fare niente, neanche fare l'amore con mia moglie, giocare a palla con mio figlio, pensa che non ce la facevo neanche a bermi una birra. Lei no, mia figlia era sveglia, voleva che io le rimboccassi le coperte; ormai era grande per queste cose però non le importava perché aveva un libro sopra il cuscino, il suo preferito, <<Un pezzo, due pezzi, un penny e un decino>>, glielo leggevo tutte le sere prima di quella merda di guerra però era finita, papà era a casa ormai. Mi ha guardato, mi ha supplicato, mi ha pregato e pregato. Ho detto di no. Papà è troppo stanco, lo leggerà domani, ma non c'è stato più nessun domani per lei perché di lì a poco avrei stretto a me quel corpicino senza vita, c'era la carne viva dove prima c'era il suo viso…"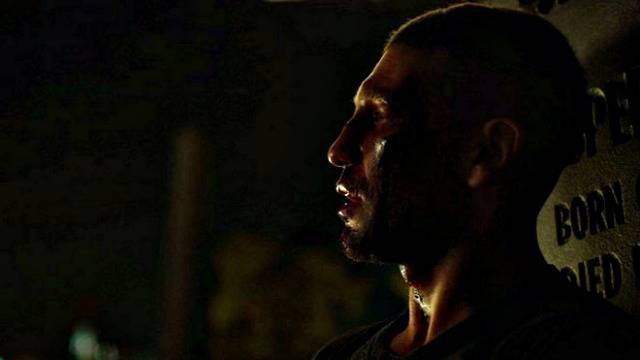 Quel soldato così freddo, secolarizzato, implacabile e per certi versi crudele ci ha mostrato uno squarcio della sua vita precedente, quello decisivo, quello peggiore. La luce è solo un lontano ricordo, adesso c'è spazio solo per le occhiaie, la fronte corrugata e le sirene della polizia, che di lì a poco lo porterà via con sé.
Che cosa ci ha detto questa scena tra Murdoch e Castle? Ci ha detto che dobbiamo sempre avere rispetto delle guerre interiori delle persone, aspettare di conoscerle prima di giudicare, verificare di avere tutti i pezzi del puzzle prima di darla vinta ai pregiudizi. Frank Castle è quello che è, un assassino con qualche rotella fuori posto che non ha nessun problema a far fuori chi è giudicato colpevole dal suo personalissimo tribunale di cui lui è accusatore, giuria e giudice, tuttavia perché è così? Cosa gli è successo? Egli ha subito la punizione suprema, la perdita ingiusta e violenta della sua famiglia, l'amputazione degli affetti, lo sbudellamento dei sentimenti, la morte dell'anima. Ora lo sappiamo, questo lungo monologo ci ha mostrato gli estremi a cui di tanto in tanto la vita ti pone e chissà che questo non possa addirittura a servirci di più la nostra comoda, oziosa, meravigliosa stabilità.