Attenzione spoiler: nell'articolo sono presenti riferimenti al finale di Chilling Adventures of Sabrina 3
La lunga ed estenuante attesa è ormai finita: Sabrina è tornata con le sue terrificanti avventure capaci di stregarci e tenerci incollati allo schermo. Avevamo lasciato il Fright Club deciso a salvare Nicholas Scratch, diventato una trappola di carne che imprigiona Lucifero stesso. L'Inferno è sotto una nuova gestione: quella di Madam Satan alle prese con la difficoltà di imporsi sui suoi sudditi che si rifiutano di legittimare il suo regno. Contro ogni previsione, la discesa agli Inferi della nostra protagonista avviene già nel primo episodio (qui la nostra recensione) e ben presto ci accorgiamo che i problemi che dovrà affrontare in questa stagione sono ben più di quanto si poteva ipotizzare.
Chilling Adventures of Sabrina 3 vede l'intreccio di diverse trame, che vanno pian piano a infittirsi e ingarbugliarsi.
Ritrovare il bandolo della matassa non sarà affatto semplice. I protagonisti sanno attaccati da più fronti e, stranamente, la minaccia principale non verrà dal Signore Oscuro. Anzi, ridotto quasi a presenza marginale, lo vediamo indebolito e senza credibilità, all'Inferno come sulla Terra. La sua unica possibilità appare dunque quella di affidare a sua figlia l'incarico di governare le orde infernali e di salire sul trono. E, finalmente, il suo oscuro piano si compie: la profezia che da sempre lo aveva guidato e che era stata il filo conduttore della serie stessa trova la sua attualizzazione. Così Sabrina Spellman abbraccia a poco a poco l'idea di essere Sabrina Morningstar e che il suo destino è salire a quel trono che tanto ha cercato di evitare. Ma la sua incoronazione l'avevamo certamente immaginata diversa.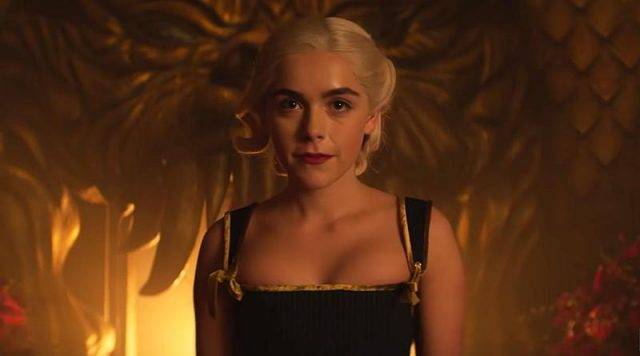 Fin dall'inizio, la mezza strega appare divisa. Da un lato, i suoi doveri di Regina e le continue sfide con Calibano, Principe degli Inferi. Dall'altro i suoi affetti, la famiglia e the Church of Night indebolita, Nick profondamente turbato e i suoi amici. In bilico tra due mondi e due versioni di sé. La soluzione al suo dilemma le si presenta nell'ultima puntata, quando – pietrificata e incapace di reagire – sarà lei stessa a salvarsi, tornando indietro nel tempo. In questo modo, una parte di Sabrina, quella desiderosa di avere tutto il potere nelle sue mani e di ricoprire il ruolo che le spetta per diritto di nascita, rimane all'Inferno. Ma l'altra parte, quella che aveva assistito alla fine del mondo e alla morte della sua famiglia, è decisa a rinunciare a tutto pur di proteggere le persone a lei care. Due aspetti della protagonista che abbiamo imparato a conoscere bene nel corso di queste tre stagioni e che l'hanno anche resa tanto intrigante.
Così alla fine Sabrina ha ottenuto davvero sia la libertà sia il potere, come fin dall'inizio aveva desiderato.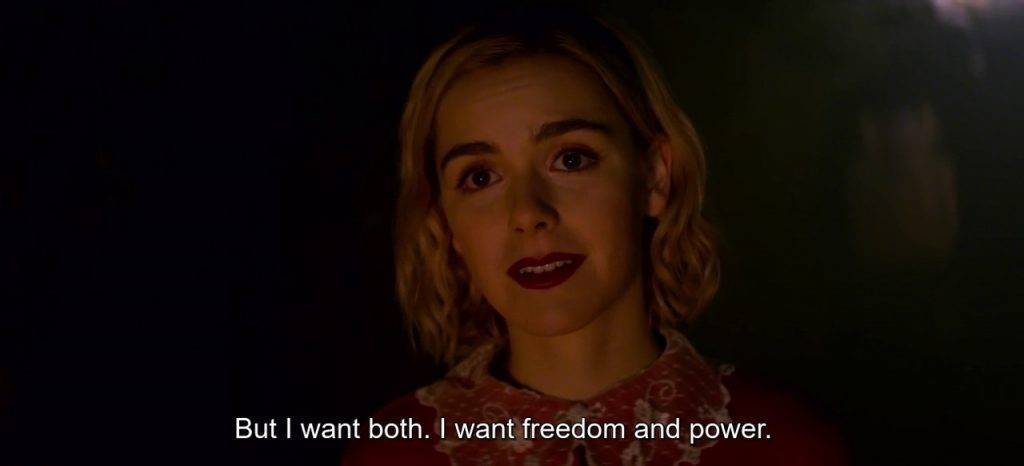 La libertà di essere una strega adolescente qualsiasi e il potere datole dalla sua ascesa come Regina dell'Inferno. Ma a quale prezzo? Decidendo di sdoppiarsi, ha creato un paradosso temporale e ordito un inganno che non resterà celato per molto. Questa volta più delle altre, la sua imprudenza potrebbe causare danni irreparabili.
Contemporaneamente, la serie stessa ha dovuto pagare un prezzo alto. Le numerose trame che tendono a intrecciarsi nel corso della stagione creano un labirinto troppo intricato e, durante il tragitto, si sono persi di vista alcuni aspetti caratteristici di Chilling Adventures of Sabrina. I personaggi hanno risentito di questa storyline. Alcune situazioni, sentimenti, evoluzioni avrebbero meritato un maggiore approfondimento. Nelle prime due parti, il carattere dei personaggi è stato uno dei punti di forza dello show, capace di mostrarceli sempre a tutto tondo e molto reali. Alcuni momenti di riflessione ci sono, ma gli eventi corrono veloci e stare al passo con le varie vicende richiede ritmi più sostenuti.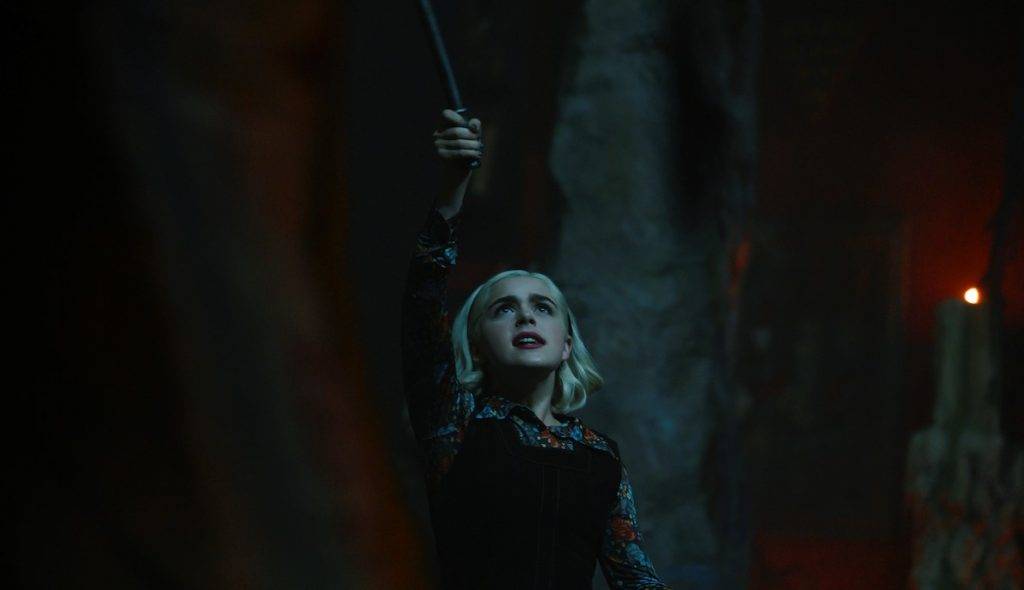 Anche la scelta di inserire nuove divinità e nuovi culti potrebbe essere un'arma a doppio taglio, che per ora ha già stravolto in parte la linearità e la trama di base che l'aveva caratterizzata all'inizio. Ma forse nella prossima stagione potrebbe rivelarsi una risorsa vincente.
Chilling adventures of Sabrina 3 si presenta colma di novità inaspettate e con un finale imprevedibile.
Dobbiamo tristemente ammettere che alcune cose avrebbero potuto essere gestite meglio, con la rinuncia a qualche storyline a favore di quelle principali. Ma d'altro canto non abbiamo ancora visto come evolverà questa situazione. E, nonostante qualche recriminazione, dobbiamo ugualmente riconoscere che la serie ha un fascino unico, un vero e proprio incantesimo che porta assuefazione e che trascina, episodio dopo episodio, sull'oscuro e inquietante Cammino della Notte seguendo Sabrina e i suoi amici. La personalità carismatica della protagonista anche in questa terza parte ci spinge a sostenerla ed eccitarci per le sue brillanti trovate. E sembra spronarci tutti a prendere in mano la nostra vita e non permettere a nessuno, neanche al Diavolo in persona, di mettersi sul nostro cammino.