L'ultimo episodio della terza stagione di Chilling Adventures of Sabrina inizia mettendoci davanti a una strana realtà: sono trascorsi alcuni decenni dalla puntata precedente, e sembra che il mondo sia letteralmente caduto a pezzi.
Restiamo spiazzati però nel vedere ben due Sabrina già nei primi minuti. In una scena un po' alla Ritorno al Futuro, la Sabrina del futuro libera quella del passato e le dice di sistemare la situazione. La avverte inoltre che, dopo aver rimesso le cose a posto, dovrà tornare a liberarla: in caso contrario, infatti, il loop temporale non verrebbe preservato.
La protagonista inizia dunque a vagare in quella che un tempo era la sua città, costretta ad affrontare la realtà: le sue ziette, i suoi amici e i suoi compagni di accademia sono tutti morti da decenni.
Improvvisamente Ambrose si fa vivo e la porta al sicuro dalle "creature arboree". Le spiega che i Pagani hanno vinto e che il mondo è ormai nelle loro mani.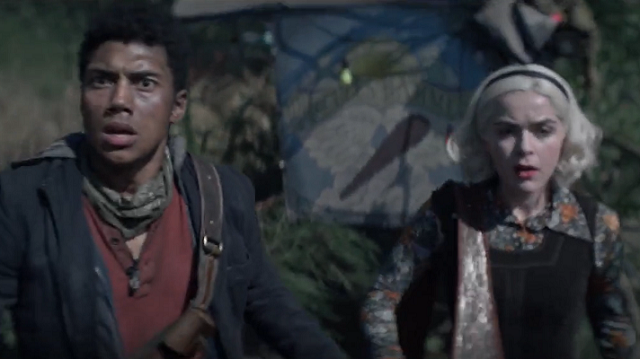 Esattamente com'è accaduto in tutta questa terza stagione di Chilling Adventures of Sabrina, però, i due trovano immediatamente una soluzione a tutto: l'uovo temporale che Ambrose sta proteggendo ormai da decenni può aiutare Sabrina a tornare indietro nel tempo per sistemare la situazione. Un po' come la giratempo di Hermione Granger in Harry Potter, tanto per intenderci.
Sabrina utilizza dunque i cimeli della Regalia Profana per avere la potenza necessaria e, messo al tappeto Blackwood in men che non si dica, viene catapultata nel passato.
Dopo aver messo al sicuro i suoi amici e la sua famiglia e aver aiutato zia Zelda a far resuscitare (per l'ennesima volta) zia Hilda, inizia subito a escogitare uno stratagemma per sconfiggere una volta per tutte i Pagani.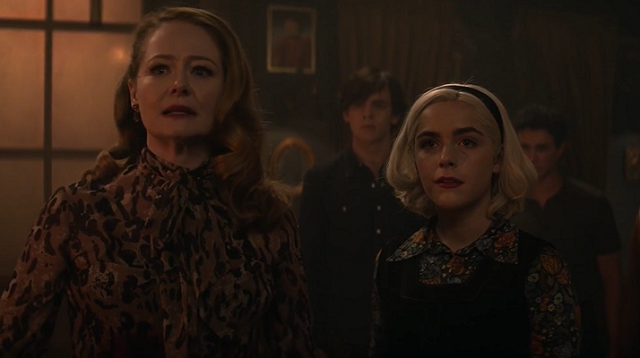 Questi ultimi, non riuscendo a scovare Harvey, decidono di "utilizzare" la signora Wardell, anche lei vergine, per fortificare l'uomo verde. Sabrina però, con un trucco già visto e rivisto, inganna i Pagani: fa credere loro di aver catturato Mary Wardell, ma colei che finisce per "nutrire" il loro dio è invece una sciamana con la capacità di avvelenare la terra.
In questo modo l'uomo verde è ovviamente morto, e la congrega si vendica di tutti i torti subiti: Hilda uccide Circe, Rosalind taglia la testa all'Incantatrice e Prudence mette fine alla vita del Dio Pan.
Tutto è bene quel che finisce bene, potremmo pensare una volta vista la vendetta delle streghe. Sabrina però, non ancora contenta, decide di commettere un ultimo, incredibile errore.
Invece di scambiarsi con la "sé del futuro", come le era stato detto all'inizio dell'episodio, decide di parlare con la versione di sé stessa che ha appena recuperato le 30 monete d'argento di Giuda e di proporle di andare a regnare all'Inferno.
Alla fine dell'episodio, dunque, avremo ben due Sabrina: una è una ordinaria strega adolescente e cheerleader che vive sulla Terra, l'altra è una regina che siede sul trono dell'Inferno.
Insomma, Sabrina, Emmett Brown non ti ha insegnato proprio nulla? È ovvio che questa assurda decisione non porterà niente di buono! A nulla servono i rimproveri di Ambrose, che cerca di farle capire che le sue azioni sconsiderate avranno delle serie conseguenze.
Tutto questo è impossibile! Se non hai assolto al tuo ruolo e ti sei liberata da sola, e adesso ci sono due te, tu hai creato un paradosso temporale! No, non è così forte! Le conseguenze di tutto ciò saranno orribili, pensaci!
Sicuramente abbiamo notato che non sempre la nostra cara Sabrina Spellman spicca per la sua intelligenza, ma arrivare al punto da credere che le sue zie non verranno mai a sapere cos'è successo non è forse troppo?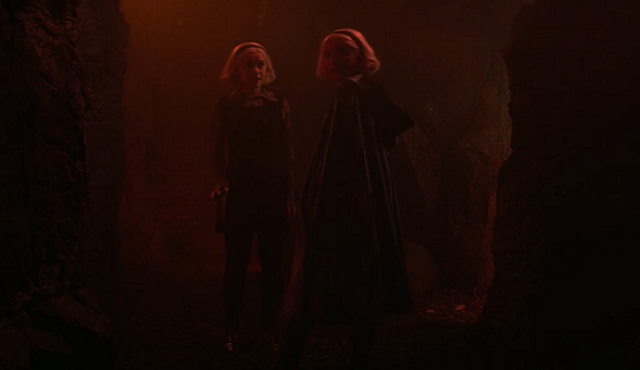 Alla fine dell'episodio, poi, vediamo Blackwood liberare un mostro dall'uovo temporale e affermare con sicurezza di aver dato vita all'inizio della fine degli Spellman.
Questa terza stagione di Chilling Adventures of Sabrina ci ha lasciato senza dubbio un po' perplessi. La narrazione è fluida e ci tiene con gli occhi incollati allo schermo, ma dobbiamo ammettere di aver un po' sentito la mancanza dell'atmosfera che regnava nelle scorse stagioni. Ci è sembrato di vedere un'accozzaglia di situazioni risolte in poco tempo, quasi come se nulla potesse in realtà mettere in difficoltà i nostri protagonisti.
Sicuramente la terza stagione di Chilling Adventures of Sabrina non ha superato le precedenti, ma ci ha anche lasciati con un cliffhanger che non ci fa vedere l'ora di scoprire cosa accadrà in seguito.