Attenzione! Il seguente articolo contiene eventuali spoiler riguardanti Chilling Adventures Of Sabrina 2!
Chilling Adventures Of Sabrina 2 è straordinario. La seconda stagione, composta da ben nove episodi, riprende esattamente da dove l'avevamo interrotta. Dopo lo speciale natalizio intitolato A Midwinter's Tale la famiglia Spellman riprende la sua routine, cercando di sfuggire ai guai che sembrano perseguitarla.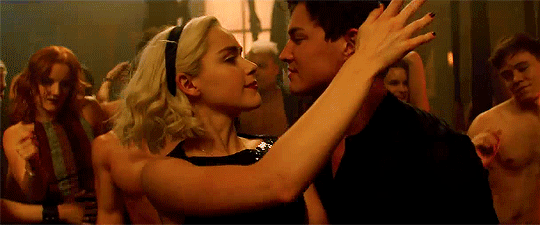 Nel corso di questa stagione tutti i dubbi e le domande che ci siamo posti in passato trovano una risposta. Assistiamo a una lenta rivelazione, capace di farci assaporare ogni teoria ipotizzata nel corso prima stagione. E le differenze con quest'ultima sono davvero molteplici.
Mettetevi comodi, quindi, perché Chilling Adventures Of Sabrina 2 è riuscita ancora una volta a sorprenderci.
Ripartiamo dalla trama: dopo aver trascorso le feste insieme, gli Spellman ritornano alle loro abitudini. Assistiamo all'evoluzione di una Sabrina che appare diversa, più indipendente. Più legata all'Accademia delle Arti Oscure e ai suoi studenti, lontana dal mondo mortale e dalla sua fragilità. L'intimo legame con Nicholas Scratch poi, conosciuto nella prima stagione, è evidente così come il controverso rapporto con le Weird Sisters.
Ciò che avviene durante la storia è curato in ogni dettaglio. L'ennesimo punto a favore di questa seconda stagione è sicuramente l'accortezza nel rispondere a quasi tutti i buchi di trama lasciati in sospeso. Scopriamo infatti le reali origini di Sabrina, venuta al mondo grazie all'intervento di Satana. Anche la vera natura del Dottor Cerberus è rivelata, così come i piani del Sommo Sacerdote e di Nicholas Scratch, il cui avvicinamento a Sabrina è sempre stato sostenuto dal Signore Oscuro.
Ogni domanda trova finalmente una risposta. Nulla è lasciato al caso, poiché strategicamente la narrazione prosegue con fluidità e la giusta dose d'azione.
La sceneggiatura subisce un notevole miglioramento, soprattutto quando i riferimenti ai dialoghi della stagione precedente sono evidenti. Anche la fotografia fa un grande passo avanti, in particolare durante una fantastica scena musicale e nei flashback di Madame Satan. Per quanto riguarda la visuale, invece, assistiamo ancora una volta a un effetto sfocato, confusionario, quasi a voler dare la sensazione di vivere in un mondo scisso. A metà strada, tra il bene e il male.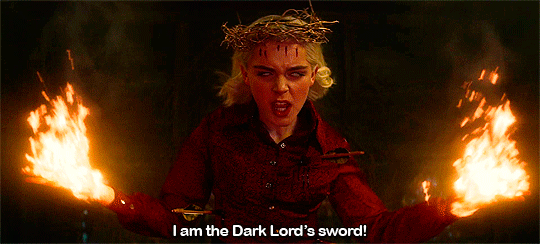 Ciò che ha contribuito a rendere Chilling Adventures Of Sabrina 2 così piacevole è stato senz'altro il continuo riesumare tutti i piccoli dettagli che nella prima stagione sembravano privi di significato (lo schema di Acheronte, per esempio, si rivela parecchio utile nel finale di stagione). I personaggi subiscono un character development esemplare, a cominciare dalla stessa protagonista.
Attraverso una graduale trasformazione Sabrina infatti non diventa semplicemente più indipendente. La giovane strega assapora il piacevole gusto del potere, rischiando di perdere ciò che l'aveva contraddistinta fino a quel momento: la sua morale.
Ma solo così inciampa nella terribile profezia di cui è protagonista e che, paradossalmente, riesce a farla ritornare sui suoi passi.
Una volta certa di non essere più una pedina di Satana, Sabrina si ribella e mostra un carattere deciso e intraprendente. Ancora una volta, Chilling Adventures Of Sabrina ci presenta delle donne coraggiose, delle guerriere disposte a tutto per la loro libertà.
L'impronta femminista prosegue, perché in questa seconda stagione Sabrina non è l'unica a subire un cambiamento. Zelda, per esempio, riesce a diventare Somma Sacerdotessa e Lilith regina degli Inferi. Inoltre, ancora una volta questa serie tv trasmette dei messaggi importanti.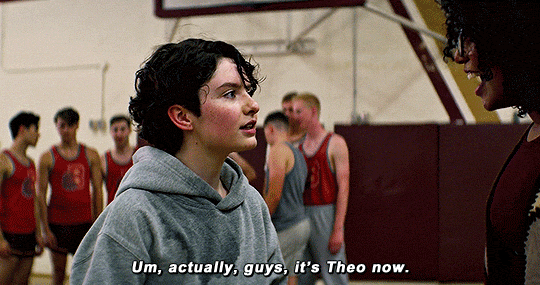 Ne sono un esempio il coming out ufficiale di un personaggio transgender, Theo, e la velata lezione di educazione sessuale alla Baxter High, in occasione della festa di San Valentino nella 2×03.
L'incoraggiamento a essere se stessi di cui si fa portavoce il giovane Theo o la determinazione dei personaggi femminili nel combattere la misoginia sono temi rilevanti, nonché attualissimi.
Il tema della violenza sulle donne è ancora una volta ripreso in Chilling Adventures Of Sabrina 2 che mette in mostra una società misogina e xenofoba. Il richiamo alla società contemporanea è palese e non manca ovviamente il rimprovero verso la mascolinità tossica di Padre Blackwood.
I riferimenti biblici mischiati a leggende metropolitane e fantasia riescono a stupire e ammaliare. Dagli incantesimi in latino, recitati con un'ottima dizione in lingua originale, alla storia tra Lucifero e Lilith sino alla trasformazione dei miracoli cristiani in miracoli blasfemi, infernali.
L'adeguata preparazione al di sotto della narrazione è stato l'ennesimo colpo d'ala della serie. I momenti teneri non sono mancati, così come quelli più simpatici o struggenti.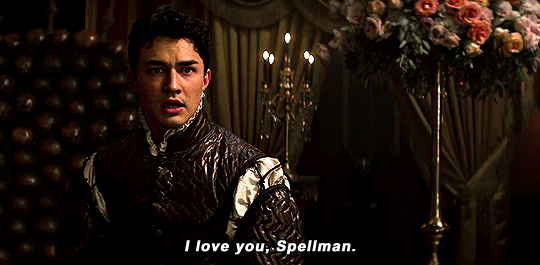 Chilling Adventures Of Sabrina 2 si è superata, rendendo questa seconda stagione ancora più interessante, ricca di azione, avventura e pathos.
Un'altra sorpresa l'abbiamo infine ottenuta nella brevissima scena musicale verso il finale di stagione. A testimoniare che Kiernan Shipka sia un'ottima cantante, non possiamo che apprezzare l'uso della canzone Masquerade, presente nel musical Il fantasma dell'opera. La serie pare ripercorrere i passi di The Umbrella Academy in cui ritroviamo proprio un altro riferimento all'opera.
È stata una sequenza di immagini ammaliante quanto seducente, dal canto sino all'uso dei costumi. Il rimando era perfetto, considerando il velato tradimento verso il Signore Oscuro rivelato durante tale scena.
Oltre alla storia intrigante e al cast eccezionale, i buchi di trama rimasti sono essenzialmente pochi.
Le domande lasciate in sospeso riguardano principalmente le new entry di questa seconda stagione. Cosa volevano quei cacciatori di streghe angelici? E quale, invece, la storia di Luke, già eliminato e di cui non sappiamo quasi nulla?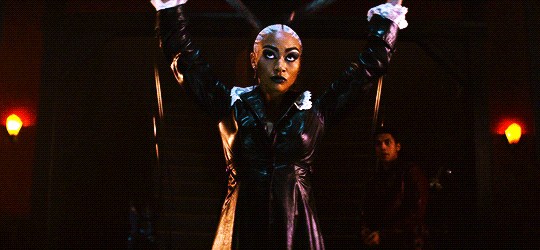 Della prima stagione restano inoltre due dubbi fondamentali, ai quali tutt'oggi non sappiamo darci un'effettiva risposta. I genitori di Sabrina sono davvero morti per mano di Padre Blackwood? E il cadavere  dello stregone incontrato prima stagione quale legame nasconde con Luke e i cacciatori di streghe?
Dopo aver fatto un prepotentissimo binge watching di questa seconda stagione, pare ci tocchi attendere un bel po' prima che Sabrina Spellman faccia il suo ritorno. Chilling Adventures Of Sabrina 2 ci ha mostrato una protagonista ancora più badass di come l'avevamo lasciata.
I suoi compagni hanno un ruolo più definito e la conclusione della serie non ha un tono così oscuro da farci pensare il peggio.
Al contrario, assistiamo a un trionfo tutto al femminile. L'input per la terza stagione non è affatto tragico, ma trasmette coesione e unità tra gli stessi protagonisti, nuovamente affiatati. Il destino di Nicholas Scratch pare essere nelle mani della giovane strega e siamo quasi certi che la sua storia non sia finita qui.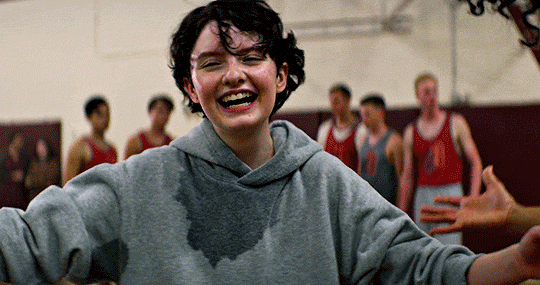 Al di là del triangolo amoroso che tutti ci aspettavamo, abbiamo assistito invece all'affermazione dei personaggi secondari che finalmente hanno consolidato la propria personalità e messo in gioco le proprie capacità.
Possiamo quindi semplificare il finale di stagione dicendo che, in sostanza, i buoni hanno vinto, le donne hanno vinto. E non c'è magia più potente di quella capace di abbattere i muri di qualsiasi discriminazione.