Quando vince il suo primo premio, lo Screen Actors Guild Award, Kiernan Shipka ha soltanto nove anni, e si districa egregiamente tra i grandi del piccolo schermo con i suoi ricci e le Mary Janes ai piedi.
La nuova star di Chilling Adventures of Sabrina cresce quindi nel cast di uno show, quello di Mad Men, che cambia sensibilmente (e definitivamente) il modo di concepire la serialità televisiva: una serie incentrata principalmente sulla narrazione e sull'introspezione dei personaggi.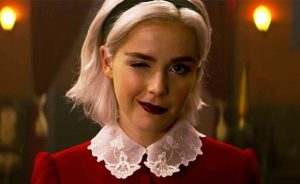 Ora che ha 18 anni ed è protagonista di Chilling Adventures of Sabrina (una delle serie di punta di Netflix e reboot della celebre Sabrina Vita da Strega degli anni 90, all'epoca interpretata da Melissa Joan Hart), Kiernan Shipka ha confessato di aver imparato tanto dall'esperienza di Mad Men, e nello specifico di essersi ispirata agli insegnamenti di Jon Hamm, interprete di Don Draper, padre del suo personaggio all'interno dello show. Queste le sue dichiarazioni a News.com.au:
Guardare Jon Hamm come protagonista di un programma televisivo mi ha preparata a questo in diversi modi. Vedendo come si è comportato sul set e quanto fosse fantastico col cast e la troupe, come ha condotto quella nave, è stato estremamente istruttivo per me.
Il set di Mad Men era come una famiglia felice. Mi ha colpito il modo in cui Jon trattava tutti con tanta cura e gentilezza e, pur essendo il set di uno show drammatico, il suo tono era sempre molto leggero, ma serio quando richiesto. È qualcosa che ho portato via con me.
Alla domanda su se crescere sul set piuttosto che andare in una scuola convenzionale l'avesse privata della sua esperienza di formazione e istruzione, la star di Chilling Adventures of Sabrina ha prontamente risposto di no, aggiungendo:
Sicuramente no. Mi sento come se avessi avuto un'infanzia così meravigliosa e comunque per larghi tratti molto lontana dai riflettori. Tengo molto a cuore questa cosa.
Nonostante l'enorme successo, quindi, il giovane astro nascente sa riconoscere i giusti valori, ed essere riconoscente a chi (anche indirettamente) l'ha resa ciò che è.