Dunque, Chilling Adventures of Sabrina 3×02. Se la prima puntata era andata in velocità lasciandoci però con le migliori premesse, dobbiamo dire che la seconda non ha rallentato il ritmo.
Tuttavia i temi cardine che già conosciamo e che ci sono stati rinfrescati nel corso della prima puntata permangono, aggiungendo nuovi agganci che di certo saranno sviluppati più approfonditamente in seguito.
Chilling Adventures of Sabrina 3×02 riporta la nostra protagonista di fronte ai suoi doveri, e contemporaneamente la spinge ad agire diversamente, in vista di un miglioramento (se così si può chiamare) dell'Inferno.
Per sapere come è cominciata questa nuova stagione vi lascio qui il link diretto. Concentriamoci però su Greendale. Sappiamo che Sabrina non rinuncerebbe mai alla sua vita da umana, e di certo la scelta di diventare Regina dell'Inferno solo per salvare Nick non è stata così geniale.
In effetti mi è capitato spesso di pensare che Sabrina non sempre brilli per intelligenza. Insomma, costruisci un cerchio per non far scappare Lucifer e alla prima occasione un calcetto lo rompe? Ma un po' di attenzione, come la vedi?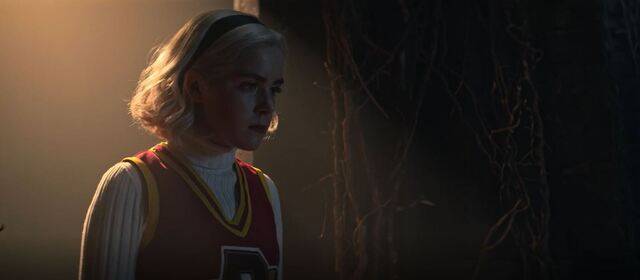 Un espediente piuttosto comodo che permette a Lucifer di agire indisturbato mandando scarabei (che per me sembravano più scarafaggi) a causare scompiglio in giro per l'Accademia. Vittima dell'evento è soprattutto Zelda, che ricevuto due volte l'appellativo di 'str***a' schiaffeggia pubblicamente Agatha.
Nulla di male, una così la schiaffeggerei anche io. Il punto è che certo la violenza non è educativa, ma io non mi formalizzerei troppo. Stiamo parlando della Chiesa della Notte, non di quella della Luce.
Alla fine tutto si risolverà per il meglio, almeno momentaneamente. Torniamo però a Sabrina. Ha deciso di unirsi alle cheerleader insieme a Roz, e le vediamo ballare in un momento così trash che un po' mi sono vergognata a vederlo. Ma lo capisco, serve anche un po' di leggerezza.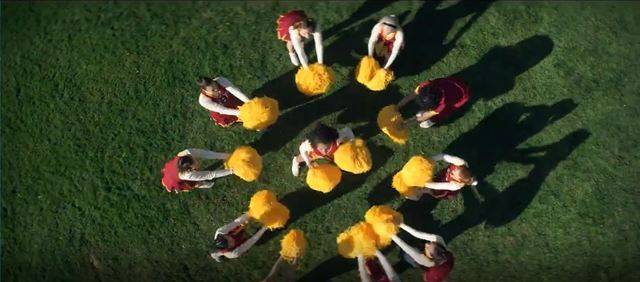 Ciò non toglie che Sabrina deve anche portare avanti i suoi doveri da reggente, come traghettare le anime dei mortali all'Inferno. Con il primo le si intenerisce il cuore (però devo dirlo, ho apprezzato la citazione a Il Settimo Sigillo), ma con il secondo non ha minimamente pietà.
Considerato il soggetto, direi che fa bene. Quale persona baratta sette anni di vita in più per un'anima innocente come quella di un bambino? Fa ribrezzo anche solo pensarlo. Per una volta ho trovato positivo il dialogo di Sabrina con Lucifer e altrettanto positiva la volontà della nostra strega di ribaltare l'accordo.
Certo, allo stesso tempo non riesce a non fare scelte avventate. A ben guardare Sabrina è sì determinata, ma ha talmente tanta fiducia in se stessa che a volte si frega da sola. L'incantesimo di teletrasporto è splendido, nulla da dire, ma ci vuole più attenzione o si finisce a fregarsi con le proprie mani.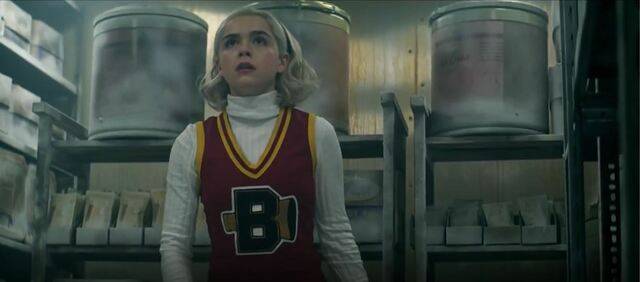 La buona notizia è che così facendo Sabrina ha rimesso Caliban al suo posto, e così anche il resto della corte. Sicuramente una riforma dell'Inferno è ciò che ci vuole e nessuno può portarla avanti meglio di Sabrina. Il suo carattere dà effettivamente speranza a tutti gli spettatori e, soprattutto, alle spettatrici.
Prima accennavo al fattore velocità, che continua a non mancare nella puntata. Un dettaglio che coinvolge sia Sabrina, che in due puntate nette è riuscita a riavere Nick, Prudence e Ambrose. Loro sono riusciti a trovare Padre Blackwood già a metà puntata, e mi hanno lasciata basita.
Il personaggio è talmente irriconoscibile che quando ho visto Prudence riconoscerlo di spalle mi sono chiesta se non fosse scema. Andando avanti mi sono chiesta però se la scema non fossi io, o se non lo fosse pure Blackwood, che parla con il mostro di Loch Ness.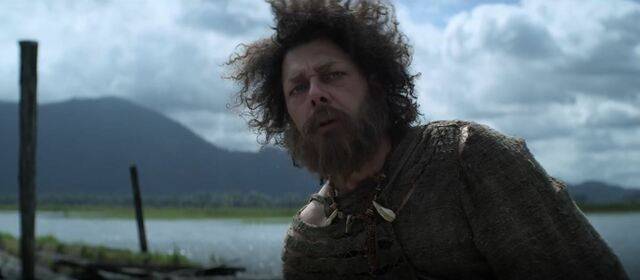 Tra l'altro mi sono chiesta: come ha fatto a cambiare così tanto in un mese? E come sono cresciuti così in fretta i suoi figli? Beh, per noi è passato un mese, per lui 15 anni… forse ha senso. Tuttavia Padre Blackwood blatera come se avesse visto la morte in Terra.
In definitiva, stando alle sue parole, "Gli Antichi stanno arrivando". Non sappiamo chi siano, ma non è la prima volta che li sentiamo.
Già li abbiamo sentiti nominare da Lucifer nella prima puntata. Chi sono? E cosa vogliono? Distruggeranno davvero la Terra?
Sono tutti dettagli che ancora non ci è dato sapere, ma di certo ci incuriosiscono parecchio. Soprattutto considerando che, sul finale di puntata, qualcuno arriva veramente a Greendale. I nostri eroi devono forse prepararsi al peggio?
Lo scopriremo solo andando avanti. Per ora Chilling Adventures of Sabrina ci ha dato la giusta quantità di suspance e, se tralasciamo alcuni momenti leggermente veloci, non possiamo che essere entusiasti del suo ritorno.