Walter White è un personaggio estremamente complesso: si compone di così tante sfaccettature che difficilmente si potrà mai esprimere un giudizio definitivo che racchiuda le sensazioni e le emozioni che l'interpretazione di Bryan Cranston è riuscita a trasmettere agli spettatori. Dunque, il compito odierno sarà arduo e aperto a interpretazioni diverse: cosa ha pensato Heisenberg nel momento successivo in cui ha premuto il grilletto per uccidere Mike? Cosa vuol dire quella espressione disegnata sul suo volto?
Fin da quando si sono conosciuti, Walter e Mike non hanno mai avuto un grande rapporto: anzi, con Gus ancora in vita, forse Mike rappresentava l'ostacolo più complicato per Walt, a causa della sua esperienza e soprattutto della sua lungimiranza. Non dimentichiamo infatti che Mike è stato uno dei primi a riconoscere in Walt un potenziale pericolo. I problemi si acuiscono dono la morte di Gus e Mike continua a essere agli occhi di Walt un freno per la sua ascesa:
"Just because you shot Jesse James doesn't mean you are Jesse James"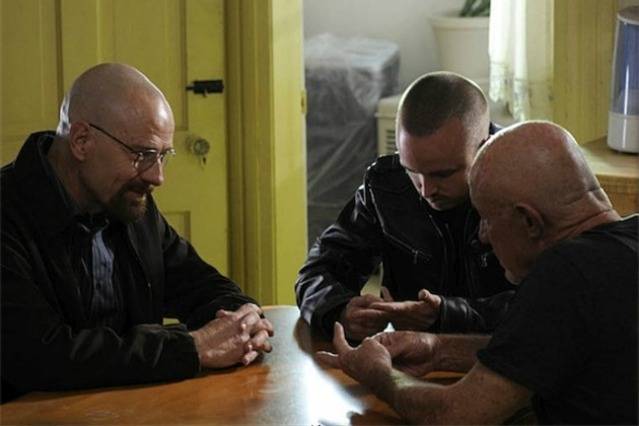 Tuttavia, l'apice si raggiunge nel momento in cui Mike è praticamente incastrato dalla DEA e deve fuggire, ma possiede (insieme a Lydia) la lista dei testimoni che inchioderebbero Walt e tutti gli altri. Walt si offre di portargli la borsa che gli serve per fuggire, ma attenzione: siamo in una fase della serie in cui risolvere i problemi per Walt vuol dire eliminarli definitivamente.
Dunque, ecco l'incontro: per rispondere alle domande, partiamo dal presupposto che, come si è evidenziato prima, è Walt che si offre di portare la borsa a Mike, borsa in cui c'è anche la pistola del vecchio. Perciò prima questione: si tratta di premeditazione? Da questo punto di vista si potrebbe rispondere affermativamente, ma non possiamo assolutamente esserne certi: e se Walt si fosse offerto semplicemente per minacciarlo e quindi ottenere la lista? Tuttavia, siamo certi del fatto che avesse messo in conto che la cosa sarebbe potuta degenerare: l'atto di trattenere la pistola è un chiaro segno di premeditazione, che però non ci soddisfa totalmente.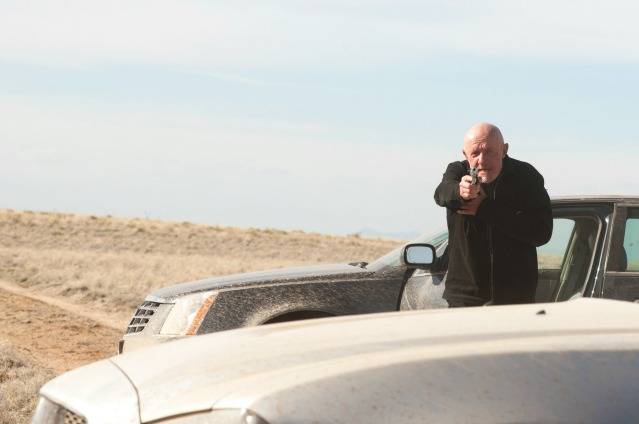 Infatti, due sono gli aspetti che contrastano la "tesi della premeditazione": il primo è che fra Walt e Mike c'è un acceso diverbio legato giustamente alle perplessità (per usare un eufemismo) di Mike riguardo le accuse di Walt sul "di chi sia la colpa di tutto ciò"; il secondo è proprio l'espressione di Walt poco dopo aver premuto il grilletto. Per questo potremmo parlare di "raptus". Andiamo con ordine.
La questione del diverbio è abbastanza lineare: lo scambio reciproco di accuse, culminato col netto rifiuto di Mike di consegnare a Walt la lista dei testimoni incarcerati, rende quest'ultimo folle per la rabbia, "trasformandosi" in Heisenberg; questo implica la scelta immediata di ucciderlo, avendo egli trattenuto la pistola di Mike. Questa azione sembra un mix fra raptus di follia e premeditazione. Ma come possiamo dare una risposta definitiva?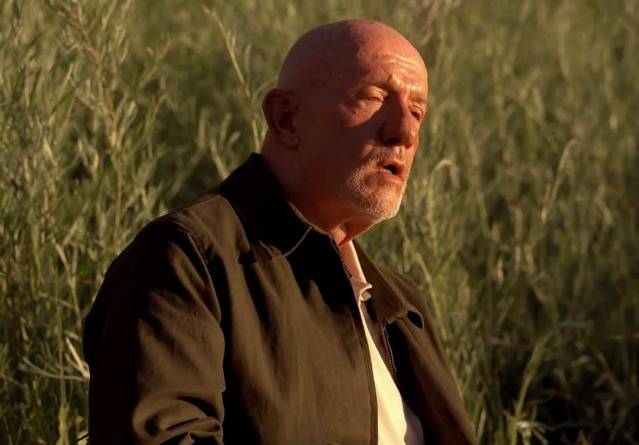 Potrebbe essere utile a questo punto l'analisi dell'espressione di Walter: quella bocca semi-aperta, gli occhi sgranati e la pistola che indica la macchina di Mike che si schianta.
Di cosa si tratta? Spavento? O addirittura pentimento? Mi sento di escludere il pentimento: è un sentimento che non appartiene più a Walt ormai da molto tempo, perché il suo inebriarsi di potere ha e sta gradualmente cancellando i resti di umanità che rimanevano. Allora rimane lo spavento: spaventato per aver ucciso quello che considerava fino a quel momento un pilastro (anche se negativo) della sua vita criminale o spaventato dal rendersi conto di ciò che è ormai in grado di fare? Ad ogni modo, Mike non era una persona qualunque per Walt ed è probabile che egli fosse semplicemente sconvolto da ciò che ha fatto, in ogni senso: probabilmente pensava "ho ucciso Mike, ora davvero niente può fermarmi".
Ma per avere un quadro completo della psicologia della scena si pensi alla mesta e triste frase di Walt quando trova Mike morente sul fiume:
"I just realized that Lydia has the names. I'm sorry Mike. This whole thing could have been avoided…"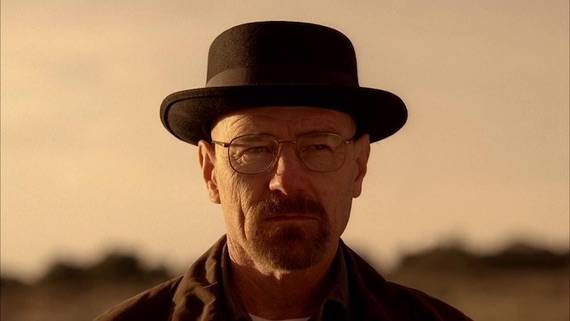 Questa frase avvalora fortemente la tesi del raptus: la follia ha accecato la razionalità di Walt, che ha agito seguendo la semplice ed elementare logica dell'uccidere l'ostacolo. Questo significa anche altro: Walt sta commettendo errori che non avrebbe mai pensato di fare, dovuti proprio alla graduale perdita della razionalità (altrimenti la scelta di sceneggiatura di inserire quella frase non avrebbe senso). Walt si avvia verso la follia.
In conclusione, l'interpretazione più equilibrata potrebbe essere quella di intendere l'azione e l'espressione di Walt come una via di mezzo fra la premeditazione e il raptus, con un seguente sconvolgimento legato a ciò che ha appena fatto e al fatto che ha ucciso una persona come Mike quando poteva benissimo evitarlo. La bellezza di Breaking Bad la si coglie anche da queste piccole sfaccettature: a distanza di anni fornisce ancora spunti e perplessità che forse non avranno mai una risposta definitiva.