Breaking Bad è una serie di rivelazioni, cambiamento e trasformazione. Sessantadue ore di piccolo, grande cinema che non stancano, che lasciano con il fiato sospeso, che mi hanno catturata e resa dipendente. In particolare da quando Walter White ha lanciato il suo fulminato di mercurio in "Crazy Handful of Nothing" ha segnato per me l'inizio della dipendenza da Heisenberg, ed è diventato evidente il passaggio da ciò che era diventato (nel corso della vita) a ciò che avrebbe potuto essere, e sono stata letteralmente rapita da questo capolavoro della tecnica cinematografica, dei tempi, dei ritmi e dei dettagli targato AMC.
Credo che ormai tutti sappiano cosa sia Breaking Bad, ma nel dubbio una rispolverata alla trama non può far male. È la storia di un uomo, un insegnante di chimica delle superiori, una persona apparentemente comune con una famiglia ed una vita dignitosa. Se non che il giorno dopo il suo cinquantesimo compleanno, scopre di avere un cancro ai polmoni al terzo stadio, inoperabile, terminale. Così vedendola con la classificazione idealtipica weberiana (da Alberto Brodesco) dell'azione sociale razionale rispetto allo scopo (fare soldi) e al valore (per la famiglia una volta che sarà morto), Walter decide, inizialmente in maniera lucida, di iniziare a produrre metanfetamina.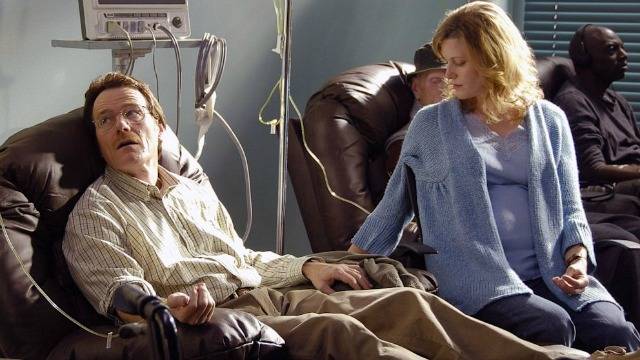 La sua scienza, la sua conoscenza ed intelligenza l'hanno portato ad un passo dal premio Nobel per poi – tramite gli inconvenienti della vita e delle scelte opinabili – finire alla scienza "più ristretta" dell'insegnamento, certamente meno apprezzata, anzi addirittura quasi rifiutata dai suoi studenti. Ma qui il catalizzatore: attraverso la malattia Walter White ritrova il coraggio e la determinazione di prendersi ciò che ritiene suo e sempre più consapevolmente decide di tornare alla fama e ad un uso della scienza più grande – anche se illegale – e costruire un impero. Un impero criminale.
Ma come ha fatto Bryan Cranston a diventare Heisenberg? Il creatore Vince Gilligan, in un'intervista al The Writers Guild Fondation, ammette che la nascita del personaggio di Walter White non è stata programmata. Era in un periodo statico (in poche parole disoccupato) e stava discutendo con un amico – ex compagno di studi e collega nella produzione di X-Files – cercando di capire cosa fare in futuro. Tra tutte le idee scartate e i copioni cestinati, iniziarono a scherzare su un possibile cambio di carriera; ad esempio potevano andare a lavorare al Walmart o magari, come aveva letto l'amico nel New York Times, fare come quella persona che s'era comprata un vecchio RV e iniziare a cucinare metanfetamine all'interno. Così iniziarono a scherzare su che razza di personaggio bisogna essere per finire a fare questo "mestiere" e l'idea solleticò Vince tanto che non riuscì a toglierselo dalla testa. Se lo immaginava come un uomo comune (come comune è il nome Walter White) e in breve ha iniziato a metterlo nero su bianco. Gilligan però a questo punto ha dovuto fare i conti con delle domande su che carattere, che background potesse avere quest'uomo, ma sopratutto su come una persona comune potesse venire a capo di questioni complesse quali le modalità e le regole del mondo criminale. "In che modo riciclare il denaro?", "come evitare di essere scoperti dalla DEA?", "come smerciare il prodotto?": una serie di interrogativi e una conseguente ricerca di risposte che lo scrittore ha trovato molto affascinante negli stati iniziali, più interessante della storia e dei personaggi in sé.
Vince Gilligan voleva un personaggio che diventasse da protagonista ad antagonista, infatti la sua idea fondamentale è basare Breaking Bad sul cambiamento, sul divenire, in contrapposizione con gli altri show che tengono "i suoi personaggi in una stasi autoimposta in modo che gli spettacoli possano andare avanti per anni o addirittura decenni". Walter White inoltre doveva essere, ed è, un uomo moralmente discutibile che tende all'oscurità e ciò porta lo spettatore a chiedersi realmente da che parte stare. A questo proposito, sia Vince che Cranston nelle interviste hanno spiegato il significato del titolo non necessariamente ovvio, infatti "il termine Breaking Bad è un'espressione colloquiale del sud degli Stati Uniti, ed esprime la situazione in cui qualcuno ha preso una direzione che lo allontana dalla retta via, che potrebbe essere per un giorno o per tutta la vita".
Per quel che riguarda la scelta degli attori, Gilligan pensò a Bryan in quanto era, a sua opinione, l'unico in grado di essere, di creare, un personaggio al contempo sia ripugnante che compassionevole.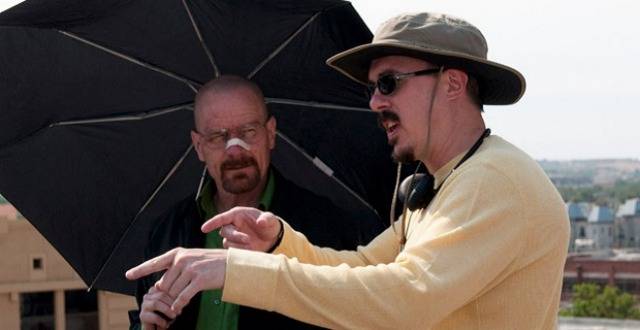 Jesse Pinkman invece avrebbe dovuto essere un'interpretazione temporanea di Aaron Paul, un elemento narrativo che tramite la sua morte alla fine della prima stagione, avrebbe dovuto creare dei sensi di colpa a Walter White.
Però, dopo aver visto il giovane attore all'opera, Vince è stato talmente colpito dal personaggio che ha deciso di tenerlo e l'ha reso praticamente il co-protagonista.
Non ho dubbi nel dire che è stata una serie di ottime scelte!