Le serie tv migliori sono capaci di trasformare un errore in un colpo di genio, un imprevisto in un vero successo. Ne abbiamo avuto prova con show come Breaking Bad o Game of Thrones, in cui l'improvvisazione è riuscita a rendere impareggiabili  alcune scene dello show. E senza il creativo intervento degli attori, esse avrebbero probabilmente avuto soltanto un ruolo marginale.
A volte la spontaneità prende il sopravvento e, mentre la videocamera continua le sue riprese, sul nastro si registra la storia del mondo seriale. Piccoli errori nei dialoghi, espressioni marcate e commenti del tutto naturali: è l'inaspettato a trasformare in oro un copione già scritto.
In questo articolo abbiamo raccolto dieci scene delle serie tv che sono state improvvisate. Alcune di esse sono considerate ancora oggi un patrimonio della cultura televisiva. E scoprire la loro fortuita origine le rende ancora più preziose.
1) Le prime parole di Holly – Breaking Bad, 5×14
Nonostante sia una delle serie tv più osannate di sempre, Breaking Bad riesce ancora a stupire. Lo straordinario lavoro di Vince Gilligan miete ancora i suoi frutti, persino a distanza di anni.
Eppure, durante le riprese ci sono stati dei momenti in cui la genialità dei produttori e il casuale corso degli eventi hanno fermato il tempo, per registrare qualcosa di incredibile. E uno di quei momenti è avvenuto durante la 5×14, uno degli episodi più impegnativi di Breaking Bad.
Durante le riprese di Ozymandias, quando Walter White rapisce la piccola Holly, ci rendiamo conto che la bimba dice le sue prime parole. Tale momento fu completamente improvvisato dagli attori, spingendo le videocamere a catturare quegli istanti di imprevedibile originalità.
In realtà, la piccola attrice di Breaking Bad vide attraversare sul set la madre e per tale ragione iniziò a chiamarla.
Nella scena ci rendiamo conto di quanto il tempismo sia stato perfetto: mentre Holly dice la sua prima parola di continuo, "Mama", un Walt esasperato la stringe, prima di fuggire con gli occhi pieni di frustrazione e orrore. E mentre Cranston interpreta magistralmente la parte, la piccola Elanor Wenrich scrive un frammento della storia di Breaking Bad.
2) Son of a b****! – Supernatural, 3×03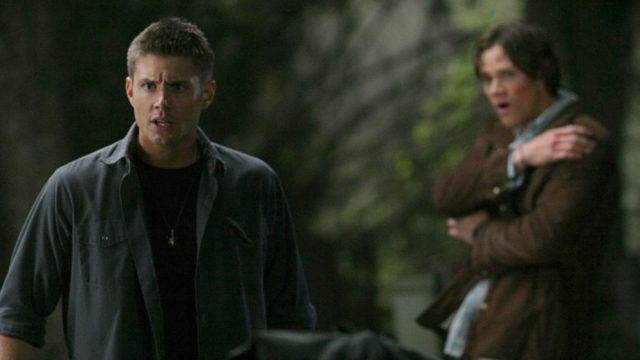 Potrebbe ormai essere considerato il mantra della serie tv, ma l'imprecazione di Dean Winchester non sarebbe mai dovuta esistere. Nell'episodio 3×03 di Supernatural, infatti, dopo che Sam e Dean furono rapiti da Bela Talbot, l'attore Jensen Ackles si lasciò un po' andare, pronunciando la frase "Son of a b****!".
Quell'inaspettata reazione non era presente nel copione e fu improvvisata dall'attore, causando persino l'ilarità del collega Jared Padalecki. Nella scena, infatti, è possibile notare una risata che quest'ultimo nasconde alle telecamere, in modo da non rovinare la ripresa. Dopo quel momento, tale imprecazione è ufficialmente entrata nel vocabolario abituale di Dean Winchester.
3) Il bacio tra Michael e Oscar – The Office, 3×01
Le scene esilaranti in The Office sono molteplici. Questo show è stato capace di coniugare un'imbarazzante ironia causata dai differenti contesti, all'umorismo dei personaggi. Gli attori hanno interpretato con professionalità dei ruoli amatissimi, ormai entrati nell'immaginario collettivo. E proprio quel cast è stato capace di improvvisare una delle scene più iconiche dello show.
Nella 3×01, infatti, Michael cerca di scoprire chi dei suoi dipendenti sia omosessuale e, durante questa "caccia", combina uno dei suoi pasticci. Per questa ragione, egli cerca di dimostrare a Oscar di accettare il suo orientamento sessuale, baciandolo.
Questa scena fu del tutto improvvisata da Steve Carell, il quale avrebbe dovuto semplicemente abbracciare il collega Oscar Nuñez. Ma durante le riprese Carell si avvicinò esageratamente al co-attore, il quale capì immediatamente la sua idea. Di conseguenza la famosa e imbarazzante scena del bacio venne lasciata nella serie.
4) Gli amici prima delle ragazze – Dr. House, 2×01
Nella serie tv Dr. House i momenti drammatici non sono mai mancati. Eppure, il carisma del protagonista ha spesso reso alcuni momenti leggeri e simpatici. Durante la visione della 2×01, per esempio, possiamo assistere all'ennesimo rimprovero sarcastico di Gregory House.
Durante la scena, infatti, il medico si rivolge all'amico Wilson dicendogli che è consapevole dell'amicizia tra lui e la sua ex-ragazza, Stacy. Ma House continua, affermando che esiste un codice, ovvero che gli amici vengono sempre prima delle ragazze.
Tale battuta fu improvvisata da Hugh Laurie, causando la spontanea ilarità del collega Robert Sean Leonard.
5) "You just Patrick Swayze'd me!" – The Umbrella Academy, 1×09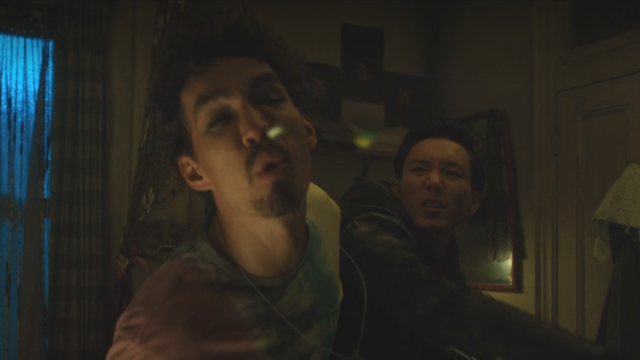 Che Klaus Hargreeves (ecco perchè dovreste amarlo) sia un personaggio iconico, è palese. E il merito è soprattutto del suo interprete, Robert Sheehan, il quale dimostra ancora una volta di essere perfettamente tagliato per questo genere di ruoli. Ne ha dato prova nella 1×09 di The Umbrella Academy, improvvisando una battuta esilarante.
Quando il personaggio di Klaus riceve un pugno dal fratello fantasma Ben, egli scopre di poter "controllare" gli spiriti . E la sua divertente battuta durante questa rivelazione è stata improvvisata da Sheehan. Facendo riferimento al film Ghost, Klaus afferma "Mi hai appena Patrick Swayzato!", poiché come il personaggio della pellicola Ben è riuscito ad avere un contatto fisico con la realtà.
6) Il discorso di Willy – Willy il principe di Bel-Air, 4×24
In Willy il principe di Bel-Air abbiamo sempre riso. L'interpretazione di Will Smith è entrata negli annali e la serie tv è ormai considerata un cult. Ma c'è una scena in questo show che ha un po' sorpreso tutti, sopratutto per l'alto livello di drammaticità.
Nella 4×24 Willy ritrova il padre da sempre assente e spera di riallacciare i rapporti con quest'ultimo. Tutto sembra andare per il meglio quando, poco prima di partire insieme, il padre cambia idea e decide di non portare con sè il figlio. Willy inizialmente fa finta di nulla, salutando il padre con impassibilità, ma basta poco per farlo esplodere. Il protagonista infatti si sfoga con lo zio Phil, con un commovente discorso.
E proprio quello sfogo, uno dei più toccanti dello show, pare sia stato improvvisato da Smith. Non c'è mai stata alcuna conferma a riguardo, e nemmeno alcuna smentita. Quello di cui abbiamo l'assoluta certezza è che questo episodio sia stato uno dei più emozionanti della sitcom anni '90.
7) Network connectivity problems – Parks and Recreation, 3×02
Non poteva mancare nella nostra lista una delle scene più divertenti della serie tv Parks and Recreation.
Durante un panel fu confermato che molti attori hanno avuto la possibilità di improvvisare qualche battuta. E sembra incredibile, ma una delle frasi più iconiche dello show rientra proprio tra esse. Nella 3×02, infatti, scopriamo che l'influenza ha contagiato l'intera cittadina di Pawnee, compresa Leslie. A tal proposito, Andy Dwyer cerca di "rendersi utile" cercando i sintomi della donna su internet.
Ed è in quel momento che Chris Pratt ha partorito la battuta più simpatica della stagione. Il personaggio infatti spiega alla donna che lei potrebbe avere "Problemi di connessione alla rete", con la naturalezza di chi non ha capito di non essere online. Tale colpo di genio fece irritare il produttore Michael Schur, il quale considera ancora quella battuta una delle migliori dello show.
8) "I broke my boy" – Better Call Saul, 1×06
Better Call Saul, figlia di Breaking Bad, è caratterizzata da momenti di straordinaria regia, da un'ottima recitazione e persino da un'eccellente sceneggiatura. Eppure, una delle frasi più emozionanti dello show non è mai stata scritta nel copione.
Nella 1×06 di Better Call Saul scopriamo, finalmente, cosa sia accaduto al figlio di Mike. Ed è proprio lui a raccontarlo, durante un toccante momento, alla nuora.  Lo sceneggiatore Gordon Smith ha rivelato in un'intervista a Uproxx che inizialmente la scena si sarebbe dovuta concludere con un "I broke my son". Ma durante l'unica ripresa fatta, Jonathan Banks cambiò, con naturalezza, la frase in "I broke my boy".
Quella scena fu considerata perfetta, sotto ogni punto di vista. Secondo lo sceneggiatore, improvvisare quella frase è stato un colpo di genio, causato probabilmente dalla grande empatia che Banks usa nel recitare. Malgrado possa apparire come un piccolo cambiamento, durante la scena quella frase riesce a essere struggente al punto giusto, dando prova del dolore di Mike.
9) Il Dothraki di Ser Jorah Mormont – Game of Thrones, 2×10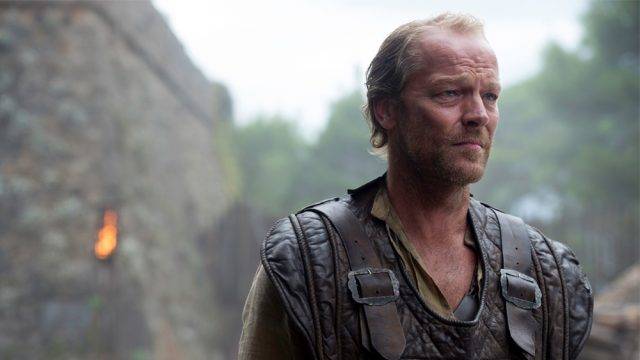 Il Dothraki è una lingua creata ad hoc per Game of Thrones (di cui vi elenchiamo i peggiori personaggi)e, come ogni ogni linguaggio che si rispetti, ha la sua sintassi e un suo lessico.
Durante l'episodio 2×10, però, il personaggio di Ser Jorah Mormont ha improvvisato una frase in Dothraki, senza tener conto degli errori grammaticali. Il motivo di tale decisione è da ricercare nella mancata reperibilità di David J. Peterson. I produttori infatti mandarono una e-mail al linguista dello show per chiedergli di tradurre una frase nella lingua Dothraki. Ma egli non riuscì a rispondere in tempo, spingendo la crew a improvvisare quel momento.
L'attore di Ser Jorah, Iain Glen, cercò di basarsi sulle vecchie battute tradotte nel linguaggio, prima di entrare in scena e pronunciare i suoi versi. Fortunatamente, Peterson riuscì a inserire quella formulazione all'interno del vocabolario Dothraki.
10) I postumi di Sherlock e John – Sherlock, 3×02
Non sempre Sherlock Holmes ha mantenuto un aspetto contenuto e sobrio. Durante la 3×02, per esempio, il protagonista e l'amico John si ubriacano in occasione dell'addio al celibato di quest'ultimo. Un episodio divertente quanto accattivante poiché, ubriachi o no, i due gentlemen riescono comunque a risolvere un caso.
Alcune delle scene più divertenti, però, non erano presenti nel copione e furono improvvisate dagli attori. Tra esse rientra quella in cui Watson fischia in direzione di Sherlock, improvvisata da Freeman. O il momento in cui Holmes chiede scusa per il comportamento della sua "cosa", dimenticatosi il nome del suo partner.
Benedict Cumberbatch, malgrado avesse dimenticato la sua battuta, rimase comunque nel suo personaggio rendendo quella scena incredibilmente comica.