Non è questa la sede adatta per analizzare Breaking Bad. È una serie che ti cambia la vita.
Il panorama seriale non è più stato lo stesso dopo la messa in onda. Molti altri hanno espresso lodi e assegnato riconoscimenti a questa illustre serie.
Ora vogliamo invece concentrarci su 20 curiosità (trovate navigando nel web, e che  mi hanno particolarmente colpito) su Breaking Bad. Forse anche voi ne conoscete qualcuna. Inevitabilmente, quindi ci, saranno SPOILER, come se piovesse.
Iniziamo.
1) La serie è costituita da 62 episodi. Il sessantaduesimo elemento della tavola periodica è il Samario (Sm). Questo è un isotopo dall'aspetto argenteo che al di sopra dei 150 ° C si incendia spontaneamente. Viene utilizzato per la cura al dolore nei malati di cancro. Quello ai polmoni colpirà il nostro Walter White.
2) La HBO ha rifiutato la serie. Dopo la lettura del primo episodio non sono stati colpiti al tal punto da produrla. COMPLIMENTI! Ottima mossa, guys!
3) Jesse Pinkman, interpretato da Aaron Paul, oltre ad essere ricordato da tutti per gli innumerevoli "bitch" (54 volte, 10-11 a stagione), doveva morire nella prima stagione. A causa di uno sciopero degli sceneggiatori la scena della sua morte non fu mai scritta. In produzione, si resero poi conto della bravura dell'attore che è diventato co-protagonista della serie. Aaron Paul inoltre non ha mai preso lezioni di recitazione.
"YEAH BITCH!"
4) Se volete fare una donazione al povero signor White, sul sito savewalterwhite.com, potete farlo. Il sito infatti esiste veramente, ma le donazioni sono ormai inutili.
5) Bryan Cranston, oltre al ruolo di Walter White, è ricordato per il suo ruolo in Malcom in the Middle, dove interpretava il padre di Malcom. Ma Cranston è stato anche la voce di due cattivi dei Power Rangers. Inoltre in una serie dei Power Rangers, uno dei Rangers, in onore dell'attore, si chiama Billy Cranston.
Indovinate un po' qual è il suo colore? Blue Rangers, come la Meth cucinata da Walt.
6) Alcuni oggetti di scena sono diventati cimeli di puro collezionismo. Le mutande del signor White della prima puntata sono state vendute per 9.900 dollari. Alla stessa asta per 20.000 dollari è stato venduto il campanellino di Hector Salamanca. Mentre l'oggetto con l'offerta più alta è stato il libro di Walt Whitman con la dedica di Gale, 65.500 dollari.
7) L'ultimo episodio di Breaking Bad si chiama: Felina. Se scomponiamo la parola in Fe (ferro), Li (litio) e Na (sodio), otteniamo sangue, meth e lacrime. Questi tre elementi sono ricorrenti in tutta la serie. Inoltre "felina" può essere l'anagramma della parola finale.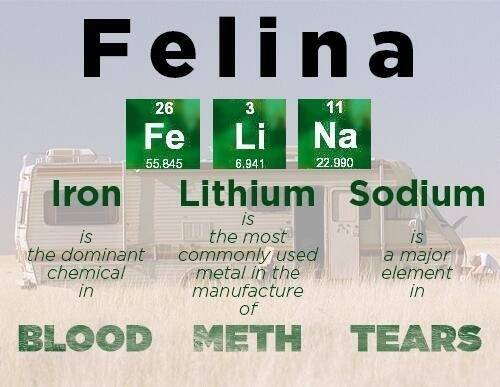 8) Quando Walter nasconde i barili coi soldi nel deserto, segna delle coordinate. Queste corrispondono agli studios nei quali è stata girata la serie.
9) Breaking Bad ha vinto 16 Emmy e 2 Golden Globe.
10) Nella sigla iniziale possiamo leggere la formula: C10H15N, seguita dal numero 149.24. Questa è la formula della metanfetamina che ha quel peso molecolare.
11) Il 01×02, 04×02, 10×02 e 13×02, hanno tutti delle intro in bianco e nero. Se uniamo i titoli di questi episodio otteniamo: 730 Down Over ABQ. Questo non è altro che un enorme spoiler su cosa vedremo alla fine della stagione: l'incidente aereo.
12) Per il trucco e gli effetti visivi della scena in cui muore Gus Fring, è stato chiamato il team di The Walking Dead. Giancarlo Giuseppe Esposito è l'attore che interpreta Gustavo Fring ed ha chiaramente origini italiane.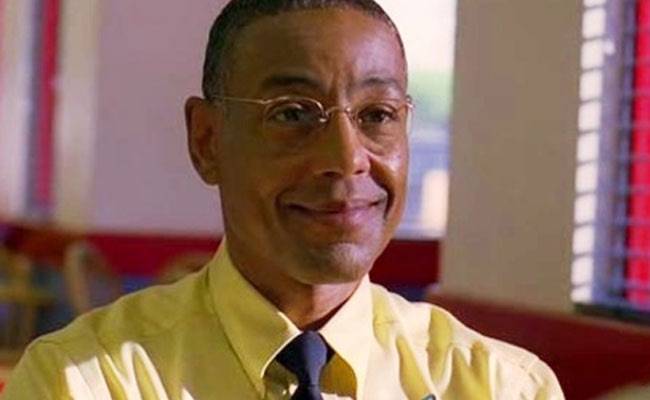 13) RJ Mitte, l'attore che interpreta Walter Jr. ha delle vere paralisi celebrali ma non così gravi come quelle del suo personaggio.
14) Chi ricorda la scena, ormai cult, di Walter che lancia la pizza?
Ha richiesto un solo ciak.
Se guardate la scena con attenzione si può notare Bryan Cranston che, per una frazione di secondo, è colpito dall'esserci riuscito. Il proprietario dell'abitazione ha dovuto subire l'affronto dei numerosi ragazzini che volevano imitare il signor White.
Vince Gilligan ha dichiarato che questa scena è una di quelle che capitano una volta su un milione.
15) Il video del karaoke di Gale si trova completo su YouTube. Potete trovarlo qui.
16) In una scena di lotta tra Tuco e Jesse, Aaron Paul ha perso conoscenza e ha avuto bisogno di assistenza medica.
17) John Cusack e Matthew Broderick furono considerati per la parte di Walter White.
Riuscite ad immaginarli? Io no di certo!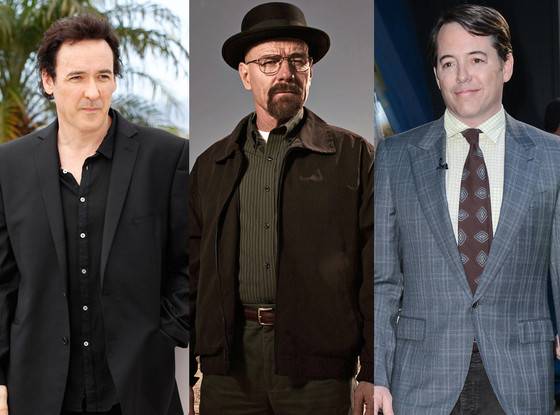 18) Esiste un finale alternativo della serie. Questo è uno scherzo dei produttori dove vediamo il padre di Malcom, interpretato da Bryan Cranston, svegliarsi all'improvviso a causa di un incubo. Il sogno riguardava appunto la serie Breaking Bad.
19) Durante le riprese dell'episodio in cui Walter White uccide Mike, la troupe ha indossato il lutto al braccio.
20) Nell'ultima puntata di Breaking Bad, possiamo notare l'inquadratura di una targa con su scritto: "live free or die". Questo è anche il titolo del primo episodio della 5° stagione e ci anticipa le sorti dei nostri due protagonisti. Uno morirà, mentre l'altro vivrà libero.