Tramite l'immedesimazione, lo spettatore sarà vittima designata di un dramma. Tremori e brividi lungo la schiena, sintomatici di una coscienza turbata da qualcosa. John Rayburn, grande protagonista della stupenda nonchè misconosciuta serie-tv Bloodline, farà sì che ognuno possa capire il senso della famiglia e quel sottile confine che racchiude violenza e raptus.
[Spoiler Alert sul top drama]
Essere John Rayburn, vuol dire essere un detective onesto e generoso, un'esistenza pulita e fedele vissuta nel rispetto sacro della famiglia e degli amati genitori. John porta però il peso di uno scomodissimo segreto di famiglia, in quanto giovane esecutore della menzogna di matrice paterna, che ha allontanato il fratello maggiore Danny dalla famiglia. Proprio questa menzogna a sfondo familiare è il centro gravitazionale di ogni azione e di ogni discorso, l'indiscutibile punto focale dell'intero dramma.
John Rayburn (Kyle Chandler) è un metodico ed arguto detective di quel paradiso terrestre delle Florida Keys, ma col ritorno del fratello Danny, capirà assieme la sua famiglia, che quelle isole luminose e ridenti, celano un inferno per le loro esistenze. Un inferno di rancori, menzogne e soprusi scaturito dal passato che si manifesta con un semplice ed apparentemente banale ritorno. Lo scapestrato e rancoroso Danny (Emmy vinto in maniera strameritata dall'attore australiano Ben Mendelshon ), è come se riapparisse da un esilio pro tempore, i volti iniziano ad incupirsi, gli sbalzi umorali degli altri fratelli Kevin e Meg sono incontrollabili, padre Robert e mamma Sally provano con diversi esiti a sostenere la turbolenta situazione. John Rayburn, dopo il funesto infarto stroncante del padre, deve essere il baluardo e protettore del nucleo familiare.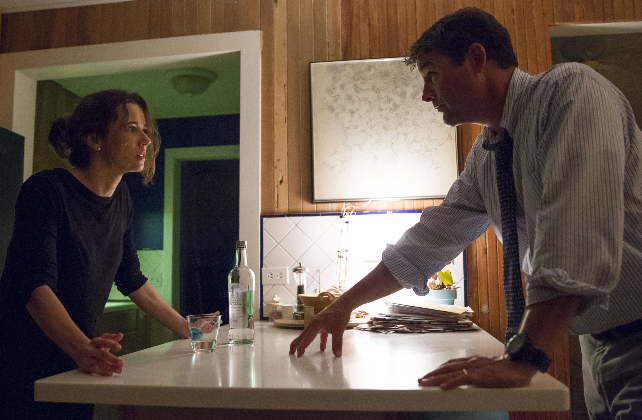 Questa serie affascina e inquieta per le stesse ragioni, facendoci capire realmente cosa sia la contraddittoria e naturale logica di una famiglia, sospesa sempre tra colpevolizzare e proteggere, allontanare e riabbracciare, credere o sfiduciare, mentire o esser veritieri.
Una logica che vale per ogni essere umano in un contesto familiare, logica estremizzata da una drammaticità esasperata frutto di un passato inquieto ed in parte ingiusto per Danny. John deve essere il baluardo difensivo, l'antidoto della pericolosa cellula tumorale 'Danny' che vuole ammorbare gli impeccabili e realizzati Rayburn nel malessere e nella disperazione.
"Maybe wind can change… Things happen to the people" (Danny a John)
"Magari il vento può cambiare… Accadono cose alla persone"
Frasi con minacce non troppo celate, rapporti malaffaristici con il suo amico storico Eric O' Bannon, un giro criminale col gangster del posto Wayne Lawry, un litigio insanabile frutto di vero odio col fratello minore Kevin. Danny è ormai un maledetto tornado che travolge tutto nella propria spirale.
Essere John Rayburn significa provare con ogni modalità a placare il tornado Danny, tentare in tutti i modi di farsi carico delle maculate coscienze dei Rayburn, essere JR vuol dire essere il protagonista di un dramma che affonda le radici nella tradizione biblica.
John e Danny : il fratricidio biblico di Caino e Abele.
Raptus : evento violento immediato ed incontrollato non plasmato dalla premeditazione; un'ostica difficoltà per i detective da stabilire in innumerevoli perizie omicide. Quando il raptus è manifestazione di un laptus latente, questo paralizzante momento di spannung in Bloodline, racchiude il confine contraddittorio tra raptus e laptus. L'onesto e gentile John, provocato a più riprese da un Danny ironico e provocatore rancoroso, è accecato dall'ira più pura e nefasta. Il raptus omicida chiude il penultimo episodio della prima stagione.
Danny chiude il discorso intra moenia e coinvolge l'intero nucleo nel suo sporco affare : "Ho usato il capannone per nascondere la droga, e ora siete tutti coinvolti". La famiglia ha ingiustamente abbandonato Danny, Danny ha ingiustamente coinvolto la famiglia in un inferno infinito. Il contrappasso dantesco secondo i Rayburn.
I pochi (intelligenti e fortunati) conoscitori del dramma sublime Bloodline, erano convinti che la prima stagione fosse la massima espressione scenica e di scrittura che potesse mai essere realizzata. Probabilmente sono caduti tutti in errore. La seconda stagione ha sviluppato alla perfezione gli strascichi negativi e pessimistici della dipartita di Danny. E il finale magistrale della prima stagione nascondeva solo una minima parte delle insidie e potenzialità drammatiche presenti nel finale epico della seconda stagione.
"Non siamo persone terribili, ma abbiamo fatto una cosa terribile. Non abbiamo mai trattato mio fratello Danny come uno di noi. Quindi, in realtà, se si è smarrito… dobbiamo ammettere che la colpa è di tutti noi . Vogliamo tutti sapere cosa è successo, ma ovunque sia spero stia bene. E spero che sappia che gli voglio bene"  (John Rayburn, 1 x 13 finale)

La costruzione di una necessaria menzogna del colpevole John. La seconda stagione frantumerà a poco o poco, le dichiarazioni di John-Caino il fratricida, e le scuse di Kevin e Meg, gli occultatori responsabili.
Il capolavoro drammatico di cui nessuno parla, è stato meritatamente (e logicamente) rinnovato per una terza stagione, che Netflix ha già annunciato come ultima.
Continuare a perdersi Bloodline è un vero peccato, ma perseverare è diabolico.
Leggi anche :
Un saluto agli amici della pagina Kyle Chandler Italia e Bloodline Italia