Il vento di pericolo e sfiducia continua a soffiare sulla famiglia Rayburn. I volti sono distratti, svuotati e colmi di paura. Danny continua a soffocare la loro tranquillità e a turbare il loro quotidiano…eppure, Danny, è ormai sepolto. Il ritorno di quella sigla tanto calma quanto malinconica, è stato uno dei migliori momenti di questo "Maggio seriale". Netflix produce grandi serie e Bloodline figura tra le migliori.
Bloodline, come già si è scritto, era attesa alla prova del fuoco; l'ottima prima stagione ha calato il sipario con la dipartita del primogenito, la pecora nera Danny. Ma Danny è sempre al fianco della famiglia, e il parallelismo seriale dello scontro biblico fratricida, tra Danny-Abele e John-Caino, come i primi minuti hanno evidenziato, non è ancora concluso.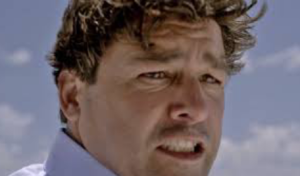 Una serie oggi sottovalutata in Italia, sarà aiutata prima o poi dal dio Kronos, a scalare classifiche e a farsi valere, come la meritocrazia suggerirebbe. Non potrà essere diversamente. Bloodline, è un intreccio drammatico sapientemente costruito, con un'accuratezza stilistica raffinata non comune, e l'esordio della novella seconda stagione, lo sta già confermando. I Rayburn temono l'evanescenza di un fantasma, Danny Rayburn, deceduto nel finale della prima stagione. Danny è un fantasma del ricordo ed è al contempo un fantasma che ha carne, e non solo spirito. Danny si ripropone nella figura di suo figlio Nolan, anch'egli figura enigmatica ed anima vagante senza una direzione stabilita, apparentemente.
I fratelli Rayburn sono un triangolo, con al vertice la figura di John, John il premuroso, John il brav'uomo, John il poliziotto e John-Caino il fratricida. Ai lati del triangolo ci sono i due fratelli, Meg l'avvocatessa talentuosa intrappolata dal dramma familiare e Kevin il fragile, colui che non riesce ad autocontrollarsi, colui che peggiora le cose con l'intento nobile di migliorarle. Il triangolo si è diviso le mansioni del caso Danny, come le stupende locandine della seconda stagione mettono in evidenza.
"I hid the body" (Meg). "I killed my brother" (John). "I destroyed the evidence" (Kevin).
Oltre al fantasma di Danny che riappare svariate volte, John dovrà districarsi dalla morsa dello spacciatore Wayne Lowry, che ha un nastro assai compromettente che permette alla voce instabile di Danny, di ritornare nuovamente dal passato. Altra variabile negativa è rappresentata da Eric O' Bannon, miglior amico e collega di crimini di Danny, Eric ha problemi giudiziari ma anch'egli nelle sue possibilità limitate, vuole far luce sulla morte dell' amico.
La spirale di insidie non finisce certo con O' Bannon e Lawry, ma diventa sempre più insidiosa con l'ingresso in scena di Ozzy Delvecchio, compagno di Evangeline madre di Nolan Rayburn. Ozzy è interpretato dal colombiano John Leguizamo uno dei volti più noti nel genere gangster-crime, indimenticabile nella stupenda pellicola di Brian De Palma "Carlito's way", dove veste i panni di un nemico del protagonista Carlito Brigante (Al Pacino).
John è solo con Meg e Kevin, con il loro segreto e le loro ansie da gestire. Egli deve temere i colleghi che indagano su Lawry e dopo il ricatto deve proteggere lo stesso criminale dalla polizia; John deve tenere a fondo la verità, negandola anche alla sua amata madre Sally. John deve iniziare a comprendere la minaccia devastante che il pericoloso Ozzy può rappresentare. I Rayburn non hanno finito di soffrire e temere il fantasma di Danny, Bloodline è una scia di menzogna, sangue e ansia nevrotica. L'ansia di qualcosa di terribile e distruttivo, pronto ad esplodere in ogni istante.
Perchè se dovesse riemergere la verità sepolta, quell'intricato labirinto di una menzogna in cui si dibatte Bloodline, continuerà a non avere una via d'uscita.