Un uomo disteso per terra, legato, mezzo nudo. Una donna misteriosa sopra di lui, tacchi alti a spillo, sigaretta che spegne sul torace dell'uomo provocandogli una bruciatura. E pisciandoci sopra, come se fosse la cosa più normale del mondo. Un mix di sadomaso e pissing in un perfetto gioco erotico estremo. Inizia così il pilot di Billions, la nuova, importante, creatura di Showtime. E già basterebbe questo incipit a convincerci ad andare avanti. Indipendentemente se siete amanti o meno del sadomaso, una serie che inizia così dice sostanzialmente una cosa forte: preparatevi a vederne delle belle!
Billions inizia catapultandoci subito nei desideri più nascosti del Procuratore Federale Chuck Rhoades che già nel pilot scopriremo essere un uomo tutto d'un pezzo, figlio dell'alta borghesia newyorkese, incorruttibile e completamente assuefatto dal suo lavoro. Un uomo lucido e freddo anche quando si tratta di mandare in galera un amico del padre, avvocato ormai in pensione, condannandolo, di fatto, al suicidio. Ma il Procuratore è anche un marito che ama la propria moglie alla follia e che con lei si diverte a fare giochi erotici perversi nei quali la donna è dominatrice e lui il suo schiavo. Rhoades però non fa sconti, non se lo può permettere. Lui è l'esempio da seguire, Lui è la legge da far rispettare, a ogni costo.
Fin quando non gli si presenta sulla scrivania il caso del secolo. La possibilità di incastrare Bobby Axelrod, Re dell'Alta Finanza, miliardario da fare schifo e speculatore incallito, nonché datore di lavoro della moglie psicologa Wendy. Un uomo assetato di denaro e di potere, che vuole a tutti i costi una mega villa da 63 milioni di dollari, con un'azienda che più che dipendenti sembra avere un manipolo di squali dell'alta finanza alle sue dipendenze. Un uomo che carica i suoi uomini in modi non certo da Capo, ma che allo stesso tempo non si fa scrupoli nel mandare a casa chi non è degno di stare nella sua squadra. E' da qui che inizierà una vera e propria guerra di nervi e di gioco sporco tra le due parti. Il Procuratore farà di tutto per provare le colpe di Axe prefissandosi come unico obiettivo quello di sbattere in galera il miliardario rovinandolo per sempre; dall'altra parte Bobby, ovviamente, non lascerà nulla di intentato per far si che ciò non avvenga. Nel mezzo Wendy, presa tra due fuochi: da un lato l'uomo che ama e il padre di suo figlio, dall'altro il suo datore di lavoro, l'uomo con il quale ha creato dal nulla un'azienda che senza il preziosissimo aiuto della Dottoressa probabilmente non sarebbe mai arrivata a quei livelli. Una lotta senza esclusione di colpi tra due uomini potenti e importanti allo stesso tempo. Entrambi hanno tutto da perdere: Rhoades, che non ha mai perso un caso in carriera, mette la stessa a repentaglio pur di andare fino in fondo "là dove nessuno è riuscito, incriminando Axelrod", dall'altra lo stesso Axe, consapevole di rischiare molto sia economicamente, sia a livello di potere vero e proprio nel mondo finanziario.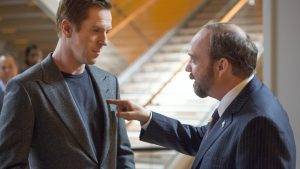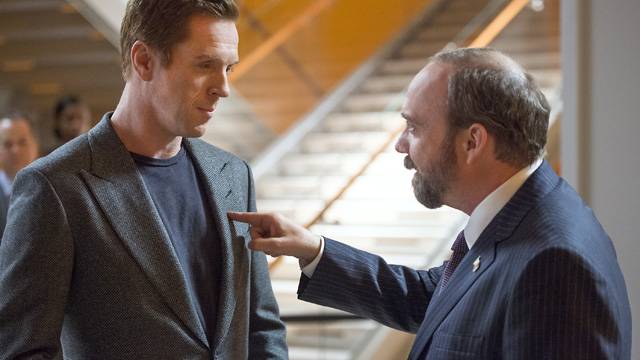 Non vogliamo svelarvi altro perchè siamo consapevoli che siamo a un punto di svolta importante nella storia e preferiamo farvelo gustare appieno. Già, perchè siamo arrivati a metà del percorso della prima stagione di Billions e fino ad ora abbiamo trovato un prodotto di notevolissima qualità, ideata e abilmente sceneggiata da David Levien e Brian Koppelman (Ocean's Thirteen) con la collaborazione dell'editorialista del New York Times, Andrew Ross Sorkin (autore del bestseller Too Big to Fail). Di altissimo livello anche il cast, con un sublime Paul Giamatti nei panni del Procuratore Chuck Rhoades e un cazzutissimo Damian Lewis nei panni di Bobby Axelrod. Nessuno dei due, ovviamente, ha bisogno di presentazioni, ma, come se non bastasse, abbiamo due bellissime donne accanto a questi potentissimi uomini: Maggie Siff (Sons of Anarchy) nei panni della dottoressa Wendy Roades e la bionda e bellissima Malik Akerman (Trophy Wife e numerose commedie romantiche) nel ruolo di Lara Axelrod. Due donne non solo di contorno, ma due figure importanti nella vita di Billions e, soprattutto, dei loro uomini. Abbiamo già detto di Wendy e del suo "ruolo di mezzo" tra il lavoro e l'amore, ma anche Lara non scherza, cinica e perfida quando serve, tutto a protezione della sua famiglia e degli interessi degli Axelrod. Toby Leonard Moore (già braccio destro di Wilson Fisk nella prima stagione di Daredevil) è questa volta al servizio della giustizia, come Bryan Connerty, principale collaboratore di fiducia di Rhoades, mentre David Costabile (The Wire, Breaking Bad, Suits) è Mike Wagner, degno braccio destro di Axe. Da segnalare inoltre la presenza di Jeffrey DeMunn, mai dimenticato Dale di The Walking Dead, nei panni di Charles Rhoades, padre di Chuck, avvocato in pensione…ma non troppo.
Billions parla soprattutto di finanza, di insider trading, di giustizia e di amore. Quattro temi che, messi insieme, creano un qualcosa di unico e importante in questa storia che si snoda su 12 episodi e fino ad ora Sky Atlantic ne ha mandati in onda 6, sostituendo nel palinsesto del Martedì niente meno che il pluriacclamato Gomorra con due episodi a settimana. Senza ombra di dubbio la Showtime ha fatto di nuovo centro, regalandoci un prodotto eccellente, ben scritto, con dialoghi perfetti e divinamente interpretato. Se non lo avete ancora visto, affrettatevi a recuperarlo. Noi torneremo a parlare di Billions tra qualche settimana, quando tutto sarà finito.
Paolo Martina