"Io non amo la gente perfetta, quelli che non sono mai caduti, non hanno inciampato. La loro è una virtù spenta, di poco valore. A loro non si è svelata la bellezza della vita"
Così si esprimeva il dottor Živago rivolgendosi all'amata Lara nell'omonimo capolavoro russo di Boris Pasternak. Il sentimento tra Živago e Lara sarà il leitmotiv dell'intero romanzo in un eterno andirivieni di incontri e addii fino al dolente finale. Non è un caso che Vince Gilligan inserisca in questo quinto episodio di Better Call Saul un riferimento al pluripremiato film che prende le mosse dal libro.
Quella de Il dottor Živago è una storia tutta incentrata su rimpianti e occasioni perse, su di un amore inappagato e "tradito". È la storia di una felicità colta per rari istanti e abbandonata per l'incapacità fisiologica dell'uomo di accettare la pace. Nel finale rifiuto all'amore di Živago, di volta in volta critici e letterati hanno voluto cogliere le spiegazioni più disparate. Dal senso dell'onore e dal patriottismo fino al distorto orgoglio di chi non accetta di piegarsi.
Non che queste spiegazioni non calzino ma c'è qualcosa di più profondo in quell'addio. C'è la paura della felicità. La paura di chi sa che la vita è un tumulto di emozioni e la pace non fa parte di questo mondo. Perché l'uomo desidera ciò che non ha e teme quello che ha raggiunto. La vita, dunque, come lotta disperata, eterno alternarsi di felicità e sconsolatezza. "La felicità isolata non è felicità", afferma il dottore. Quando a distanza di anni Evgraf, il fratellastro, incontrerà nuovamente Živago troverà un uomo ridotto in povertà, ombra di se stesso, avvolto in silenziosi sorrisi.
Jimmy non è Živago.
Non ha la sua bonaria onestà e integrità. Ma come il protagonista di Pasternak è un uomo incapace di accettare, di arrendersi all'amore. Di vivere una vita da "gente perfetta". Più volte abbiamo sottolineato come in ogni episodio di quest'ultima stagione di Better Call Saul Gilligan costruisca una progressiva presa di distanza tra Kim e Jimmy. È tutta in una carezza evitata, un abbraccio negato, un'incapacità fisiologica di stare (materialmente) l'uno accanto all'altra. Il letto diventa il luogo fisico di questo distacco emotivo.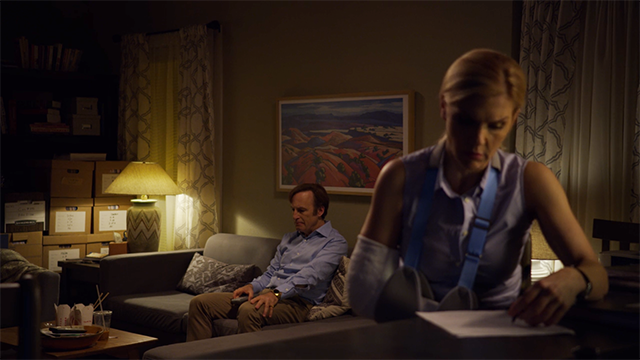 I due innamorati non sono mai rappresentati serenamente distesi. Nel giro di pochi istanti uno dei due finisce sistematicamente per alzarsi e allontanarsi. In questa puntata il letto è sostituito dal divano e l'allontanamento è innescato da Kim. Un tempo sarebbero rimasti entrambi distesi a condividere la loro passione per i film d'epoca. Ma ora non è più così. Jimmy si sente vittima di quell'amore. Costretto a essere ciò che non può essere. Irrequieto e fuori posto tra la "gente perfetta". Continua ad accavallare giustificazioni a Kim e tenta di mostrarsi l'uomo che non è. Prima accettando un lavoro privo di attrattiva, poi affermando di voler vedere uno psicologo ma finendo per strappare il numero dell'analista.
Jimmy e Kim si amano.
Ma la pace dell'amore non fa parte delle loro vite. Kim vuole essere riammessa tra la "gente perfetta", si adopera pro bono per guadagnarsi un riscatto morale che i suoi sensi di colpa esigono. Trascura la Mesa Verde, sempre più espressione del compromesso interiore a cui ha ceduto. Ricordate? L'avvocatessa aveva ottenuto il prestigioso cliente solo a seguito del raggiro operato da Jimmy. La donna – pur conscia dell'inganno – ha preferito tacere e scendere a patti, per amore, con la sua integrità.
Jimmy di quella "gente perfetta" non ha mai voluto far parte. Come il dottor Živago, finirà a essere l'ombra di se stesso (Gene), vittima di un passato che non può tornare. Il malore che coglie entrambi i personaggi è il malessere di chi vive nel ricordo. Di chi sopravvive a stento, svuotato di sé. Gene e Živago sono separati dalla distanza morale ma uniti da un male comune. Dal ricordo di un amore ormai irraggiungibile a cui entrambi hanno rinunciato.
La splendida, inestimabile regia di Better Call Saul costruisce un'immagine che vale più di mille parole.
Mentre Kim con la dolcezza da crocerossina di una foto di Mathew Brady cura Jim, lo specchio riflette profeticamente l'interiorità del loro rapporto. Jimmy è a testa bassa, sconsolato, mentre il braccio di Kim è assente. Il ponte d'amore tra i due si è spezzato. Sarà questo l'inevitabile destino di entrambi.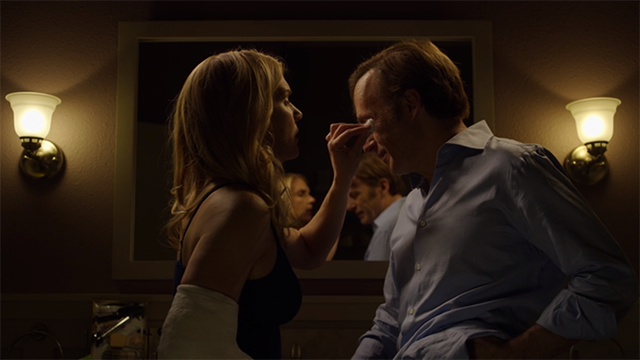 Non si ferma qui però la maestria registica. L'episodio è un eterno accavallarsi di POV, inquadrature strette con prospettive soggettive. Michael Morris, regista della 4×05, le adotta soprattutto per la scena dell'ingegnere francese, incappucciato fino alla rivelazione del luogo d'arrivo. Si genera così un'attesa carica di tensione. Ma il vero capolavoro nella costruzione stilistica sta nella scena accompagnata musicalmente da Street Life di Randy Crawford.
La telecamera impazzisce in un virtuosismo di tagli e inquadrature che esaltano superbamente tutta la crogiolante (e reietta) umanità che Jimmy rende vittima dell'ennesimo raggiro. Tra luci al neon e musica funk-disco l'intero spezzone è un chiaro omaggio al cinema anni '70. La canzone non a caso è la stessa che compare in Jackie Brown di Quentin Tarantino, anch'egli devoto imitatore di quel cinema e virtuoso utilizzatore di POV.
Una piccola curiosità: sapete chi compariva in quel film? Robert Fostner, l'attore che in Breaking Bad interpreta l'"uomo dell'aspirapolvere". Lo stesso a cui si rivolge a inizio puntata Saul mentre pianifica la fuga che lo condurrà a Omaha.
Saul, già. Rompendo una consuetudine che sapeva di dogma, Vince Gilligan sovrappone per la prima volta Better Call Saul a Breaking Bad.
Ci troviamo di fronte all'ultimo atto di Saul, quello appena precedente la triste trasformazione in Gene. Tanti gli spunti in questa scena. A partire dal colore del suo abito. Variopinto, certo, come da miglior Saul. Ma più precisamente viola. Il viola è l'incontro del blu e del rosso, dei colori del bene e del male nell'universo simbolico di Gilligan.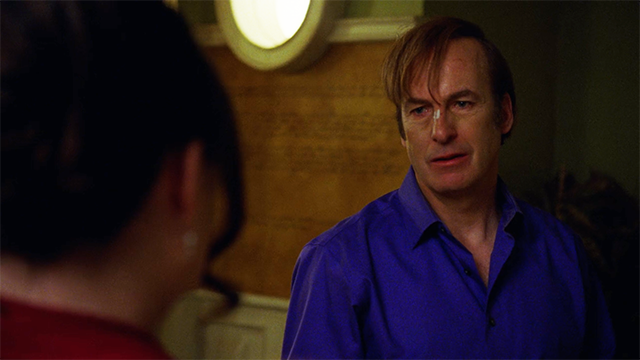 Non è la prima volta che abbiamo questa associazione di "deep purple" col protagonista. Se ben ricordate, alla fine della prima stagione Jimmy prende una decisione irreversibile sulle note di Smoke on the Water dei Deep Purple. In quell'occasione il futuro Saul parlando con Mike si era espresso così:
Jim: "Era un sogno forse o era vero che sulla mia scrivania c'erano un milione e seicento mila dollari in contanti? […] Non lo sapeva nessuno che eravamo riusciti a prenderli. […] Perché non lo abbiamo fatto, che cosa ce lo ha impedito?"

Mike: "Se non sbaglio hai detto qualcosa che concerneva il 'fare la cosa giusta'".

Jim: "Io lo so qual è la cosa che mi ha fermato e quella cosa non mi fermerà più".
Jimmy da quel momento sarà un "deep purple", un eterno accavallarsi di blu e rosso, di bene e male.
Di morale giustizialista e inganno per tornaconto. Ma allora perché ora Saul indossa ancora questi "abiti"? La risposta è tutta in un dettaglio che la traduzione italiana dell'episodio decide incomprensibilmente e fatalmente di omettere. Consigliando a Francesca un avvocato, Saul affermerà: "Tell them that Jimmy sent you" ("Dì che ti ha mandato Jimmy"). Jimmy. Quel "Jimmy", omesso dalla traduzione, è la chiave di volta dell'intera Better Call Saul. Parlando di sé, infatti, il protagonista non si definisce Saul ma Jimmy.
È come se nell'intimità della sua vita, dietro la maschera che si impone di fronte ai suoi clienti, Saul in realtà non esistesse. C'è invece Jimmy, l'essenza più autentica del protagonista di Better Call Saul. Quel Jimmy che è unione di blu e viola, di bene e male. Se in Breaking Bad conosciamo solo l'esteriorità di Saul, l'avvocato clownesco e approfittatore tale quale appare a Jesse e Walt, in Better Call Saul la prospettiva si inverte. Diventa un POV, una visione soggettiva.
Scopriamo così la sua reale e contraddittoria natura. Non Saul, ma Jimmy.
Non un buffonesco "avvocato da strapazzo". Ma l'uomo celato dietro quell'apparenza. Abbiamo atteso tutto questo tempo Saul e ora tutto pare porci davanti all'inaspettata e incredibile verità: Saul è come Gene e Slippin' Jimmy solo l'ennesima apparenza di un personaggio troppo complesso per essere classificato. Un uomo che risponde al nome di Jimmy. Un uomo avvolto di blu e rosso. Un "deep purple man".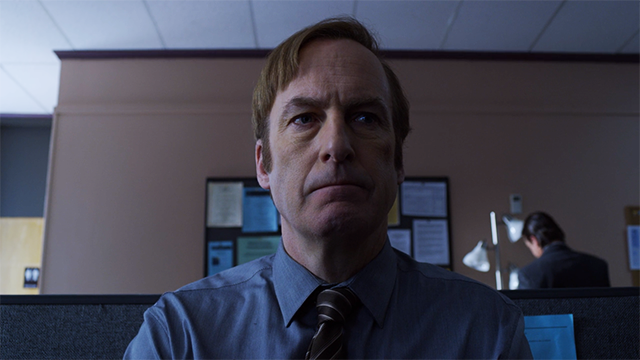 Alla fine della recensione, come sempre, un po' di curiosità sparse. La scatola che Saul estrae dal muro è la stessa che appare nei flashforward di Better Call Saul e contiene le videocassette degli spot commerciali di Jimmy. Howard in questo episodio non indossa il blu che l'ha ormai reso celebre ma il nero, simbolo del lutto e dei sensi di colpa che lo stanno annichilendo.
E per concludere un dettaglio molto significativo: la Dog House in cui Jimmy smercia i telefoni prepagati è la stessa in cui Jesse nella 1×06 di Breaking Bad spaccia la meth. Ricordate cosa accade dopo quella scena? Eh già, Jesse il giorno successivo consegna un telefono prepagato a Walt.