E' inutile girarci attorno: il fatidico arrivo della scadenza dei diritti di una determinata serie tv è una realtà con cui ogni servizio di streaming deve fare i conti. Per mantenere un catalogo ampio e con molteplici offerte, però, questo sistema deve essere sempre in azione permettendo di inserire e di togliere titoli in modo ciclico e cadenzato. Amazon Prime Video propone innumerevoli prodotti d'intrattenimento di qualità, ma neanche questo colosso può sottrarsi a determinate dinamiche di scambio continuo.
Alcune serie tv, però, sono dei veri e propri gioielli che, una volta tolte dal repertorio, diventano completamente inaccessibili agli spettatori e ai fan. In questo articolo elencheremo 5 dei titoli di cui si sente più la mancanza , nella speranza che la loro assenza dal catalogo di Amazon Prime Video sia solo temporanea. Iniziamo subito!
1) Scrubs
Quando un anno fa Amazon Prime Video aveva annunciato l'arrivo di Scrubs sulla propria piattaforma, tutti i fan avevano gioito del ritorno di questo piccolo gioiellino che, dal 2001 al 2010, aveva catturato l'attenzione e il cuore di moltissime persone sul piccolo schermo.
Complici alcune revisioni della soundtrack, però, il servizio streaming ha deciso di eliminare Scrubs dal proprio catalogo dopo pochissimi mesi (ne abbiamo parlato anche qui). Questo duro colpo, dettato anche dalle polemiche su alcune gag presenti nelle oltre nove stagioni, ha colpito tutti gli spettatori. Eppure la serie è una delle dramedy più acclamate: ironica, appassionante e volutamente giocosa. Con un determinato lavoro di contestualizzazione per alcune puntate la serie può ancora offrire moltissimo in termini di battute e sketch ormai diventati iconici all'interno della cultura pop contemporanea.
J. D. e i suoi colleghi e mentori dell'Ospedale Sacro Cuore hanno ancora moltissimo da insegnare ai propri futuri e potenziali fan che, a distanza di 10 anni, sarebbero sicuramente incuriositi e pronti a iniziare la visione. O anche semplicemente per gli innumerevoli fan già esistenti, sempre pronti per un rewatch nostalgico.
2) Person of Interest
Person of Interest è un piccolo gioiello molto spesso sottovalutato qui in Italia, ma che ha sicuramente segnato la storia delle serie tv americane.
Un crime distopico nato dalla mente di Jonathan Nolan – fratello del regista Christopher – la serie trae origine dal concept di un film pluripremiato come Il Cavaliere Oscuro. Un gruppo di vigilanti devono combattere contro criminali e cospirazionisti. Vengono aiutati da un'intelligenza artificiale di nome La Macchina creata dopo l'attentato alle Torri Gemelle da un genio dell'informatica. C'è un solo problema: questa Intelligenza Artificiale per non violare la privacy dei singoli e per non intralciare le scelte e il libero arbitrio dei vigialinti non precisa se i soggetti che segnala saranno vittime, carnefici o entrambe le cose, né indica con precisione quale sarà il crimine a essi collegato o quando avverrà.
Person of Interest inizia così un ciclo sempre più appassionante di cinque stagioni che sono state lodate non solo per la trama, ma anche per le performance attoriali, per la fotografia e per il finale, considerato a furor di popolo uno dei finali più sensati e riusciti di sempre.
3) Freaks and Geeks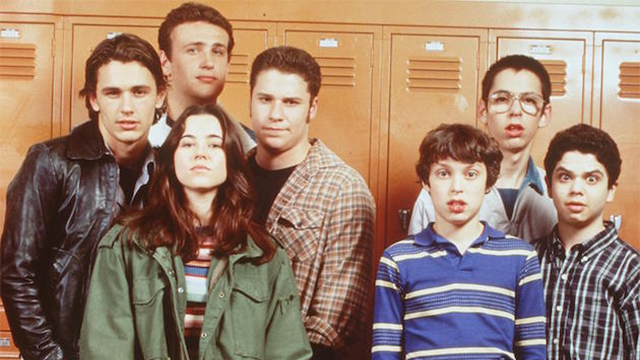 Altra serie sottovalutata e che meriterebbe una possibilità è Freaks and Geeks. Ambientata agli inizi degli anni Ottanta – nonostante sia andata in onda tra il 1999 e il 2000 – ha lanciato attori come James Franco, Linda Cardellini e Seth Rogen.
Rappresenta uno dei teen drama più belli del periodo e ruota attorno ai fratelli Weir e alle loro amicizie tutt'altro che popolari. E' un prodotto leggero, divertente e in cui è facile rispecchiarsi: Lindsay è una giovane campionessa di matematica che, nella sperimentazione tipica dell'adolescenza, inizia a ribellarsi uscendo con un gruppo d'amici disadattato e bizarro. Suo fratello minore Sam invece inizia le scuole superiori con i suoi due amici del cuore e cerca di sopravvivere alla giungla sociale di adolescenti in cui si ritrova catapultato.
Un assoluto punto di forza di Freaks and Geeks è la sua colonna sonora che cerca di riprodurre fedelmente i gusti dell'epoca e che ha richiesto buona parte del budget dell'intera serie. Da un po' di tempo è sparita dal catagolo di Amazon Prime Video, ma la speranza in questi casi è sempre l'ultima a morire!
4) La Tata
Tolta dal catalogo all'inizio del 2021, La Tata è sicuramente uno dei prodotti di cui si sente più la mancanza. Frizzante, irriverente e genuina, Francesca Cacace – o, nell'originale, Fran Fine – è uno dei personaggi più femminili più iconici ed eleganti della televisione.
Con le sue sei stagioni la serie racconta le avventure di una donna che, un po' per errore e un po' per destino, si ritrova a cambiare lavoro e diventare la bambinaia di tre ragazzi, figli di un ricco e facoltoso produttore di Bradoway di nome Max Sheffield. Attorno a questo nucleo principale – che vedrà l'innamoramento e il matrimonio di Max e Fran – molti personaggi divertenti si alternano: dal maggiordomo spietato e tagliente Niles alla vecchia zia Yetta, ogni episodio è una piccola isola felice. Interessante la scelta di adattamento della serie: negli anni '90 per il doppiaggio si decise di stravolgere le origini della protagonista e della sua famiglia per risultare più comprensibile culturalmente al pubblico italiano. La famiglia passa quindi dall'essere d'origine polacca ebraica a ciociara, richiedendo un duro lavoro di traduzione e riadattamento per quanto riguarda battute, risvolti narrativi e caratteristiche dei personaggi.
La Tata è ammirata soprattutto per i bellissimi vestiti indossati dalla protagonista: alla moda ancora oggi, esistono moltissimi account sui social dedicati ai pezzi più belli indossati nella serie.
5) Parks and recreation
Parks and Recreation è la brillante comedy ideata da Michael Shur nel 2007. Il suo è uno dei nomi più autorevoli del genere in quanto autore di serie come The Office (US) e The Good Place.
Il personaggio fulcro della serie è sicuramente Leslie Knope: ambiziosa, ottimista ed empatica, la sua ascesa all'interno del dipartimento dei Parchi della cittadina di Pawnee è un'avventura che ogni fan del genere dovrebbe vivere almeno una volta. Girata grazie alla tecnica del mockumentary, Parks and Recreation ha ottenuto numerevoli Emmy e dalla fine della sua ultima stagione in poi è diventata sempre più famosa e apprezzata. Ha inoltre lanciato veri e propri talenti come Aubrey Plaza e Aziz Ansari.
Se fino a qualche tempo fa si trovavano tutte le stagioni, la serie è ormai da tempo sparita e, di fatto, qui in Italia è diventata introvabile. Un vero peccato vista la notoreità della "sorella" The Office (US): quest'ultima infatti è diventata il gioiello di punta del repertorio di Amazon.
Queste sono alcune delle molteplici serie tv a cui abbiamo dovuto dire addio in questi anni, ma rimangono comunque quelle più indimenticabili e quelle di cui si sente più la mancanza. D'altronde è assolutamente umano il bisogno di rivisitare nostalgici ricordi come fosse la prima volta o scoprire semplicemente una nuova serie preferita nel magico e apparenemente infinito inventario di piattaforme streaming come Amazon Prime Video.