Ci sono finali di Serie impeccabili nella loro genialità come, ad esempio, quello di Six Feet Under. Altri lasciano l'amaro in bocca e inducono a rivalutare negativamente anche il pregresso. E poi ci sono quei finali che, a prescindere da quanto siano discutibili tecnicamente o dal punto di vista narrativo, rappresentano la perfetta chiusura del cerchio emotivo. In quest'ultima categoria rientra appieno quello di Person of Interest.
La quinta e ultima stagione della Serie di Jonathan Nolan, prima di dedicarsi a Westworld, non è la migliore. Nella necessità di chiudere, ancor prima che una storia, una miriade di concetti introdotti nelle annate precedenti, qualche incongruenza è evidente. Colpa, manco a dirlo, della CBS che ha deciso di bruciare l'unica Serie fuori dagli schemi del suo palinsesto.
Ciò malgrado la quinta stagione di Person of Interest si è rivelata un incredibile concentrato di feels sfociati nella bomba emozionale dell'ultimo atto.
In virtù di ciò tocca sviscerare tutte le tematiche della 5×13. La settimana precedente la Macchina ha voluto mostrare ad Harold la sorte di ciascun membro del Team se l'AI non fosse mai stata creata. Ad eccezione di Root, che avrebbe scelto di mettere i suoi ideali al servizio di Samaritan, nessuno avrebbe vissuto un'esistenza felice, ma soltanto uno non sarebbe sopravvissuto.
In quel momento Person of Interest preannunciava già cosa sarebbe accaduto in 'Return 0'. Ma, a pensarci bene, lo sapevamo fin dal primissimo episodio: John Reese muore. Lo abbiamo conosciuto sull'orlo del baratro, in procinto di suicidarsi proprio come il what if della Macchina ci ha confermato in '.exe'. Eppure c'è una bella differenza tra i due tipi di suicidio, quello presunto e quello reale. La sua uscita di scena è colma di gratitudine nei confronti di chi lo aveva salvato all'inizio di questa avventura.
Grazie ad Harold ha avuto una seconda possibilità, uno scopo. Ha avuto l'opportunità di vivere qualche anno in più, quanto basta per "toccare il cuore" – oltre che dello stesso Finch – di personaggi come la Carter, o Fusco.  Ha deciso inoltre di ripagarlo tutto in una volta. Andandosene per sempre, certo, ma sposando il senso della vita. Almeno è quello che pensa un'entità superiore che ha avuto modo di osservare le persone piuttosto dettagliatamente.
"If you have touched someone's heart, if you loved someone, if you helped someone then you will live forever"
Il dialogo tra Reese e Finch lacera l'anima. Stavolta il momento clou di Person Of Interest non è accompagnato da un sottofondo musicale rockeggiante: niente Pink Floyd, nè Daughter, nè Jonny Cash. 'Return 0' si congeda con lo struggente arrangiamento al pianoforte di Metamorphosis One, perfetto a sottolineare l'epicità del contesto. D'altra parte poche Serie Tv sanno abbinare la soundtrack giusta al posto giusto come Person of Interest.
Inoltre si è parlato tante volte della bravura di Emerson o della Acker – indiscutibili mostri della recitazione – ma la performance di Caviezel è, a questo giro, meravigliosa. Niente male considerato che si è portato dietro l'etichetta, o meglio il pregiudizio, di "bravo tirapugni e stop". Person of Interest ha rappresentato, per lui, la possibilità di esplorare in toto il suo talento.
Con l'uscita di scena di Reese e il ritorno di Finch alla sua amata Gretchen, spetta a Shaw e Fusco chiudere il cerchio.
Nel debellare le cellule di Samaritan, l'ex agente della CIA uccide Jeff Blackwell vendicando, così, la morte di Root. Proprio in quest'ultimo gesto Shaw esprime i reali sentimenti nei confronti dei suoi compagni di viaggio. Per la prima e, probabilmente, unica volta. Il percorso di espiazione di Fusco, invece, è stato portato avanti in maniera graduale, durante l'arco di cinque annate. Al termine ci siamo affezionati a lui quanto a tutti gli altri.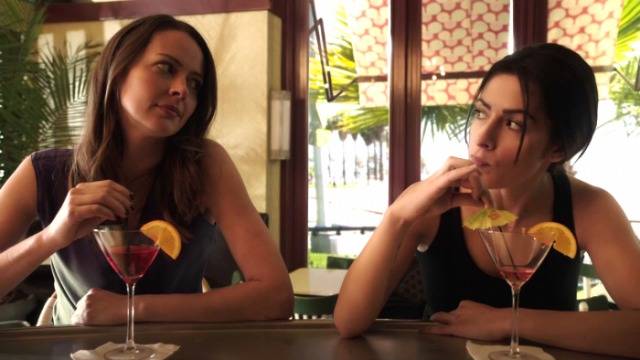 Il sorriso finale di Sameen ci dice che non è finita veramente. Probabilmente la Macchina, libera dai vincoli di dover preservare il Team a tutti i costi ha finalmente trovato il modo di battere Samaritan e di sopravvivere al virus Ice 9. Questa parte potrebbe apparire un po' confusa o forzata ma riesce a far trasparire il messaggio di fondo. Un mondo senza AI non è più concepibile.
Sempre l'episodio precedente aveva chiaramente specificato che Samaritan sarebbe esistita a prescindere dalla Macchina. Le persone che si sono imbattute in esse non possono tornare a vivere in un mondo senza quel genere di Dio.
'Return 0' non è esente da imperfezioni. D'altra parte la stessa Serie Tv ha i suoi difetti, per lo più narrativi. Tuttavia, come Finch e gli altri ci hanno insegnato, il quadro generale ci impone di andare oltre ciò che appare più ovvio. Questa Serie ha saputo condire la propria anima distopica e cyberpunk con un mix di generi non indifferente. Person of Interest è Philip K. Dick che incontra CSI, passando per Daredevil, fino a penetrare nella mitologia greca.
Ci ha reso talmente ricchi che la sua fine ci svuota, ci disorienta. E tutto ciò non è forse un discreto prezzo da pagare per qualche imperfezione narrativa?