In attesa della nuova stagione di 2 Broke Girls abbiamo dovuto trovare un modo per ingannare il tempo. E cosa di meglio se non indagare sulle origini di questa serie? Siamo curiosi e vogliamo regalarvi il risultato di ciò che abbiamo scoperto.
Il 10 ottobre 2016 pare lontano un secolo. La data in questione coincide proprio con l'inizio della sesta stagione di 2 Broke Girls. Nel frattempo abbiamo indossato cappello e lente d'ingrandimento per buttarci a capofitto nei retroscena di una delle migliori comedy dell'ultimo decennio. Sappiamo già quanto la sceneggiatura e le battute siano valide, per cinque anni di seguito non ci hanno mai delusi. Del resto, una delle menti che ha dato vita alle avventure di Max e Caroline è Michael Patrick King. Sex and the City vi dice qualcosa? E' stato proprio lui ideatore e scrittore di entrambe. Due universi quasi totalmente femminili che funzionano uno meglio dell'altro. Per creare 2 Broke Girls King non era solo. Sua spalla in questo progetto è stato Whitney Cummings, noto per la serie Whitney.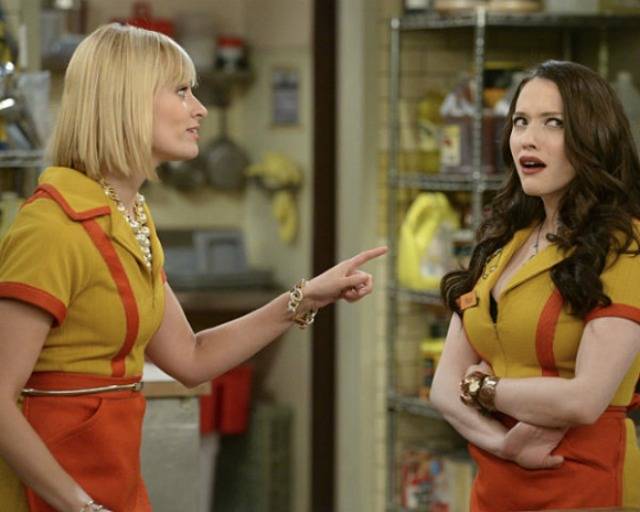 Prima di diventare serie, la storia delle due ragazze squattrinate è stata vittima di una guerra all'ultimo dollaro. Infatti, nel lontano Dicembre 2010, la CBS si è accaparrata l'idea del pilot strappandola ad altre reti televisive parimenti interessate. 2 Broke Girls è stata successivamente inserita nel palinsesto 2011-2012, proprio come l'altra creatura di Cummings. Con la differenza che purtroppo Whitney è stata cancellata dalla NBC dopo solo due stagioni. L'amaro destino di questo progetto telefilmico conferma che le due cameriere del nostro cuore hanno una marcia in più. Il pubblico le ha adorate fin dal primo episodio senza mai fermarsi.
Parlando proprio dei protagonisti di 2 Broke Girls, la prima ad essere scritturata fu Kat Dennings per il ruolo di Max Black. Ad una settimana di distanza, come sua co-protagonista, fu scelta Beth Behrs. L'attrice ha battuto una concorrenza spietata per ricoprire il ruolo di Caroline Channing. Meno male che non è andata diversamente. Non avrebbe potuto esserci accoppiata telefilmica più azzeccata. La mora e la bionda hanno una chimica pazzesca, dentro e fuori lo schermo. Dopo all'incirca un mese Garrett Morris, Jonathan Kite e Matthew Moy hanno rispettivamente vinto la parte di Earl, Oleg e Han. Ultima curiosità sul cast: il vero nome di Chestnut è Rocky. Il cavallo si è talmente immedesimato nel suo ruolo che ormai risponde anche al nome fittizio. Come faremo senza di lui?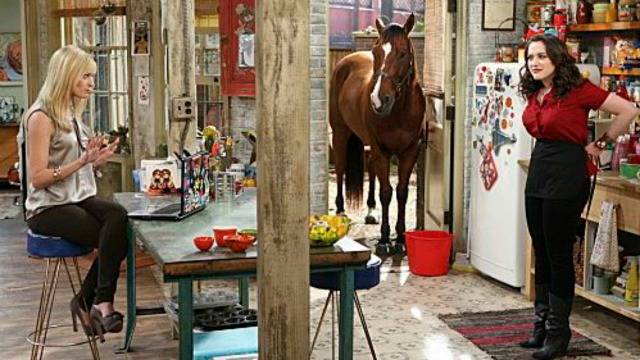 Concludiamo questo percorso nella storia con una considerazione. Il motivo di tanto successo è probabilmente dovuto all'attinenza con la realtà della trama. Al giorno d'oggi, è molto facile assistere al tracollo finanziario di qualche riccone oppure trovarsi in difficoltà per arrivare a fine mese. La combinazione di questi due filoni ha reso immediato il simpatizzare per le due protagoniste di 2 Broke Girls. L'idea dei creatori della serie non è stato un viaggio mistico ma un riportare sullo schermo ciò che è possibile accada nella vita di tutti i giorni. La bravura dei protagonisti ha fatto il resto.