Alzi la mano chi di noi non è innamorato della gloriosa Lady Olenna Tyrell. Nessuno, vero?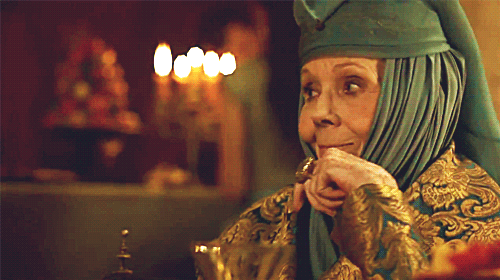 You've lost, Cersei. It's the only joy I can find in all this misery. — Olenna Tyrell
The Queen of Thorns è uno di quei personaggi capaci di catturare lo spettatore, sedurlo grazie a doti che pochi altri in Game of Thrones hanno dimostrato di sapere parimenti padroneggiare.
La Lady di Alto Giardino è un diamante di tutt'altra caratura rispetto ai vari nomi che si sono andati con l'avvicendarsi nelle pieghe di questo perverso gioco del trono. Di fatto l'arzilla e sagace Olenna non può certo contare su una fisicità prorompente o una bellezza scintillante — marchi di fabbrica ricorrenti nello show a firma HBO — ciononostante riesce a conquistare il consenso unanime della massa a fronte di una personalità fuori dal comune, quei modi unici e uno spirito subdolo che sembra non farla mai apparire in svantaggio.
Saggia, lucida, scaltra, tagliente, tutt'altro che sibillina.
Olenna Tyrell non è forse la nonna che tutti vorremo avere? (ecco 25 ottimi motivi che fugheranno qualsiasi dubbio).
Impossibile non rimanere affascinati, estasiati da una figura di cotanto spessore. Impossibile soprattutto non maturare un profondo rispetto verso uno dei ruoli più solidi e performanti nell'intero panorama della Serie Tv tratta dai romanzi di George R. R. Martin.
Un personaggio con la "p" maiuscola, che dal primo all'ultimo episodio ha riempito la scena dall'alto della sua dignità e un carisma debordante.
Ora, fatte le dovute presse, scopriamo insieme I 10 motivi per amare Olenna Tyrell!
1) UNA BUONA DOSE DI SANO CINISMO
Sarà l'età con i suoi acciacchi o la mera convinzione di essere circondata da un branco d'omuncoli inetti e donne di facili costumi, fatto sta che spesso l'impazienza di questa lady è esplosa in una mirabile e affilata dialettica condita da un più che giustificato e pepato cinismo.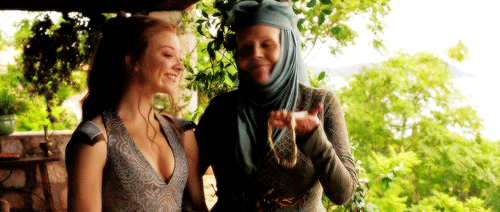 Lady Olenna non manca occasione di far sentire la sua voce, senza mai scadere nel banale, toccando sul vivo, con quella lingua pungente che si ritrova, la malcapitata controparte.
Le sue battute, il suo charme e quella gestualità modellata nella forma sono sintomatici di un personaggio che padroneggia una piena, invidiabile, consapevolezza.