Il calo degli ascolti è fin troppo normale
Dategli tempo, newcomers. I dati d'ascolto della 1×05 di Westworld, andata in onda domenica scorsa negli Stati Uniti, hanno fatto suonare un campanello d'allarme tra i fan della nuova creatura dell'HBO, preoccupati per il lieve calo.
La serie tv creata da Jonathan Nolan, infatti, è stata seguita da 1.490.000 spettatori, con un rating dello 0.65 nella fascia tra i 18 e i 49 anni. Un risultato deludente, specie se rapportato ai numeri fatti sette giorni prima, di poco superiori e condizionati allo stesso tempo dal confronto impari con l'attesissimo ritorno di The Walking Dead, andato in onda nella stessa fascia oraria. Ma questo non mette in discussione Westworld, affatto. Il risultato ottenuto è fin troppo normale.
Westworld è una serie tv complessa 
Se la HBO sarà lungimirante, e normalmente lo è, ufficializzare la seconda stagione di Westworld non sarà altro che una formalità. Ovviamente i dati d'ascolto sono fondamentali, ma non dicono tutto sul potenziale di una produzione così ambiziosa. Il nuovo delirio di Jonathan Nolan ha tutte le carte in regola per diventare la serie tv di riferimento su scala globale per i prossimi cinque anni. Cinque come le stagioni che sono state impostate dagli sceneggiatori, bisognosi di un'introduzione lunga per costruire passo dopo passo un mondo affascinante e complesso. Westworld è una serie tv estremamente innovativa e capace di disorientare gli spettatori tra mille teorie e poche certezze.
Dopo cinque episodi, non abbiamo ancora capito di chi possiamo fidarci e di chi no, chi amare e chi odiare, cosa sta succedendo e cosa potrebbe succedere. Non sappiamo nemmeno se gli eventi ai quali stiamo assistendo si svolgano tutti sullo stesso piano temporale. Possiamo solo dargli tempo, per ora. Un po' come abbiamo fatto dopo aver visto i primi cinque episodi di Game of Thrones e Breaking Bad, per esempio. Possiamo perderci negli occhi di Dolores o di Ford e provare a leggere tra le righe, guardare e riguardare ogni episodio e appigliarci ad ogni dettaglio per costruire la nostra verità su Westworld. Le serie tv non sono più una semplice forma d'intrattenimento: in certi casi, si trasformano in esperienze di vita. La fretta, se si ragiona in questo senso, è indubbiamente una cattiva consigliera.
Una produzione così maestosa, capace di sborsare 50 milioni di dollari solo per pilot e season finale, non può non aver messo in conto la concomitanza con The Walking Dead, ripresa due settimane fa, e il senso di smarrimento che gli spettatori meno attenti provano naturalmente una volta entrati in un labirinto così intricato. Non possono aver fatto un errore di valutazione così grave. Per questo mettere in discussione la realizzazione della seconda stagione è poco meno di un'eresia.
Arriveranno presto le risposte che stiamo cercando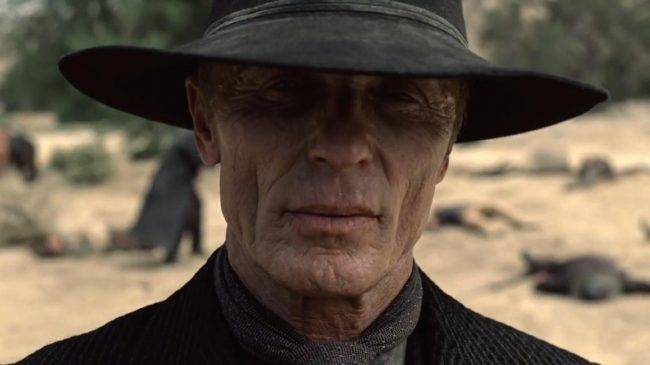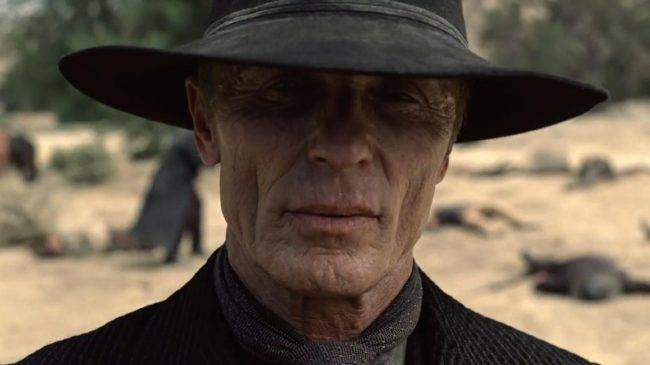 D'altro canto, la pazienza ha un limite e la scelta dell'HBO di mettere in onda il promo dell'intero secondo midseason ha un obiettivo ben preciso: rassicurarci. Il classico trailer della 1×06 avrebbe avuto un impatto diverso, più disorientante. Mandando in onda questo video, l'HBO ci dice che capiremo presto tante cose. Avremo qualche risposta in più sul rapporto tra Ford e Arnold, probabilmente. Daremo una forma più precisa al misterioso labirinto inseguito dall'uomo in nero, forse. Comprenderemo chi è realmente Dolores e se vorrà avere un ruolo da eroina o da cattiva, presumibilmente. Vivremo le ultime cinque ore nel nostro personalissimo far west, prima di immergerci in altri mondi plasmati in chissà quale modo. Perché Westworld è pur sempre legata all'opera visionaria di Michael Crichton, e l'ambientazione western sarà solo una delle chiavi narrative di una serie tv che sarà quasi antologica.
Se si analizza Westworld da questo punto di vista, abbiamo la consapevolezza di non aver ancora visto niente, sapendo allo stesso tempo che vale la pena aspettare ancora un po' prima di avventurarci in stroncature semplicistiche. Dategli tempo, newcomers: negare al mondo un grattacielo maestoso, dopo aver visto un piccolo difetto nelle fondamenta, non è mai una buona idea.
Antonio Casu 
Un saluto agli amici di Westworld Italia e Westworld – Italia!