In quasi tutte le serie televisive che seguiamo sono presenti alcune relazioni disfunzionali. Spesso si tratta di rapporti d'amicizia che vanno logorandosi nel tempo, oppure, rapporti indefiniti che divengono tossici per la mancanza di un equilibrio da entrambe le parti. Ci sono anche legami che partono con un grande sentimento di odio e che, "per volontà di un destino impudente", continuano a protrarsi nel tempo. Un esempio? Macarena e Zulema in Vis a Vis.
Vediamoli insieme.
10) BoJack e Todd – BoJack Horseman
Iniziamo la lista con BoJack Horseman e Todd Chavez, due amici che non riescono a vivere pienamente la loro amicizia.
BoJack tiene molto a Todd, il problema è che non sa dimostrarglielo. Il cavallo rimprovera il trasandato ragazzo continuamente e non si rende conto dell'importanza che quello scapestrato ha per lui. Todd è la spalla su cui piangere, un porto sicuro che, però, viene dato troppo per scontato.
9) Dan e Vanessa – Gossip Girl
Dan e Vanessa sono il classico esempio di un'amicizia che può essere bellissima durante l'infanzia ma è destinata a logorarsi nel tempo.
È chiaro da subito che lei fosse in realtà perdutamente innamorata di Dan fin dalla sua prima apparizione in Gossip Girl. Il suo è un tipo d'amore infantile sviluppatosi in un atteggiamento morboso, mentre lui la reputa nient'altro che un'amica. Anche quando il ragazzo cambia idea su di lei, questi due non riescono mai a trovarsi veramente. C'è il tentativo di gettarsi in un rapporto più maturo ma risulta una scelta sbagliata che, tra scenate di gelosia e discussioni inutili, rischia di rovinare un'amicizia decennale.
8) Effy e Pandora – Skins
Vivere all'ombra di un'amica più interessante di te, essere continuamente sbeffeggiata e presa in considerazione solo se puoi essere utile: questa è un po' la sintesi del ruolo di Pandora nel rapporto tra lei ed Effy.
Le due ragazze sono come il giorno e la notte. La prima è contorta, in apparenza cinica e con uno spiccato lato sarcastico che le permette di difendersi, al contrario dell'altra, la quale è inizialmente priva di qualsiasi malignità. Il rapporto tra loro, benché col tempo si trasformi in un'amicizia sincera, non giova molto a Pandora che, oltre a ritrovarsi in situazioni abbastanza difficili, getta al vento la storia con il suo primo amore Thomas, su consiglio di Effy.
7) Macarena e Zulema – Vis a Vis
Macarena e Zulema sono legate dal filo di un destino che si fa beffe del loro odio reciproco e lo lega con un nodo.
Macarena "deve" a Zulema l'uccisione dei suoi genitori, la perdita del suo bambino e il completo ribaltamento della propria vita. Sinceramente, mentre divoravo le 4 stagioni di Vis a Vis credevo che prima o poi una avrebbe eliminato l'altra e invece no. Le due criminali in fondo non possono fare a meno l'una dell'altra. In entrambe vi è una parte che vorrebbe vedere la rivale morta, ma se qualcuno di esterno le minaccia sono pronte a proteggersi reciprocamente.
Leggi qui le 10 cose più o meno assurde che forse non sapevi su quest'altra perla spagnola.
6) Daya e Aleida – Orange Is the New Black
In questo caso ci troviamo a parlare del difficile rapporto madre e figlia, non riuscendo a capire chi abbia affettivamente il ruolo di genitore tra le due.
Aleida e Daya sembrano più che altro due sorelle in competizione, passano il tempo a punzecchiarsi, facendosi dispetti sempre più pesanti. In rare occasioni Aleida ha dimostrato verso sua figlia la delicatezza di una madre. Dal canto suo, Daya fa capire chiaramente che ha sofferto della mancanza di una figura materna stabile e questo la porterà a diventare una persona pessima, capace di dare il peggio di sé nell'ultima stagione di Orange Is the New Black.
5) Rue e Fezco – Euphoria
L'amicizia tra Rue e Fezco "Fez" è oscurata dalla dipendenza dalla droga, perciò è indubbio che il loro legame sia perlomeno discutibile.
Benché Fez dimostri un attaccamento sincero verso Rue, proteggendola in alcune occasioni e ascoltandola quando ha bisogno di sfogarsi, è la prima persona a venderle droga e continua a essere il suo spacciatore per un bel po' di tempo. A un certo punto il ragazzo si accorge di quanto la sua amica stia male e decide quindi non venderle più niente, un gesto sicuramente degno di rispetto ma che non cancella il passato.
4) Marissa e Julie Cooper – The OC
Purtroppo conosciamo bene il tragico destino di Marissa e per questo fa ancora male sapere il background con Julie.
Julie è una madre assente e attenta solo alle apparenze, pretende la perfezione da parte della figlia. La pressione e la mancanza di ascolto fanno scoccare la scintilla della ribellione che, spinta all'estremo, porta Marissa a mettere in pericolo la propria vita.
3) Jesse e Jane – Breaking Bad
Jesse e Jane ci risultano dolcissimi e perfetti all'inizio, ma nell'arco di alcuni episodi di Breaking Bad abbiamo il tempo di ricrederci.
La loro conoscenza parte piano, con semplici discorsi fatti tra una birra e una sigaretta. Il sentimento nasce e ci dà l'impressione che possa svilupparsi in qualcosa di pulito che a Jesse farebbe tanto bene. Purtroppo però, in breve tempo, le cose mutano. E il motivo è quello che scaturisce da una cosa che all'inizio del loro rapporto ripudiavano: la droga. Entrambi, convinti di poter smettere quando vogliono, finiscono nel peggiore dei modi. Distrutti da loro stessi e da un rapporto che sarebbe stato meglio troncare sul nascere per il bene di entrambi.
2) Gemma e Jax – Sons of Anarchy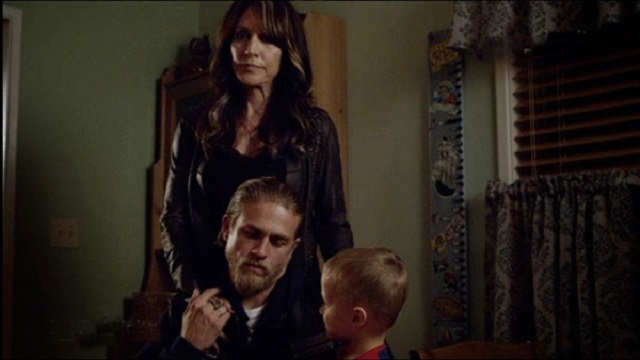 Non sempre avere una madre forte è un vantaggio, specialmente se questa è un'agguerrita matriarca di una banda di motociclisti.
Ammetto di averci messo un po' a capire il rapporto tra Gemma Teller e suo figlio Jax. In alcuni momenti mi sembrava di vedere una leonessa pronta a tutto pur di difendere il suo cucciolo ma poi ho dovuto ricredermi, perché la regina dei Sons of Anarchy si è rivelata un'individua priva di scrupoli, gelosa del figlio e crudele con chi lui ama. La relazione tra Gemma e Jax è sintetizzata nella metafora del cane che si morde la coda, in cui gli errori di lei ne fanno commettere altrettanti al figlio. Alla fine il collasso è inevitabile.
1) Hannibal Lecter e Will Graham – Hannibal
Il primo posto, più che meritato, se lo prendono Hannibal Lecter e Will Graham. Dare una giusta definizione al loro rapporto è pressoché impossibile, qui si parla di un legame che va oltre ogni schema e distrugge ogni tipo di convenzionalità, il che rende tutto questo molto affascinante.
Dal momento che dobbiamo sforzarci nel classificare la loro unione, converrete con me che non porta a niente di positivo. Lecter e Graham si attraggono e respingono allo stesso tempo. Parte tra loro una lotta psicologica la quale spinge Hannibal a fidarsi di Will che a sua volta si lascia avvolgere dall'oscurità a cui appartiene nel profondo.
Siamo giunti al termine di questa classifica particolare. Possiamo aggiungere che questi legami ci hanno intrigato per la loro particolarità o fatto arrabbiare per la loro natura nociva. Resta il fatto che in qualche modo abbiamo avuto bisogno di loro, perché in molte occasioni sono stati il motivo principale per cui abbiamo tenuto gli occhi incollati allo schermo.