Dopo sette anni e cinque stagioni andate in onda, per Vikings si sta ormai profilando la fine del percorso. Quando ancora le ultime puntate della quinta stagione erano in onda, Michael Hirst aveva già dichiarato che la sesta stagione sarebbe stata l'ultima della saga. Ma dalle prime indiscrezioni emerse pare proprio che, nonostante solo venti episodi rimasti, il creatore di Vikings abbia ancora un bel po' di cose da mettere in scena. E benchè sia il cast che il resto dello staff tengano nascosta ogni informazione, qualche indizio sulla sorte dei personaggi potrebbe essere già esser venuto fuori in passato. E in particolare dalle profezie dell'indovino.
Prima di essere brutalmente ucciso da Ivar Senz'Ossa, il saggio profeta di Vikings ha rivelato a Ubbe, Hvitserk, Ivar, Bjorn e Lagertha quello che sarebbe stato il loro futuro. E non sembra proprio roseo per tutti.
Nel caso di Ubbe l'indovino non ha detto direttamente a lui quale sarebbe stato il suo futuro, ma lo ha rivelato alla sua ex moglie Margrethe. La donna, infatti, nel primo capitolo della quinta stagione si reca dal saggio per avere risposte in merito al proprio fato, venendo poi a scoprire quello di Ubbe.
"La morte di Ragnar porterà calamità oltre ogni immaginazione. Peccato per i figli di Ragnar. Osservando tali eventi persino gli dèi piangono"
Mormora l'indovino al veder entrare Margrethe nella sua casa. La giovane donna gli chiede se Ubbe sarebbe un giorno diventato re di Kattegatt e quindi se lei sarebbe mai stata regina. Entrambe le domande ricevono un 'No' come risposta. Quando, spazientita, Margrethe afferma "Tu non puoi sapere tutto…" il saggio controbatte "Io ho detto che Ubbe non sarebbe mai stato re di Kattegatt…" Che lascia ampio spazio all'idea che Ubbe governi un giorno un altro regno.
Un elemento di Vikings da non dimenticare assolutamente è invece il fato che fu rivelato a Lagertha dall'indovino alla fine della quarta stagione.
L'allora neo regina di Kattegatt si recò dal saggio dopo aver scoperto della morte di Ragnar. In quell'occasione lo stesso indovino disse di aver visto brevemente Ragnar procedere felice verso il Valhalla. Preoccupata da eventuali ritorsioni dovute alla sete di vendetta dei figli di Ragnar e Aslaug, per aver ucciso la loro madre, Lagertha pone una sola domanda all'indovino "Verrò uccisa dai figli di Ragnar?" L'indovino esita. Ma interpellato una seconda volta risponde con un semplice "Sì". A questo punto della storia di Vikings (in realtà già da molto) possiamo immaginare che sarà quindi Ivar colui che prenderà la vita di Lagertha per vendicare l'amatissima madre.
Nonostante un inizio molto lento, la seconda parte dell'ultima stagione di Vikings ha sancito per Hvitserk la conquista di una nuove consapevolezze.
Per inquadrare il personaggio di Hvtserk è importante ripensare alle parole che questi dice all'indovino quando va a trovarlo. "Non sono mai venuto prima perché ho sempre cercato di vivere la mia vita sulla base dell'esperienza, non delle profezie". Questa frase ci permette di capire molto meglio quello che è stato l'atteggiamento apparentemente statico di Hvitserk durante l'ultima mid-season. Dopo essersi schierato dalla parte di Ivar, Hvitserk sperimenta dubbi sempre maggiori sull'alleanza col nuovo re di Kattegatt dovuti soprattutto al dispotismo di quest'ultimo. In città regna il caos, Ivar è ormai un tiranno convinto di essere un dio, e tutto accade sotto i suoi occhi al cospetto della sua impotenza. In questa fase di incertezza Hvitserk si reca dall'indovino in cerca delle risposte che fatica a trovare da solo.
E la risposta dell'indovino, vaga quanto solenne, sembra donargli nuova forza e speranza nel futuro. "Tu riuscirai in qualcosa in cui altri prima di te hanno fallito".
Meno luminoso appare il futuro prospettato dal saggio ad Ivar Senz'Ossa. Questi, ormai schiavo del proprio fanatismo, visita il vecchio in cerca di una voce rispettata che imponga al popolo di Kattegatt la "sua verità". Quella che confermerebbe la sua natura divina. Quando infatti l'indovino si rivolge a lui come ad "Ivar the Boneless son of Ragnar", Ivar lo corregge "I am the God Ivar". Ma il resto del suo destino, espresso per bocca dell'indovino, gli piacerà anche meno del primo appellativo riservatogli dal saggio prima di piantargli un'ascia in testa.
"La tua corsa al potere mente, è spezzata quanto le tue gambe, un serpente è avvolto attorno al tuo cranio e i tuoi occhi ti tradiscono. Il tuo cammino è pieno di macerie, di terrore, oh di terrore…"
Stando a quanto detto dal profeta, si potrebbe quindi pensare che l'attuale condizione di Ivar all'interno dell'universo Vikings non sia del tutto temporanea. Parte del futuro prospettatogli si è già realizzata, e il resto potrebbe essere parte delle macerie che Ivar si porterà dietro dalla sua guerra fratricida.
Concludiamo con Bjorn. Il suo destino appare forse come quello più metaforico stando alle parole dell'indovino, che infatti gli si presenta in una visione. Il che si addice tuttavia alla natura riflessiva quanto curiosa di Bjorn Ironside. Colui che "Navigò un mare piatto e senza correnti", che "Lasciò Kattegatt da ragazzo per tornarvi da uomo".
"E così è arrivato il futuro che ti fu detto, l'aquila oscura e il lupo hanno scoperto le ossa delle spoglie rimaste…ecco la storia del mondo, fanne buon uso se puoi."
Dice il saggio apparendo a Bjorn dopo la sconfitta di Ivar, quando il nuovo re di Kattegatt siede solitario sul margine di un dirupo. Cercando vagamente di capire quanto accaduto nella sua visione Bjorn chiede "Qual è il mio ruolo? Cosa diventerò?" Il saggio gli prospetta un glorioso futuro in cui "Nessuno dimenticherà il nome di Bjorn la Corazza, che fu un re migliore del suo stesso padre". Si potrebbe pensare a una profezia dai toni più che positivi per il figlio maggiore di Ragnar. Tuttavia l'indovino conclude quanto detto con un'immagine sinistra della piega che potrebbe prendere il prossimo futuro.
"Ma la guerra non è ancora finita"
Dunque, se tutte le profezie dell'indovino dovessero avverarsi, nella prossima stagione di Vikings potremmo assistere a eventi di una certa portata.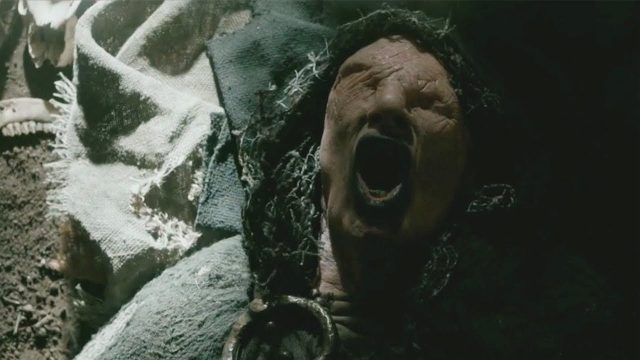 Ricapitolando: Ubbe diventerà re di qualche terra. Lagertha morirà per mano di uno dei figli di Ragnar. Hvitserk raggiungerà un obiettivo a quanto pare impossibile per altri. Ivar marcirà nella sua sconfitta e Bjorn sarà un re ancor più grandioso di Ragnar, ma non senza tribolazioni. Nonostante la lentezza dell'ultima stagione di Vikings, se trattata col giusto ritmo la stagione conclusiva della serie potrebbe guadagnarsi una chiusura più che dignitosa. O quanto meno degna della magnificenza iniziale. Non essendo stata rilasciata la data d'uscita della sesta stagione e non avendo alcun profeta da visitare, per noi umili cristiani estranei al Valhalla, non resta quindi che aspettare.