Vic Mackey, il protagonista di The Shield, è un duro, uno che non vorresti mai incontrare per strada. No, non è membro di una gang: è il detective a capo dell'unità scelta chiamata Squadra d'Assalto.«Raramente parliamo con chi ci spara addosso, più spesso con i loro familiari in lutto» ripete spesso ai delinquenti che gli capitano a tiro.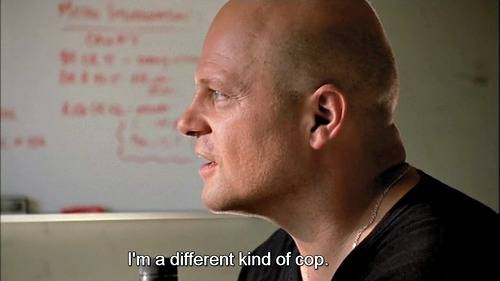 The Shield è un serial crime ideato e prodotto da Shawn Ryan (The Chicago Code del 2011, Last Resort  del 2012, entrambe cancellate dopo una sola stagione) andato in onda per sette stagioni dal 2002 al 2008. La location in cui è ambientata la serie, Farmington, è una località fittizia malfamata di Los Angeles, la copia filmica di Rampart, famoso per l'omonimo scandalo, dove giustizia e illegalità camminano a braccetto. Nel susseguirsi delle puntate vengono indicati vari luoghi del distretto come ad esempio Echo Park, MacArthur Park, Alvarado Street, Wilshire che all'incirca corrispondono alla reale circoscrizione del distretto Rampart. Lo scandalo Rampart si riferisce a una serie di casi di corruzione e violenza dilagante nella Divisione Rampart della Community Resources Against Street Hoodlums (C.R.A.S.H.), un'unità antibande costituita dal Los Angeles Police Department (LAPD) per contrastare il fenomeno delle gang di strada a Los Angeles e dintorni negli anni novanta. Oltre settanta agenti di polizia del reparto CRASH furono indagati per molteplici reati, cosa che rese il caso uno tra gli scandali più eclatanti dell'abuso delle forze di polizia nella storia degli Stati Uniti.
The Shield racconta le vicissitudini della Squadra d'Assalto, poliziotti specializzati nella lotta al crimine disposti a seguire le regole del capo, Vic, regole che spesso oltrepassano il labile confine tra legalità e illegalità. Quando la polizia opera in una zona malfamata, con risorse ridotte all'osso e il fiato sul collo delle gang ogni giorno, l'idea di scendere a patti per non rimetterci la pelle è quasi accettabile. Mackey ha una famiglia a cui badare, una moglie casalinga, (un'amante) e tre figli piccoli, di cui due malati necessitanti di costose cure. Un po' come fece Walter White all'inizio del suo cammino criminale. Le buone intenzioni, c'erano tutte: lasciare ai figli un piccolo gruzzolo con cui cominciare a farsi una vita. Con la produzione di metanfetamina o l'assalto al bottino di un treno rubato alla mafia armena, però, non c'è più il fattore "padre di famiglia" dietro cui giustificarsi. Sopraggiunge altro: la bramosia di potere.
Vic e Walter, e come loro anche tutti i componenti della  Squadra d'Assalto, vogliono sempre di più, vogliono eliminare le gang per prenderne il posto, vogliono far girare il distretto secondo le loro regole. La corruzione dei costumi è ormai normale da vedere in una serie (pensiamo, ad altissimi livelli, al comportamento poco politically correct di Frank Underwood) ma dieci anni fa era quasi utopia. La polizia che scende a patti con il crimine faceva rabbrividire, così come il poliziotto corrotto costruito in modo tale da non suscitarti orrore, quanto complicità. Cosa avrei fatto io nei panni di Mackey? Davvero avrei avuto la forza e l'integrità di non fare compromessi?
Michael Chiklis non è nuovo ai ruoli forti, di leader dall'integrità scissa: dopo l'Emmy e il Golden Globe per l'interpretazione di Vic Mackey, ha indossato i panni del capo di polizia Nathaniel Barnes nella seconda stagione di Gotham, e quelli di Dell Toledo, l'uomo più forte del mondo, padre del ragazzo aragosta Jimmy Darling nella quarta stagione di American Horror Story – Freak Show. Mackey e Barnes non potrebbero essere più diversi, eppure Farmington e Gotham a livello di criminalità stanno messe bene, con un livello di allerta che suona ogni giorno. Ma Vic piace, è realistico, è violento e senza ipocrisie, quei limpidi occhi azzurri svuotati dell'anima sono molto più sinceri di un capo in completo griffato che per rimediare agli errori del passato sceglie di indossare i panni dell'onestà fatta persona, diventando un modello di moralità che però stona con l'ambiente di riferimento in cui si muove.
Theme song e sigla di apertura di The Shield è il graffiante estratto di Just Another day di Romero & soci. Mai sigla fu migliore di questa per lasciare trapelare in poche note l'atmosfera di strada in cui combattono (?) i protagonisti dello Strike Team.
Shane Vendrell (Walton Goggins), Curtis "Lem" Lemansky (Kenny Johnson) e Ronnie Gardocki (David Rees Snell) sono i membri originari della squadra di The Shield nonché la seconda famiglia di Vic, sempre pronti a seguire le idee del capo, anche a scapito della propria incolumità. Il detective Claudette Wyms (CCH Pounder) e il suo partner, il detective Holland "Dutch" Wagenbach (Jay Karnes), rappresentano la faccia buona del distretto, presi costantemente in giro dallo Strike Team per i loro modi convenzionali, ligi al dovere. Anche il Capitano David Aceveda (Benito Martinez) ha degli scheletri nell'armadio, e permette a Vic e i suoi di scorrazzare impunemente purché non gli si venga ostacolata la carriera politica.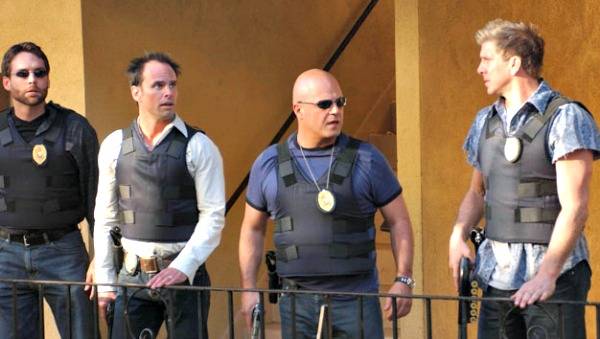 Tutti sono corrotti a Farmington, così come gran parte dei reati commessi dagli agenti della Rampart Division sono tuttora irrisolti. Si parla di creazione di false prove per incastrare i sospetti, trattamento di sostanze stupefacenti, rapina a mano armata, occultamento di prove, pestaggio… La ciliegina sulla torta, dopo tanto orrore e violenza, è stata la chiusura finale di The Shield: bilanciata, azzeccata, estremamente crudele senza dover torcere un capello a nessuno. Dopo tutta la vita passata a seguire i precetti chiave del consequenzialismo, Vic non poteva essere smentito in maniera peggiore: non sempre il fine giustifica i mezzi, a volte la miglior giustizia è lasciare che la legge faccia il suo corso.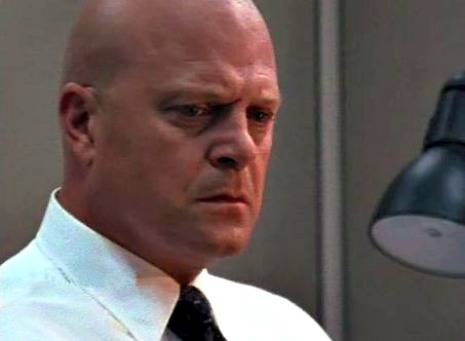 Golden Globe per la miglior serie drammatica 2003, The Shield ha infranto tutte le convenzioni del poliziesco. Quando la realtà supera la fantasia: la serie rivelazione dello scorso decennio non è stata altro che uno specchio cristallino su cui si è riflessa quella parte di malavita con distintivo tanto attiva nei malfamati quartieri delle metropoli statunitensi.