I'll be there for you
(When the rain starts to pour)
I'll be there for you
(Like I've been there before)
I'll be there for you
('Cause you're there for me too)…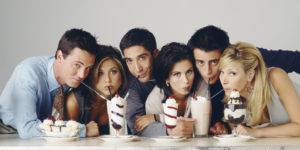 In fondo, ce lo dice la sigla stessa: "Ci sarò per te, come ci sono stato prima"… e questo accade effettivamente a chi ha visto Friends. Come dimenticare quei sei fantastici ragazzi che ci hanno accompagnato facendoci ridere così di cuore? Rachel, Ross, Monica, Chandler, Phoebe e Joey sono ormai annoverati tra i personaggi seriali che popoleranno l'immaginario pubblico occidentale da qui ai prossimi cent'anni, almeno.
E visto che le storie non finiscono nel momento in cui chi le racconta smette di farlo, ma godono di vita propria, abbiamo deciso di immaginarci come se la passerebbero i 'disastrosi sei' ai giorni nostri.
Il marchio stilistico di Friends è evidente in ogni particolare, a partire dai titoli degli episodi. Ognuno di essi, infatti, principia con la scritta: TOW (The One When…), che significa – più o meno – Quella volta che…
ed ecco a voi Quella volta che Friends non è finito…
A distanza di 12 anni le cose sono un po' cambiate, ma nemmeno così tanto.
Monica e Chandler hanno una bella famigliola, certo non come quelle finte e sorridenti della Mulino Bianco che a colazione hanno la faccia che io non avrei nemmeno a un matrimonio. Una normale bella famiglia che al mattino si sveglia con il viso  ancora stropicciato dal sonno, con le macchie del dentifricio sulla maglia del pigiama, che si scotta la lingua con il caffelatte. Erica e Jack hanno ormai 12 anni – appunto – e stanno attraversando quella fantastica fase della vita in cui gli ormoni non ti permettono di comprendere la differenza che intercorre tra un disastro aereo e un divieto di uscire con gli amichetti il pomeriggio. Così mamma e papà impazziscono quotidianamente, ma sono anche estremamente felici…
Joey, grazie alle sue origini italiane e al suo proverbiale phisique du role, è stato scritturato da Lory del Santo per il ruolo da coprotagonista in The Lady. Dica quel che vuole Andy Warhol, ma l'eternità del trash vale molto più dei celeberrimi quindici minuti di celebrità! Vive con Oca jr. e Anatra jr. che sono ancora in vita.
Ross e Rachel stanno insieme e si mollano a intervalli regolari. Lui tiene un corso di archeologia in università e ha pubblicato diversi libri. Rachel, invece, cambia lavoro con la frequenza con cui cambia scarpe e lascia (per poi riprendere) Ross, ogni tanto decide di sposarlo, ma poi scappa. Si sa, il lupo perde il pelo…
Phoebe l'ha presa sul serio ed ha cominciato a fare la cantante sul serio. Gatto rognoso ha scalato le classifiche aggiudicandosi persino il Grammy Awards!
Gunther gestisce ancora il Central Perk ed è tuttora follemente innamorato di Rachel. Qualche volta, soprattutto in quelle giornate uggiose che ti fanno venire nostalgia dei giorni di sole, c'è chi giura di essere entrato nel locale e di aver adocchiato un bel posto sul divano, ma di aver trovato sul tavolino antistante un foglietto con la scritta "RISERVATO". Dice poi che sono entrati sei tipi un po' folli…
Passate anche dai nostri amici Le migliori frasi di F . r . i . e . n . d . s