Provate a immaginare: ve ne state tranquilli nella vostra cittadina statunitense, tra le quattro mura della vostra casetta di cartongesso, sul vostro divano con una birra in mano a guardare il baseball, come dei perfetti stereotipi su gambe. D'un tratto e senza preavviso un'enorme cupola, geometricamente perfetta, trasparente come l'aria ma inscalfibile come il diamante, piomba sul vostro mondo, a imprigionarvi in una ristretta quotidianità neanche troppo entusiasmante. Immaginate allora che, dopo aver constatato che non c'è modo di entrare o uscire da questo aggeggio infernale, diventiate tutti un po' agitati, vagamente stupidi, continuamente tendenti alla rissa tanto quanto alla storia d'amore facile, alla battuta scontata, al gesto inconsulto, sempre mantenendovi fedeli alla vostra natura stereotipata. Ecco, questa è la prima stagione di Under the Dome.
È il lontano 2013 quando il promo di questa serie comincia a puntellare la nostra vita. Un trailer a suo modo interessante, in cui due soprattutto erano gli elementi magnetici che ti facevano sospirare inevitabilmente "Ma sì, diamole una possibilità": il primo, la scritta a caratteri cubitali "BASATO SU UN ROMANZO DI STEPHEN KING" che – la storia conferma – può avere il valore di una promessa tanto quanto una minaccia, visti i prodotti seriali e cinematografici nati negli anni ispirati al lavoro del Re. Il secondo elemento, invece, una malcapitata mucca che – quando si dice trovarsi nel posto sbagliato al momento sbagliato – viene recisa a metà dalla discesa fulminea e improvvisa della cupola. Macellata da viva è forse l'espressione più calzante.
Insomma, le premesse c'erano. Ma Under the Dome sarebbe diventata davvero, come recitava il promo, "La serie evento dell'estate" 2013?
Evidentemente no.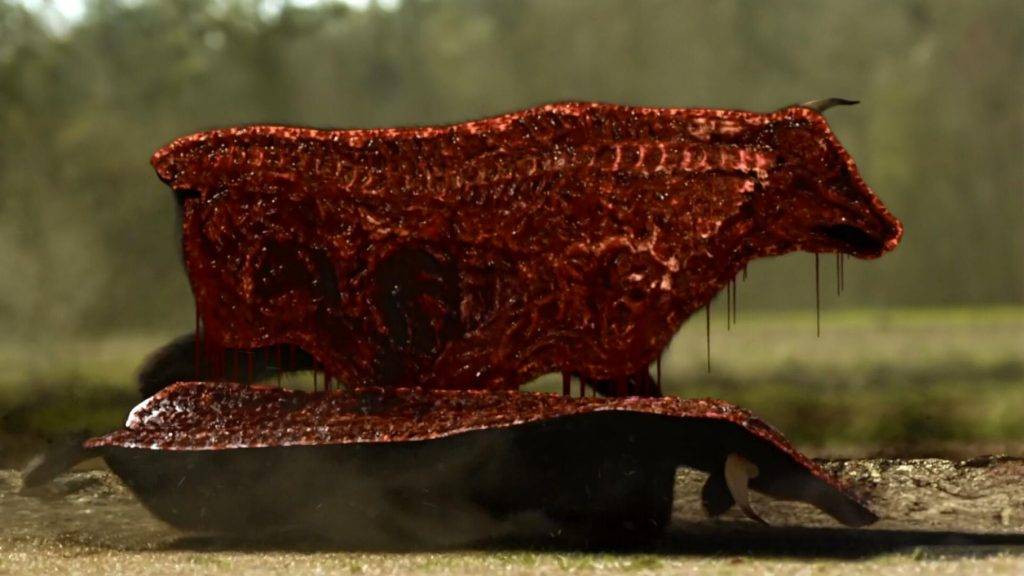 Partiamo dall'inquadrare la situazione in maniera lucida e razionale: il pretesto che scatena l'intera vicenda, e che dà il titolo al romanzo stesso di King – The Dome – è la comparsa di questa cupola, dalle proprietà fisiche lontane dalla realtà conosciuta: trasparente ma impenetrabile e insonorizzante, del tutto simile a una bolla ma assolutamente indistruttibile, muta ma comunicativa, tramite le variazioni del colore e le scariche di energia che la rendono protagonista viva ed espressiva della vicenda. Ed è la cupola stessa a delineare i caratteri fondamentali della nostra serie tv: l'ambientazione, i personaggi, le dinamiche, e, ovviamente, lo svolgersi dell'arco narrativo.
Chester's Mill, la cittadina che viene isolata dal resto del mondo, diventa il microcosmo in cui i personaggi interagiscono, si affaccendano, brulicano all'incessante ricerca di una spiegazione all'avvenimento sovrannaturale.
Si percepisce però fin dal pilot che il potenziale enorme di un pretesto narrativo come l'idea di King è destinato a non svilupparsi come avremmo sperato.
L'analisi sociologica e psicologica che sembra suggerire la definizione di questo piccolo mondo chiuso in se stesso e dei suoi abitanti, infatti, è quasi inesistente, e questo è il primo e più evidente difetto che la serie ti sbatte in faccia: i personaggi sono profondi come pozzanghere settembrine, dicono e fanno cose che suonano finte, le battute che troveresti in un filmetto di serie z, di quelli che passano in tv nelle serate estive. Un concentrato di stereotipi – per tornare all'inizio del discorso – dove ognuno sembra impersonare un ruolo trito e ritrito, al punto che potremmo quasi anticipare le mosse e le battute di ciascuno. Un po' come la classica combriccola da film horror scadente, e questo potrebbe risultare anche divertente, se non fosse che i toni sono costantemente drammatici e la serie si prende tremendamente sul serio.
Ecco allora che il protagonista assoluto è il burbero dal cuore tenero, ex militare che si innamorerà – più che scontato, ovvio sin dalla prima apparizione – della bella giornalista con la passione dell'investigazione, la quale ama fare del pericolo il suo mestiere. Non mancano splendidi esemplari di fauna locale, primo fra tutti Dean Norris, un altro di quegli elementi attrattori che all'inizio ti convincono a guardare la serie, perché sai che uno come Norris, reduce nel 2013 da Breaking Bad, avrebbe dovuto necessariamente figurare in un prodotto valido e dare il meglio di sé. E invece qui lo troviamo nei panni del subdolo consigliere di Chester's Mill, poi sceriffo, il classico leader cittadino rassicurante in pubblico, ma oscuro e minaccioso non appena cala il sipario.
Non solo il personaggio è fastidiosamente clichettoso – a partire dal modo in cui tutti lo chiamano "Big Jim" – ma Norris non convince neanche come attore, complice una sceneggiatura debole e un ruolo forse troppo simile a quelli più celebri da lui già interpretati.
Degna di nota in questa infelice rassegna è anche la "poliziotta buona", vicesceriffo coraggioso e onesto, intrappolata nella cupola mentre il marito è rimasto fuori, quella che si dà da fare davvero per risolvere la situazione ma – come intuiamo sin dall'inizio – è destinata a una fine eroica e non esattamente felice.
La lista di personaggi stereotipati in Under the Dome non finisce certo qui, e forse non sarebbe neanche così interessante eviscerarla tutta.
Ci basti sapere che sono tutti abbastanza piatti da non farci empatizzare con nessuno di loro. Pertanto ben poco ci interessa dei rapporti che essi intrecciano, o delle relazioni amorose telefonate sin dall'inizio, costruite talmente male che no, il cuore non ci palpita neanche al primo bacio tra i due protagonisti, il quale avviene rigorosamente sotto la pioggia per mantenere fede al cliché generale.
E, se anche gli attori migliori arrancherebbero con una sceneggiatura scritta male, non si può certo dire che il cast di Under the Dome sia un tripudio di fuoriclasse. Questo accresce la mancanza di carisma e la veloce perdita di interesse da parte dello spettatore nei confronti dei protagonisti.
Certo, si potrebbe sorvolare sullo scarso approfondimento dei personaggi e riporre tutte le proprie speranze nella trama, che, vale la pena ricordarlo, si sviluppa a partire da un denso romanzo di King di oltre mille pagine.
Non sempre, però, le trasposizioni da un media all'altro funzionano.
La curiosità che inizialmente ti pervade si trasforma ben presto in frustrazione di fronte ad un arco narrativo non solo lento, ma anche incoerente, con picchi di suspense che non trovano degna risoluzione, misteri che hanno più l'aria di essere malcelati buchi di trama, e continui elementi fuorvianti – perlopiù dinamiche tra i personaggi e indizi sulle loro vicende personali – che non portano a nulla e di cui finisce per interessarci ben poco, e che ancor di più sembrano depistare dalla risoluzione del grande più importante enigma: il perché della cupola.
Insomma, tu spettatore curioso, che pure riponevi aspettative nella "serie evento" Under the Dome, arrivi alla fine di questa prima stagione rassegnato, stanco, anche un po' incazz*to, per esserti sorbito tredici episodi di plot twist e cliffhanger senza che ti sia stato rivelato nulla: a quel punto smetti di farti domande sul prosieguo della vicenda, sul senso della vita, sull'origine del marchingegno infernale, sull'esistenza degli alieni o su un'eventuale punizione divina. Semplicemente ti arrendi e passi oltre.