C'era una volta un uomo che voleva credere. Un uomo che voleva credere così fermamente da rinunciare a tutto pur di seguire una chimera, pur di non arrendersi a chi gli diceva che il mondo era tutto lì.
C'era una giovane donna che voleva difendere la sua nazione e aveva basato tutta la sua vita su ciò che poteva vedere: i misteri dell'invisibile erano solo altre domande a cui la scienza attendeva di rispondere.
C'erano una volta Fede e Scienza, e qualcuno che voleva giocare a fare Dio, che decise di mescolare le carte in tavola e vedere cosa poteva succedere dallo scontro di due opposti.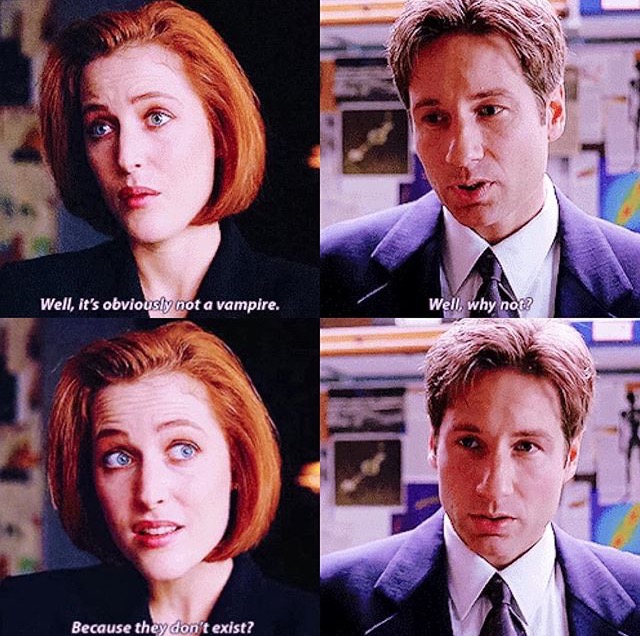 Era il 1992 e Chris Carter segnava indelebilmente la storia scrivendo e producendo The X-Files, poi diventato l'iconico fenomeno mondiale, capace ancora oggi, a 15 anni dalla fine della serie originale, di unire e mobilitare con il suo revival.
Come il perfetto burattinaio Carter immerge i due agenti dell'FBI, Fox Mulder e Dana Scully, nei misteri dell'insondabile per provare a trovare, una volta per tutte, la risposta a quelle domande che continuiamo a porci e non riusciamo a esaurire, in questo universo sconfinato. Per provare a svelare il segreto che cela la verità.
E a capire chi ne sarebbe stato il portatore.
Due persone che partono dallo stesso presupposto: I want to believe, ma che decidono di basare la loro esistenza su credo profondamente diversi. Mulder e Scully sono facce opposte e perfettamente simmetriche di una stessa medaglia. Fede e Scienza si incontrano e scoprono di non poter vivere l'uno senza l'altra.
Perché the truth is out there, but so are lies.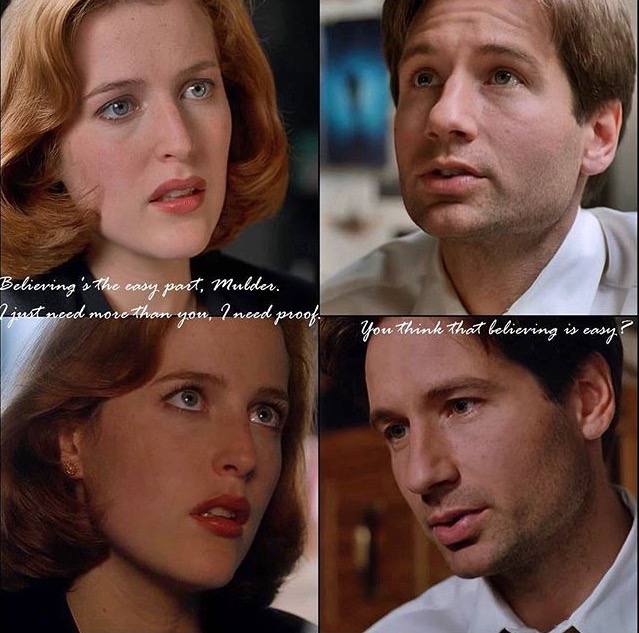 Devono imparare la sottile arte della fiducia in un mondo che dice di volere la verità, ma ne è profondamente terrorizzato. Perché in fondo, i punti di domanda sono più tollerabili di una risposta che non ammette vie di fuga.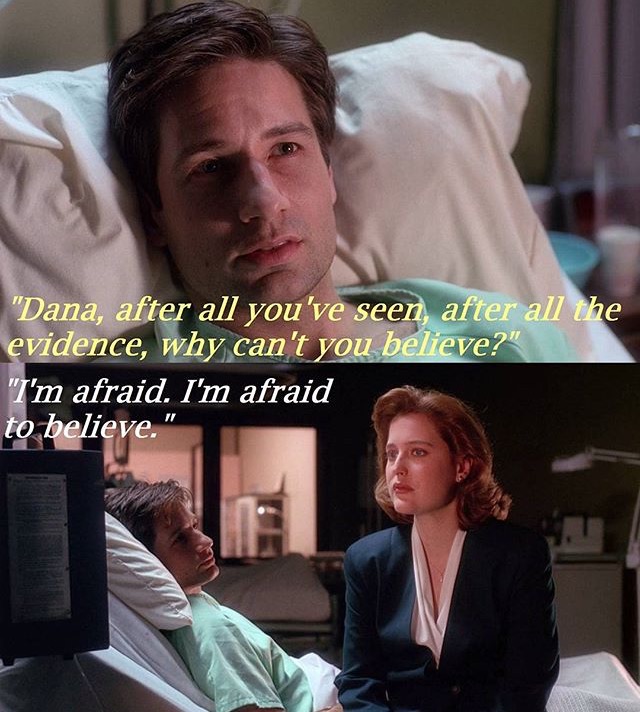 La verità non può essere imbrigliata in schemi tradizionali, non la si può riassumere in formule scientifiche prestabilite che ordinano il mondo secondo una regolarità asettica. La verità non può morire, ma può essere messa a tacere, può essere sotterrata a dovere in schedari lasciati a bruciare, in angoli remoti di un deserto messo a ferro e fuoco, nelle menti che vengono credute insane.
Nel mondo dei potenti non c'è spazio per la verità, solo per le bugie di cui si ha bisogno. Non c'è posto per persone che hanno fame e sete di giustizia, soprattutto se ce ne sono abbastanza disposte a credere nelle menzogne.
La verità è colpevole di spingerci ad andare oltre, a non accontentarsi, a capire che il potere dei burocrati non conta niente in un universo che è tutto da esplorare, in una vita che è tutta da decidere e non può esaurirsi in ciò che vediamo, compriamo e tocchiamo.
Le bugie ci piacciono, ci ovattano in un angolo di divano in cui sono altri a decidere per noi, altri a scegliere, altri a giocare in prima linea.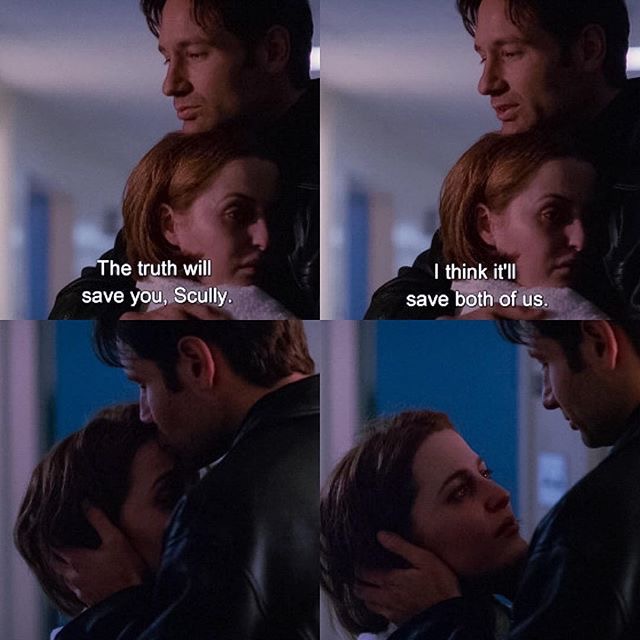 Mulder e Scully si espongono rischiando tutto per i loro credo, e credono talmente tanto che alla verità ci arrivano. La sfiorano più volte, spesso se la fanno scappare da sotto il naso, troppo poco pronti, troppo poco attenti, ma arrivano a un momento in cui non possono più sfuggirle. Vedono la verità, ma per questa ricerca perdono tutto: la famiglia, la salute, il lavoro.
Byers: Why risk perfect happiness, Mulder? Why risk your lives?




Mulder: Because I need to know the truth.
Perdono anche il futuro, quando la verità li abbandona in un deserto arido, in cui non hanno altre opzioni se non quella di bastarsi a vicenda. In questo loro completarsi trovano la forza di andare avanti. Quando Fede e Scienza, partite da presupposti così diversi, si ritrovano a credere nella stessa cosa.
In quel momento capiscono che nonostante tutto, nonostante un futuro che non c'è e una giustizia che non funziona, nel mondo dei potenti e dei bugiardi, lì c'è speranza.
If I am a guilty man, my crime is in daring to believe, that the truth will out and that no one lie can live forever… I believe it still. Much as you try to bury it, the truth is out there. Greater than your lies, the truth wants to be known. You will know it. It'll come to you, as it's come to me, faster than the speed of light.
Mulder e Scully riescono a dare la risposta alle nostre inesauribili domande, ci mostrano la chiave per quella verità che passiamo la vita ad agognare: Don't give up.
Perché in un mondo che fa di tutto per essere tangibile, non è facile credere che ci sia qualcosa che va oltre. Non è facile, non è scontato e richiede tanti sacrifici.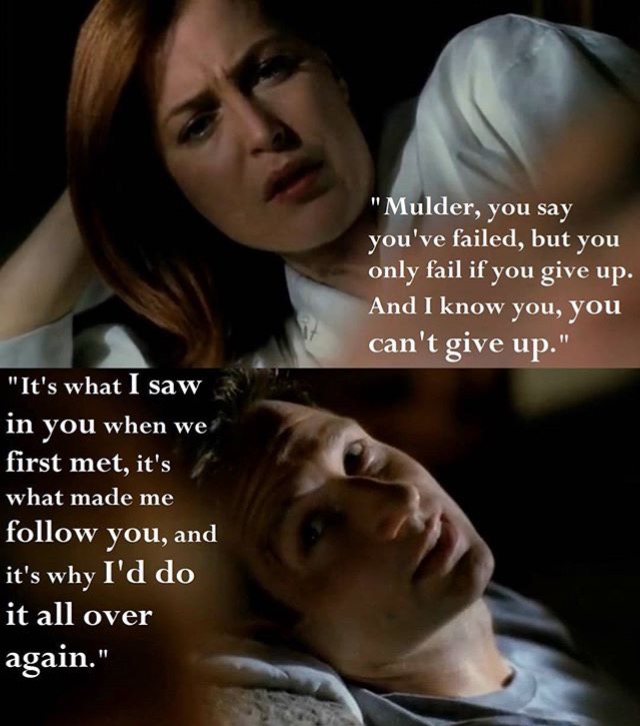 È un impegno che va rinnovato ogni giorno.
È un esercizio costante in un universo di dubbi e di facili alternative. Ma se non ci si arrende, se si continua a camminare, si riceve in dono l'insegnamento più grande: la forza di andare avanti.
Alla fine è questo il passaggio di testimone, tutto quello che volevano dirci è che forse non troveremo mai una soluzione alle nostre ricerche, le nostre grandi domande non verranno mai esaurite, ma se le risposte davvero non ci sono c'è solo una cosa che possiamo fare: non arrenderci. Perché si possono uccidere gli uomini, ma se anche solo due persone credono nella stessa cosa, allora, c'è speranza.
E tu, ci vuoi credere?