Sono ormai passati diversi mesi dalla miniserie evento di X-Files, che in fondo può essere considerata a tutti gli effetti la decima stagione di questo cult seriale.
Da anni si rumoreggiava un terzo film, che poi nel 2015 si è tramutato nell'annuncio di un revival di sei episodi, e da lì alla messa in onda è stato quasi un attimo.
Naturalmente l'avvento della miniserie ha suscitato l'entusiasmo e nutrito le aspettative degli appassionati di X-Files di tutte le età. Dopotutto questa serie ha rappresentato per tanti il primo approccio al mondo seriale, e ha conquistato l'affetto di tutto il mondo con la sua mitologia, le cospirazioni e non meno importante il binomio Mulder-Scully che ormai è storia.
Per questo abbiamo atteso fremendo gennaio 2016; ora che abbiamo avuto del tempo per metabolizzare i sei episodi, cosa è rimasto?
Be', innanzitutto una generale sensazione che l'attesa e l'hype non siano stati affatto ripagati a dovere, lasciandosi dietro una fastidiosa delusione.
Lo dimostrano i numeri stessi: dal botto del primo episodio, seguito da 16 milioni di spettatori, le views sono calate sistematicamente, pur mantenendo cifre alte, culminando con lo sconforto dell'ultimo episodio, My Struggle II, non tanto per i numeri quanto per l'accoglienza, essendo il più criticato in assoluto.
Non possiamo biasimare le critiche di cui è oggetto l'ultima puntata della miniserie, come altrimenti? Certo, il cliffhanger era stato preannunciato da Chris Carter ancora prima della messa in onda, ma ciò non giustifica un discutibile finale in sospeso.
In primo luogo, sebbene la Fox abbia annunciato di voler riportare X-Files sullo schermo per un'undicesima stagione, non abbiamo né la certezza che possa accadere realmente, né una prospettiva temporale che possa giustificare un finale così aperto.
Già, perché la sensazione che  si prova al concludersi di My Struggle II è quella di una puntata troncata a metà. C'è un errore, ho pensato. E invece.
Il problema fondamentale della miniserie evento di X-Files, che non le ha permesso di sostenere le aspettative dei fan, risiede in due fattori: la durata e la quantità di carne messa sul fuoco. Questi due elementi sono ovviamente correlati tra loro ed inconciliabili, poiché sei episodi da quaranta minuti l'uno avrebbero richiesto uno sviluppo orizzontale ed estensivo della trama delineatasi nel primo episodio, cosa che è avvenuta solo frammentariamente a favore di trame verticali tipiche delle vecchie stagioni, che tuttavia contavano venti episodi ciascuna.
Le premesse sono buonissime, sebbene un po' controverse in quanto mettono in discussione la mitologia stessa della serie. Gli X-Files riaprono i battenti, Mulder (il solito eremita) e Scully vengono chiamati da Skinner ad incontrare Tad O'Malley, presentatore di uno show su internet che si occupa di cospirazionismo.
Il loro incontro li conduce alla rivelazione di un complotto perpetrato dal governo, che si serve di tecnologie aliene in suo possesso – da qui il collegamento con l'incidente di Roswell che apre la prima puntata – per preparare un attacco biologico ai danni della popolazione americana.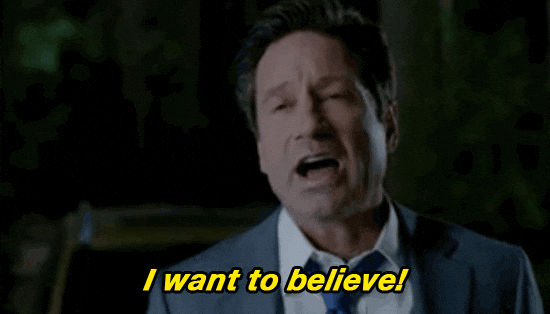 Questo è il momento in cui Mulder comincia a dubitare che lui e Scully siano stati ingannati e depistati durante tutto il loro trascorso presso gli X-Files, ed il mantra I want to believe ricorre più che mai, mentre i sospetti sulla cospirazione contro l'umanità si fanno sempre più concreti.
Le premesse che stabilisce il primo episodio avrebbero dunque offerto un ottimo ground su cui sviluppare i successivi cinque capitoli, costruendo un esauriente arco narrativo, ma la realtà è che la preferenza è ricaduta – a mio avviso, erroneamente – sulla vecchia formula del mostro della settimana, che in parte si può giustificare con l'intento di riportare lo spettatore al mood originale della serie.
Di nuovo, la durata di questa miniserie evento non ha permesso di conciliare la possibilità di costruire una vicenda compiuta con quella di soddisfare la nostalgia dei fan.
I quattro episodi tra il primo e l'ultimo si sviluppano prevalentemente in verticale, riportando i casi del giorno su cui Mulder e Scully indagano. Di per sé hanno ricevuto una risposta piuttosto positiva dal pubblico in quanto ad apprezzamento, seppure non siano esenti da perplessità.
Personalmente, ho trovato interessante seguire ogni caso, ma ho sempre avvertito qualche stonatura che mi ha impedito di apprezzarli totalmente.
Prima fra tutte la lucertola mannara: il terzo episodio (Mulder and Scully meet the Were-Monster) è un banchetto per i fan di X-Files, pieno di autocitazioni ma con la particolarità di ribaltare l'usuale dinamica del mutaforma. In questo caso non è un uomo a trasformarsi in una lucertola, ma il contrario; ne scaturisce un'ironica ma mirata riflessione sull'essere umano e le sue contraddizioni, le sue assurdità.
Tutto bene se non che l'episodio prende sin dall'inizio un'insolita e sconcertante piega demenziale, a mio avviso assolutamente non nelle corde della serie, che fa perdere la credibilità ad ogni singolo minuto. A meno che l'intento non fosse quello di presentare un episodio volutamente trash, l'ho trovato di cattivo gusto, pur con la coscienza della natura autoironica di X-Files.
Diciamo pure che in questa miniserie evento, con il trash, ci sono andati giù pensante, forse più del previsto: non solo gli improbabili siparietti dell'uomo lucertola, ma anche le continue gag su Über, gli smartphone, l'internet e tutte le cose tecnologiche dei nostri giorni.
Da una parte è certamente curioso vedere Mulder e Scully inseriti in un contesto tecnologico ben differente e più avanzato rispetto a quello degli anni '90, ma ciò che risulta dalla poco sottile comicità a cui si è fatto ricorso è l'impressione che i due protagonisti siano stati catapultati dal 1993 al 2016 e sia stato messo loro in mano uno smartphone con cui salvare il mondo. Anche qui la sensazione è che sia sbagliata la misura con cui viene trattato anche il più banale argomento.
All'appello delle scelte discutibili compiute in questa stagione non possono mancare i due doppelgänger di Mulder e Scully, gli agenti Miller e Einstein, che in fondo poco aggiungono essendo per l'appunto delle dubbie copie scritte appositamente per essere speculari ai due protagonisti, ma un po' più giovani. Inoltre il loro inserimento comporta un'altra grave pecca di questa miniserie: la sinergia di Mulder e Scully si perde quando i due si mettono a lavorare parallelamente, affianco ai due nuovi agenti, ma non insieme, e viene meno uno dei punti di forza di X-Files.
Ma questa stagione non è del tutto sconclusionata: non dimentichiamo che il focus è pur sempre posto su Mulder e Scully ed il passato che condividono.
Quello di Mulder è, come già accennato, un viaggio interiore attraverso la sua fede; se all'inizio la terra sotto i suoi piedi si sgretola, nei casi che affrontano ritrova gradualmente la fede verso l'inspiegabile, e I want to believe è più importante che mai.
Scully invece affronta il proprio dramma della maternità che non ha mai potuto vivere, le domande sul destino di William, dato in adozione per il suo stesso bene. Questa sua inquietudine è il fil rouge che tiene insieme questa stagione, e alla fine il figlio perduto si rivela essere più rilevante di quanto previsto, anzi, l'unica salvezza per Mulder, suo padre.
Ed è qui che arriva il rumoroso schiaffo in faccia con il clamoroso cliffhanger che conclude la serie: l'uomo che fuma ed il Consorzio stanno mettendo in atto il loro piano per la colonizzazione aliena diffondendo un virus che colpisce chiunque non abbia DNA alieno, alla fine vediamo un UFO sovrastare Mulder, Scully e Miller e ci sembra accaduto tutto troppo velocemente per capire davvero.
Demenzialità e cadute di stile a parte, il vero peccato di questa stagione è l'aver liquidato in quattro e quattr'otto una trama che avrebbe meritato un approfondimento esauriente, e che oltretutto si inserisce coerentemente nella mitologia di X-Files. Dopotutto questa serie ha sempre parlato delle paure e dei pensieri del suo tempo, e lo ha fatto anche stavolta, in chiave attuale, con il fondamentalismo religioso (dimentichiamoci magari il trip coi funghetti di Mulder), il potere di diffusione proprio di internet e l'instancabile dibattito sulle teorie del complotto. Il problema è che non lo ha fatto al meglio, e la conclusione di questa miniserie ci ha lasciato con l'amaro in bocca ed un entusiasmo mica troppo ripagato.
Oltre il danno, anche la beffa. Per ora non abbiamo nemmeno notizie ufficiali sul fronte di una nuova stagione, solo promesse e supposizioni, e tante questioni a cui questa miniserie ha dato vita ma che non ha risolto.
Verrebbe da riflettere anche sul format scelto per il revival della serie: sarà forse che un film potesse essere più adeguato a garantire una maggiore coesione, come lo era stato il ritorno di X-Files con I want to believe nel 2008?
Per ora, noi vogliamo solo credere che il meglio debba ancora arrivare.