La nuova serie tv targata Netflix, The Witcher, ha raggiunto un successo enorme dalla sua messa in onda. Dopo la lunga attesa e i numerosi dubbi che aleggiavano intorno allo show, alla fine la storia del Geralt di Henry Cavill è riuscita a soddisfare le aspettative di molti. Il rischio di ritrovarsi, infatti, dinanzi a un mezzo disastro era alto.
Fortunatamente The Witcher si è rivelata una serie tv intrigante, ricca di avventura e colpi di scena. Formata da otto episodi, essa ha raccontato le vicende di Geralt di Rivia il cui destino è legato a quello della giovane principessa Cirilla. Nonostante non sia perfetto, lo show è riuscito a coinvolgere sia i fan dei romanzi di Sapkowski che i più curiosi. Inoltre, il ritorno del Witcher sul piccolo schermo ha risvegliato una nostalgia verso il videogioco, che di recente ha fatto il boom di vendite (leggete i numeri a dir poco assurdi qui).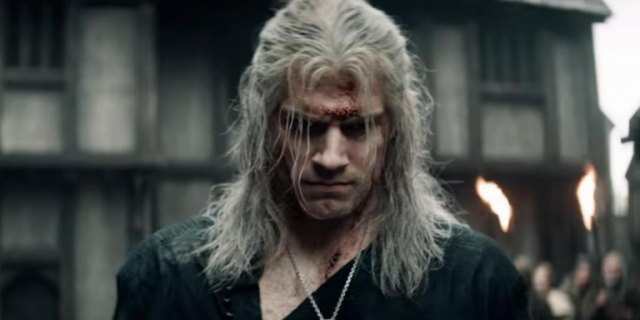 La saga nata dalla penna di Andrzej Sapkowski, considerata un'emblema del genere fantasy, è così diventata in breve tempo una serie tv di successo. Ma un tentativo di trasposizione televisiva era già avvenuto, molti anni fa. Anche se non lo ricorda nessuno.
Prima dell'adattamento di Netflix, di Henry Cavill e delle canzoni di Ranuncolo, una serie tv su The Witcher esisteva già.
Nel 2001, infatti, la saga fantasy fu rielaborata per il grande schermo con un film, Wiedźmin. La pellicola, tradotta all'estero in The Hexer, presentava una trama slegata, caratterizzata da banali buchi di trama ed effetti speciali scadenti. E nonostante l'ambizione circa questo progetto fosse parecchia, esso si è rivelato un fallimento.
Il regista Marek Brodzki decise così di riprovarci, realizzando l'anno successivo un'omonima serie tv. L'idea iniziale era quella di raccontare, in 13 episodi, un capitolo della storia del protagonista. Nonostante la presenza di qualche errore temporale e gli effetti di scarsa qualità, lo show ha dimostrato un netto miglioramento rispetto al film.
Anche l'adattamento Netflix inizialmente ha fatto storcere un po' il naso, soprattutto per l'iniziale scelta del cast. Tuttavia, The Witcher è riuscita a mantenere fede alle aspettative di tutti. I dubbi circa la performance di Henry Cavill come protagonista sono stati infatti spazzati via quasi subito, considerata l'ottima l'interpretazione dell'attore. Anche il resto del cast ha dato prova di un eccezionale talento, dimostrato soprattutto dalle brillanti prestazioni di Anya Chalotra (Yennefer), Freya Allan (Ciri) e Joey Batey nei panni di Ranuncolo (il cui celebre motivetto ha causato un disastro).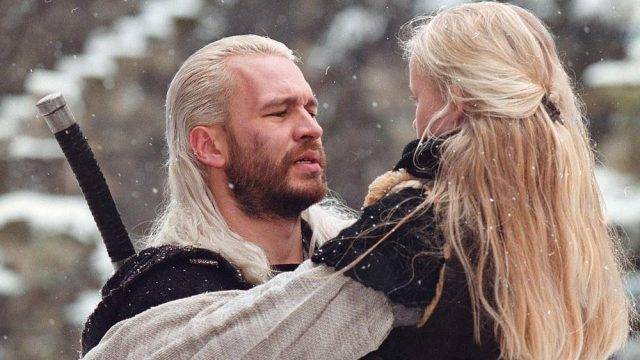 Nel film polacco il cast è composto soprattutto da attori "locali". Il ruolo da protagonista è stato infatti affidato a Michał Żebrowski, mentre il personaggio della maga Yennefer è stato interpretato dall'attrice Grażyna Wolszczak. La serie tv The Hexer non ha ricevuto molti riscontri positivi e le critiche ricevute sono state durissime. Le scene di lotta deboli e gli effetti speciali di basso livello non hanno, difatti, soddisfatto i fan della saga.
L'obiettivo del regista Marek Brodzki era quello di riuscire a trasmettere sul piccolo schermo, quanto più fedelmente possibile, la complessa storia di Geralt: piena di avventura e magia, di passione e colpi di scena. Ma l'eccessiva ambizione si è tradotta, infine, in un lavoro superficiale e poco curato, caratterizzato da una sceneggiatura altrettanto inconsistente.
Nonostante la serie del 2002 fosse più interessante e coerente della pellicola dell'anno precedente, questo non fu abbastanza.
I fan amareggiati dal precedente adattamento non furono pienamente soddisfatti dalla serie. Le opinioni riguardo The Hexer sono state asprissime. Ma nonostante sia stato un fallimento, esso rappresenta il primo show ad aver narrato (più o meno) le gesta di Geralt di Rivia.
Il nuovo lavoro targato Netflix non è esente da difetti. Gli effetti speciali non sono eccezionali e la rappresentazione cronologica delle vicende rischia di creare confusione, soprattutto per chi non conosce la storia. Ma, al di là di questi piccoli errori, The Witcher è un'ottima storia. Il film e la serie tv polacca hanno spianato la strada verso il piccolo schermo, rendendo possibile questa nuova rivisitazione la cui missione è stata compiuta: realizzare, finalmente, un ottimo adattamento della saga di Geralt di Rivia.