The Wire è una Serie sporca, amara, cruda che vuole raccontare una realtà disillusa e inquinata (ve ne abbiamo parlato qui). Gli stessi personaggi assumono diverse sfumature nel corso delle stagioni, muovendosi in precario equilibrio tra bene e male. Lo spettatore si abitua così a ricevere in continuazione cazzotti allo stomaco, fino a desiderarne sempre di più. Il lieto fine non è nemmeno lontanamente concepibile per questa Serie che mira proprio a lasciare il retrogusto acido dell'insoddisfazione. Eppure non tutto è marcio a Baltimora. Tra la corruzione delle istituzioni e l'elevato tasso di criminalità è possibile individuare qualcuno che somiglia vagamente a un vincitore: Lester Freamon.
Interpretato da Clarke Peters – attore che mi ha sempre ispirato simpatia e saggezza, tanto che è stato quasi uno choc ritrovarlo nei panni del villain in Person of Interest – Lester è il più anziano della task force del tenente Daniels. L'età e il vestiario fanno pendant con il precedente impiego nell'ufficio oggetti smarriti: tutti elementi che portano a interrogarci sulla sua reale utilità in un'operazione di intercettazione così delicata.
Non ci eravamo ancora accorti che gli autori ci stavano presentando uno dei personaggi più audaci di The Wire. Freamon impiega pochissimo tempo a far ricredere i colleghi, per i quali diventa un mentore, e noi spettatori. Intelligente, scaltro, la vera mente di tutte le operazioni; se il team fa progressi nella cattura di Barksdale è molto probabile che dietro ci sia una sua intuizione.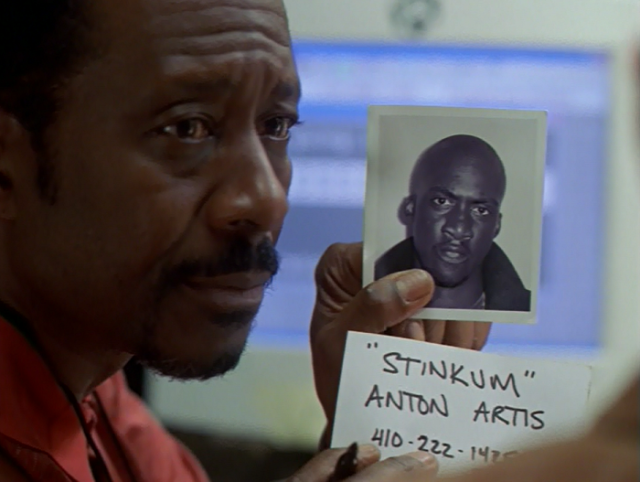 Badass all'occorrenza, Lester Freamon è però soprattutto un personaggio amabile, capace di compattare un gruppo variegato: dalla testa calda McNulty, passando per l'inesperta Kima, fino all'inetto (almeno inizialmente) Prez. La prima sbagliatissima impressione si tramuta in un inevitabile dubbio: cosa ci fa un elemento così valido in un gruppo di reietti?
In realtà Lester ritrova se stesso in quell'angusto magazzino, lui che è l'emarginato per eccellenza, "condannato" – a causa della sua incorruttibilità morale – al lavoro d'ufficio per 13 anni (e 4 mesi!).
13 anni. E 4 mesi. La sua ostinazione nel rimarcare fino all'ultimo giorno il tempo passato dietro a una scrivania non è solo fonte di memorabili gag con McNulty. È il sense of being di un uomo che, con orgoglio e pazienza, attende il momento della sua rivalsa personale. Proprio per questo, Lester Freamon può essere considerato il personaggio emblematico di The Wire. Nessuno meglio di lui può mettere in risalto la complessità, l'umorismo, l'empatia e il messaggio sociale della serie.
Come The Wire, come la stessa Baltimora, egli non va giudicato dall'apparenza e dal background. Le locandine della Serie, nel tentativo di rappresentarne l'essenza, sono esteticamente orribili, ben distanti dai livelli di sublimazione raggiunti dal telefilm; la città statunitense, seconda per tasso di criminalità in tutta la nazione, ci viene presentata in tutti i suoi aspetti più controversi, eppure si incontrano personaggi che combattono per migliorarla, come Omar.
Allo stesso modo Lester Freamon si eleva mediante le sue azioni e le sue massime. "And all the pieces matters" non è solo il suo mantra ma anche una delle frasi che più si ricordano quando pensiamo a The Wire. La summa della sua saggezza è tuttavia rappresentata dal "follow the money speech" scena che ogni amante di The Wire conosce a memoria:
"You follow drugs, you get drug addicts and drug dealers. But you start to follow the money, and you don't know where the f**k it's gonna take you"
The Wire, con la fine amarissima della prima stagione, mette definitivamente in chiaro di che pasta sia fatta. Ciò malgrado, un minuscolo barlume di soddisfazione lo regala proprio Lester, promosso a detective della omicidi. Nelle restanti 4 stagioni, per come è strutturata la Serie, non sarà sempre protagonista ma troverà il modo di continuare a regalare perle (il discorso sulla corruzione del sistema, nella quinta stagione, meriterebbe di essere la sveglia al mattino di chiunque, per efficacia e raffinatezza). E anche a fronte delle tante batoste, vuoi per l'ostruzionismo del distretto, vuoi perché il lato oscuro di Baltimora ha la meglio, Lester Freamon è comunque tornato in azione, dove può fare la differenza. Ottenendo finalmente la sua rivincita. Dopo 13 anni (e 4 mesi!).